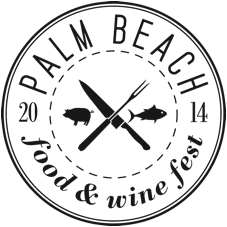 PALM BEACH FOOD & WINE FESTIVAL RETURNS TO COVETED ISLAND DESTINATION
ON DEC. 11- 14 FOR AN INTIMATE FOUR-DAY CULINARY AFFAIR
The Palm Beach Food & Wine Festival will celebrate its eighth year as one of the country's most prestigious and delectable culinary and wine programs from December 11-14, 2014. Held at the quintessential Four Seasons Resort Palm Beach and at select locations on the island of Palm Beach, the festival will showcase some of the world's most renowned chefs and wine industry leaders through a collection of dinners, late-night parties, tastings and seminars.
The four-day festival kicks off Thursday, December 11, with two collaborative dinners held at Palm Beach's most popular restaurants, Būccan and PB CATCH Seafood & Raw Bar. Over the following three days, guests can take part in an official kick off party at The Breakers Palm Beach and a bevy of fun tasting events: the annual Chillin' N Grillin', three industry panel discussions, Street Food competition featuring Palm Beach versus Miami chefs and two children's cooking demonstrations, all held throughout one of the most idyllic destination settings in the world. Talent highlighted throughout the festival includes: Daniel Boulud, Robert Irvine, Marc Murphy, Elizabeth Falkner, Jeff Mauro, Ken Oringer, Virginia Willis, Anita Lo and Gabrielle Hamilton, with local favorites Clay Conley, Darryl Moiles, Lindsay Autry, Aaron Black and many more.
This gourmet getaway is part of Four Seasons Hotels Food & Wine Festivals, a new collection in which Four Seasons Hotels & Resorts is working with community partners to spotlight annual food festivals that offer one-of-a-kind experiences for consumers to indulge their culinary fantasies, which also includes festivals in Hualalai and Bangkok.
Palm Beach Food & Wine Festival 2014 event highlights include:
ŸSUSTAIN presented by Palm Healthcare Foundation (Thursday, Dec. 11 at 7 p.m.) brings local, sustainable fare direct from Florida's coast to festival plates. The perfect fresh canvas for chefs Elizabeth Falkner, Gabrielle Hamilton, Virginia Willis and Aaron Black to showcase their talents, hosted at PB CATCH Seafood Restaurant & Raw Bar. (Sold out)
ŸThe First Bite (Thursday, Dec. 11 at 7 p.m.) invites chefs Anita Lo, Ken Oringer and Jonathon Sawyer to Clay Conley's open-kitchen concept restaurant, Būccan, to prepare a sampling of their favorite canapés and entrees, with lucky guests enjoying tastings from every chef for every course. (Ticket price: $175pp)
ŸChef Talks (Friday, Dec. 12 at 11 a.m.; Saturday, Dec. 13 at 9:30 a.m. and 11 a.m.) offers up close and personal conversations with some of the country's most inspiring people. Three distinct panels will provide industry insight from the likes of Robert Irvine, Jeff Mauro, Marc Murphy, Anita Lo, Ken Oringer, Elizabeth Falkner, Virginia Willis and more. The panels will take place at the Four Seasons Resort Palm Beach and will be hosted respectively by award-winning chef and author Gabrielle Hamilton, Founder of Two-Twelve Management Scott Feldman and The Palm Beach Post Food Editor Liz Balmaseda. Panelists and hosts are subject to change. (Media/industry only)
ŸGet Served! (Friday, Dec. 12 at 2 p.m.), the annual chef volleyball battle, rounds up two chef teams in which kitchen skills won't determine the champions. Alongside the game, the Four Seasons' team prepares a hearty beach cookout with refreshing drinks. (free)
ŸChef Welcome Party presented by Cheney Brothers (Friday, Dec. 12 at 7 p.m.), hosted by The Breakers Resort Palm Beach, marks the official kick-off party for this year's festival, and a red carpet affair for all in attendance. In the breathtaking setting of this legendary and luxurious resort, guests will enjoy delish samplings prepared by The Breakers' executive chef Jeff Simms, paired with world-class wines and specialty cocktails. (Ticket price: $125/pp)
ŸLate Night Rock hosted by Jeff Mauro (Friday, Dec. 12 at 11:30 p.m.) encourages guests and chefs alike to let loose and dance the night away. Join us for this late night edition at the Four Seasons where Food Network's Jeff Mauro, self-proclaimed karaoke extraordinaire, hosts fellow chefs and guests to an evening of cocktails and karaoke gone wild. (Ticket price: $75/pp)
ŸKids Kitchens (Saturday, Dec. 13 at 9 a.m. and 10:30 a.m.) teaches children how to become the next generation of top chefs. Chefs Robert Irvine and Lindsay Autry will guide mini sous chefs through these hands-on classes held at the Four Seasons Resort. (Ticket price: $45/pp, includes one child and one adult)
ŸChillin' N' Grillin' presented by The Gardens Mall hosted by Eden Grinshpan (Saturday, Dec. 13 at 12:30 p.m.) makes its third year mark on the festival. Cooking Channel host Eden Grinshpan invites Robert Irvine, Elizabeth Karmel, Mike Lata, Marc Murphy, Jeff Mauro, Christina Tosi, Fabio Viviani and Darryl Moiles to reinvent the burger, in the setting of Four Seasons Resort's poolside terrace. (Ticket price: $125/pp)
ŸStreet Food presented by SYSCO hosted by Marc Summers (Saturday, Dec. 13 at 7 p.m.) pits five Miami-based chefs against five Palm Beach chefs in this street food competition held in front of the Four Seasons featuring the best of fair food. One chef from each team will compete head to head in one of the five categories (fried chicken, meatballs, hot dogs, tacos and "on a stick"). Three prizes will be awarded: people's choice, bloggers' choice and best bite. (Ticket price: $125/pp)
ŸDaniel & Friends (Sunday, Dec. 14 at 11 a.m.) takes Sunday brunch to the next level. Internationally renowned chef Daniel Boulud opens his restaurant, Café Boulud at The Brazilian Court Hotel, for a mid-morning indulgence along with chefs Gabrielle Hamilton, Christina Tosi and more. The casual brunch will feature table after bountiful table filled with Boulud's most satisfying brunch dishes. (Ticket price: $125/pp)
Ÿ8th Annual Grand Tasting (Sunday, Dec. 14 at 5 p.m.) takes over the Mediterranean-inspired shopping courtyard of 150 WORTH in Palm Beach with more than 40 of South Florida's hottest restaurants serving up a sampling of their most celebrated dishes. Choose from dozens of amuse-bouches, wines and trendy cocktails. Then cheer on three local chefs as they conclude the PBFWF with the Grand Chef Throwdown Finale and compete for the $10,000 prize. (Ticket price: $100/pp)
Special priced festival packages are available through the website. Options include the PBFWF Passport Package with access to all events for $680 (a 25% savings), the Four Seasons TASTE Package offering an exclusive price of $267.25 (a 15% savings) to every Four Seasons-hosted event, and the Pick 4 Package, which allows guests to select four events (a 20% savings). All packages exclude tickets to Kids Kitchens.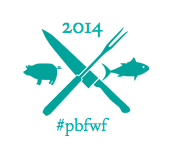 For more information, visit pbfoodwinefest.com.
For daily updates, follow the festival on Twitter, Instagram and Facebook, @pbfoodwinefest or #pbfwf
About the Palm Beach Food & Wine Festival
The Palm Beach Food & Wine Festival is produced by Brickhouse Public Relations with support from community partners Panache: A Classic Party Rentals Company, Discover Palm Beach County and Premier Beverage. After seven successful years, the Palm Beach Food & Wine Festival returns to the balmy island of Palm Beach for its eighth annual showdown, December 11-14. Held at a time when South Florida is experiencing its best weather of the year, PBFWF celebrates incredible foods prepared by some of the world's most renowned chefs, enjoyed in a variety of this resort destination's most idyllic settings—an allure that keeps even the most discerning gourmands coming back each year to experience this inspiring festival.
The following two tabs change content below.
Cristyle is a South Florida native, born in Miami and raised in Palm Beach. Her love of food came through her travels and seeing how cuisines differ and relate so much. She attended the University of Florida, had a short stint in Charlotte, NC and is now back home - ready to eat her way through Palm Beach County and share her findings with locals and visitors alike. From brunch to happy hour to foodie events, she's got you covered!