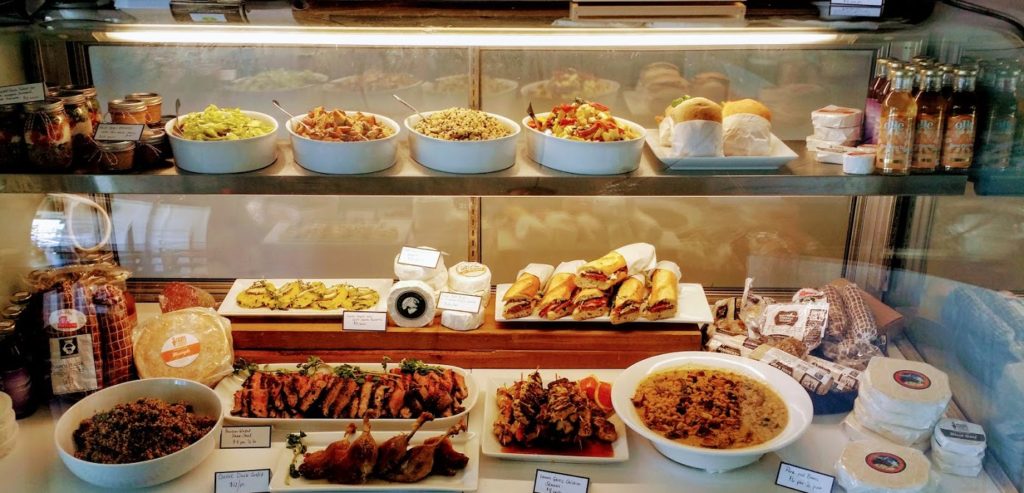 EAT PALM BEACH | HAMPTON FORKS
As featured in inJupiter Magazine
STICK A FORK IN IT
Chris Marshall's Hampton Forks Expands to Provisions
Created for that Moment
Hampton Forks has expanded from Kitchen and Table to Cheese and Provisions. Located on the north side of East Indiantown Road, owner Chris Marshall has annexed the adjoining unit to his kitchen and pop-up dining room to create a micro-market concept serving up prepared foods and unique provisions. Patrons are welcome to grab and go or step next door to enjoy their meal in The Table dining room.
Some may wonder why the next move wasn't to open a restaurant, but Hampton Forks has given the Chef the ability to maintain a high level of innovation and creativity in the kitchen. With an ever-changing client list, location, occasion and format there is never a set menu and Marshall is able to prepare food that is "created for that moment." It is a principle that has kept him present and focused in the kitchen while striving to produce memorable meals one course at a time.
While the name "Hampton Forks" may seem like a nod to the utensil, it actually refers back to Marshall's time in the Hamptons and the North and South Forks, two peninsulas on Long Island's east end. The North Fork is known for its wineries, while the South Fork gain notoriety for its resorts. The area resonated with Marshall as they are known for their farms, fresh ingredients and orchards.
Farm to Fork
Since 2015 The Kitchen at Hampton Forks has been preparing small batch, concierge catering for weddings, fundraisers, yacht charters, meal planning and private in-home dinner parties. Sourcing ingredients from family farms and artisan producers, Chris Marshall maintains a keen attention to quality and detail. His custom menus include modifications for a variety of dietary needs including vegetarian, vegan, Paleo, Celiac, Diabetes, Atkins, and prescribed meal plans.
Providing seating for up to forty, The Table at Hamptons Forks hosts an array of pop-up dining experiences. Available for private parties and events, The Table is a popular destination for foodie gatherings from casual cocktail parties to multi-course wine dinners. The space lends itself to any theme and Marshall's team delivers exceptional service with a diverse menu. Along with his wife, Renee, Marshall aims to create a space to enjoy food while having fun and benefitting the community.
Cheese and Provisions will complete the Hampton Forks trifecta, offering customers the opportunity to shop unique products from artisan producers and exclusive importers. The space will be framed with moving partitions allowing the space to grow organically from its starting 300 square foot as interest and offerings expand. The farmhouse light wood floors and gray walls lend themselves to the upscale rustic vibe and flow beautifully into the adjoining space through a doorway. Marshall plans to ultimately provide a menu of soups, sandwiches, pates, salami, prepared dinners, vegetable sides and salads, with daily specials. His goal is to keep the provisions available exclusive and carefully curated with artisan olive oil, vinegars and specialty products.
We Are Marshall
Known for his commitment to quality ingredients, approachable but refined offerings, Chris Marshall is a local favorite for not just his food but also his kind and upbeat personality. For two decades Marshall has spent his time passionately pursing high-end food production. While he is based out of his Hampton Forks kitchen, the chef has cooked anywhere from Kai Kai Farms to Lucky Old Sun Ranch to the Kelsey Theater and recently joined the ranks of No Kid Hungry chefs at this year's Palm Beach Taste of the Nation.
Marshall's career began at Cambridge School of Culinary Arts in Massachusetts but flourished during his time under Chef Jody Adams at Rialto at The Charles Hotel. He was a member of her team when she won the James Beard Award in 1997 and studied more in the kitchen then the classroom. In 1998 he made the move to Jupiter and soon found himself traveling between Palm Beach and the Hamptons as a private chef. His time working and consulting in the summers inspired the name of Hamptons Forks and the rest is history.
Cheese and Provisions brings new life to Hampton Forks with patrons having the opportunity to pop in and enjoy Chef Marshall's creations on the fly. Guests are welcome to utilize the pop-up dining space if it is not already spoken for and they will be serving Oceana Coffee. Hampton Forks Kitchen & Table and Cheese & Provisions are located at 185 E. Indiantown Road, Jupiter, FL 33477 in Seagrape Square. For more information call or 631.276.1197 or visit hamptonforks.com.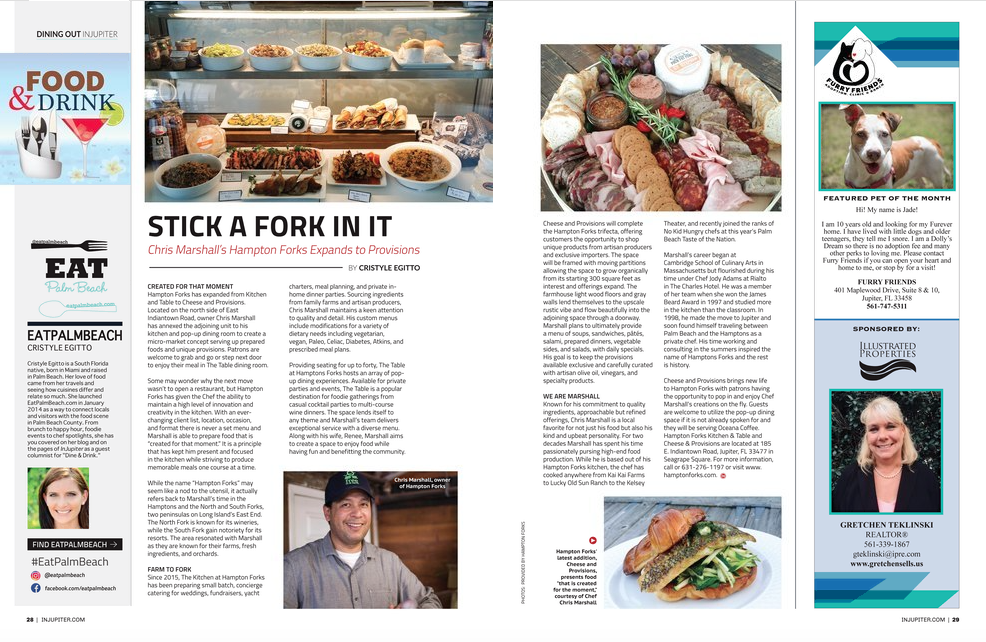 The following two tabs change content below.
Cristyle is a South Florida native, born in Miami and raised in Palm Beach. Her love of food came through her travels and seeing how cuisines differ and relate so much. She attended the University of Florida, had a short stint in Charlotte, NC and is now back home - ready to eat her way through Palm Beach County and share her findings with locals and visitors alike. From brunch to happy hour to foodie events, she's got you covered!