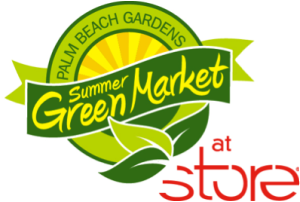 GreenMarket Opens for the Summer Season on Sunday, May 11
Palm Beach Gardens' favorite open-air market returns to
STORE Self Storage & Wine Storage
PALM BEACH GARDENS, FLA. —
The Palm Beach Gardens GreenMarket returns to its shaded outdoor breezeway this summer at STORE Self Storage & Wine Storage, located at 11010 N. Military Trail, just north of PGA Boulevard.
The market continues to bring affordable and locally grown produce, seafood, and fresh, nutritious baked goods to the area. With many top local farms returning this year, visitors will also find 100% grass-fed beef and lamb, and pasture-raised pork and chicken, along with cheeses, eggs, fruits, vegetables, and plenty of colorful flowers and orchids.
"The Gardens GreenMarket is without a doubt the best place to get fresh, quality food," said Carl Frost, owner of Kai-Kai Farm. "Like most local farmers, we pick our produce the day before each market to ensure freshness. Most people think higher quality means higher prices, but in fact, our prices are competitive and often lower."
Shopping the GreenMarket "to eat local" is a wonderful way to support the local food system while reducing the carbon footprint of transporting food to market. Most food in the United States travels an average of 1,500 miles to get from the farm to your plate.
Besides being less impactful on the environment, growers from sustainable South Florida farms see locally grown food as a better shopping value as well. "It's tastier, more nutritious, and lasts longer on the shelves," Frost said.
Beginning May 11, the sprawling GreenMarket opens from 8 a.m. to 1 p.m. every Sunday through September 28. The event will move back to its winter location just down the street in the fall, making it a year-round happening.
The summer location at the STORE facility is ideal because of the large covered breezeway for shade and overhead protection from inclement weather. "The market is open come rain or shine," said Jon Channing, owner of the STORE. "The breezeway keeps patrons cool and dry, even during summer months."
With more than 50 vendors, the GreenMarket attracts lovers of some of the tastiest and most healthful products South Florida has to offer. Overflowing stands greet shoppers with a cornucopia of just-picked produce, including corn, squash, lettuce, zucchini, cucumbers, black-eyed peas, eggplant, and farmhouse tomatoes. There are also many herbs, cheeses, olive oils, pastas, sauces, and locally produced honey, as well as fresh, homemade baked pies, breads, and doughnuts. Many visitors come to sample a wonderful breakfast, brunch, and coffee, and a variety of treats such as Belgian waffles and delicious blueberry muffins.
"The Gardens GreenMarket is a one-of-a-kind event that has something for everyone," said Christy Wolnewitz, operations manager for the City of Palm Beach Gardens.
Whether visitors are looking for fresh produce, delicious meats, trinkets, or just-cut flowers, the GreenMarket has grown into a favorite Sunday event that provides tremendous support for local farmers and entrepreneurs.
"By far, it's the best market for many of us local farmers," said Frost, who will be returning for his fourth consecutive year.
When headed to the Summer GreenMarket at the STORE facility, there is ample, expanded parking on the south side of CVS on the corner of Military Trail and PGA Blvd., including the west parking lot of the DoubleTree Hotel.
STORE Self Storage & Wine Storage • storeselfstorage.com • 561.627.8444
STORE Self Storage & Wine Storage brings you unparalleled amenities with exceptional customer service in an elegant and spacious facility. The five-story, climate-controlled building is Palm Beach Gardens' only Category 4, hurricane-rated storage facility. STORE features an array of custom unit sizes that are suitable for commercial as well as residential clients.
STORE Wine Storage offers a climate-controlled environment accessed by biometric technology, with a state-of-the-art wine inventory and management system, and individual African mahogany lockers – all under surveillance of digital video cameras. Wine storage clients also have access to the distinctive, private boardroom for entertaining or business events.
For more information on the Summer GreenMarket, visit pbgfl.com or call 561.630.1100.
The following two tabs change content below.
Cristyle is a South Florida native, born in Miami and raised in Palm Beach. Her love of food came through her travels and seeing how cuisines differ and relate so much. She attended the University of Florida, had a short stint in Charlotte, NC and is now back home - ready to eat her way through Palm Beach County and share her findings with locals and visitors alike. From brunch to happy hour to foodie events, she's got you covered!