HOFFMAN'S CHOCOLATES
This Valentine's Day, celebrate the ones you love with a gift from Hoffman's Chocolates. The gourmet chocolatier has an array of Valentine's-Day-themed chocolates and confections that will make the sweetest gift. Hoffman's Chocolates' Valentine's offerings range from classic heart boxes of assorted chocolates to dipped and decorated Oreos, smothered in chocolate and topped with red, white and pink sprinkles.
Succulent, chocolate-covered strawberries are also available for pre-order online at www.hoffmans.com to pick-up in person at the customer's preferred store location. Orders must be placed before 3 p.m. two days prior to pick-up date. Hoffman's Chocolates' strawberries, fresh and locally-grown, have their stems removed and are smothered in milk and dark chocolate or smooth white confectionary.
Additional Valentine's Day treats offered at Hoffman's Chocolates include:
Beary Cuddly Valentine ($14.95) – a plush teddy bear holding a three pack of chocolate-covered pretzels
Milk & Dark Chocolate Heart Assortment ($36.95) – an elegant, heart-shaped box filled with a pound of fine assorted milk and dark chocolates including foiled hearts
Chocolate Roses ($3.95) – long-stem, hollow milk and dark chocolate roses wrapped in red and pink foil
Chocolate Heart Pops ($2.50) – available in milk and dark chocolate and white confectionary
Sweet Notes Lollipal ($2.50) – heart-shaped candy lollipops with messages
Valentine's Day sweets from Hoffman's Chocolates are available at all nine Hoffman's Chocolates locations throughout Broward and Palm Beach County. For more information on additional Valentine's Day offerings and to find a Hoffman's Chocolates store near you, please visit www.hoffmans.com.
It Takes Two this Valentine's Day with $2 Tacos at Calaveras Cantina
Two is the happiest number on Valentine's Day and this February 14 two dollars is all you'll need to enjoy a night of sexy Mexican food during Calaveras Cantina's Taco "Two's Day."
Featuring the hottest authentic Mexican food and craft cocktails around, Calaveras Cantina is offering the $2 special on all of its a la carte tacos including Carnitas (pork), Molida (ground beef), Pescada (wild Mahi Mahi), Camarones (shrimp), Brisket or Pollo (chicken) tacos. Each one is served in a soft flour, crunchy or corn shell with Pico de Gallo, lettuce and Cotija cheese. Couples enjoying the tasty tacos between the hours of 4-7 or 10-close can take advantage of Calaveras' happy hour drink menu with special $6 margaritas, 26 Degree draft cervezas, craft cocktails and an extensive happy hour wine menu.
"We wanted to make Valentine's Day even more fun," said Calaveras Cantina owner, Curtis Peery. "Taco Tuesday is everyone's favorite week day and we are upping the ante. We invite everyone to join us to celebrate!"
Located at 125 Dockside Drive in Harbourside Place along the beautiful Intracoastal Waterway, Calaveras Cantina opens daily at 11:00 a.m. From Sunday through Thursday, guests enjoy the fun until midnight. Fridays and Saturdays closing time is 1:00 a.m. Indoor and open-air seating areas provide plenty of space to relax with friends. Street, garage and valet parking is available.
Reservations for this event are suggested. For additional info, please visit www.calaverascantina.com or call (561) 320-9661.
OOH LA LA! FIRE UP THE ROMANCE AT CHEZ L'EPICIER THIS VALENTINE'S WEEKEND!
Cupid's arrow is alive and well at Chez l'Epicier this Valentine's Day. Flickering candlelight, aphrodisiac foods and libations galore ignite the appetite for night of romantic dining at Chez l'Epicier this Valentine's Weekend. Chef Laurent's gourmet sharing menu gets the fires burning (literally) for a simmering Valentine's celebration. The dinner fans the flames of amour with a flambé –centric cuisine.
The evening starts with a specialty cocktail, Yquem Bubbles (Champagne Taittinger and Château Yquem Sauterne), and Kai-Kai Farm strawberry; $25 a glass. As always the meal tempts with the classic macaron amuse bouche, however, instead of black olive and goat cheese, it is a heart shape, beet and thyme macaron to whet the palate.
The appetizer is an aphrodisiac trio of Chez l'Epicier favorites of baked oyster with cave-aged cheddar and maple flakes, avocado tartare and a mini asparagus and truffle soup shot; $18 per person.
As delectable as it is impressive, a show-stopping wheel of Parmigiano Reggiano is sure to make a statement as lobster and Cognac spaghetti are flambéed inside the hallowed out, 36- month aged cheese bowl. Made in the Emilia Romagna region of Italy, this aromatic Parmigiano Reggiano weighs approximately 80 pounds—plenty of decadence for all Valentine revelers! This course is priced at $120 per couple.
The indulgence continued with dessert. Grand Marnier pot de crème, flamed at the table, to share served with two spoons; $20 for 2 people.
The regular menu is available and all sharing courses are priced by the dish. Tax and gratuity are not included. Reservations are strongly suggested. The Valentine's celebration menu is available Friday, February 10 – Tuesday, February 14. Located at 288 S. County Road, Palm Beach, Chez l'Épicier serves nightly dinner, happy hour specials, private dining parties and soon-to-be Sunday brunch. For more information and reservations, please visit palmbeach.chezlepicier.com or call 561- 508-7030. Bon Appétit!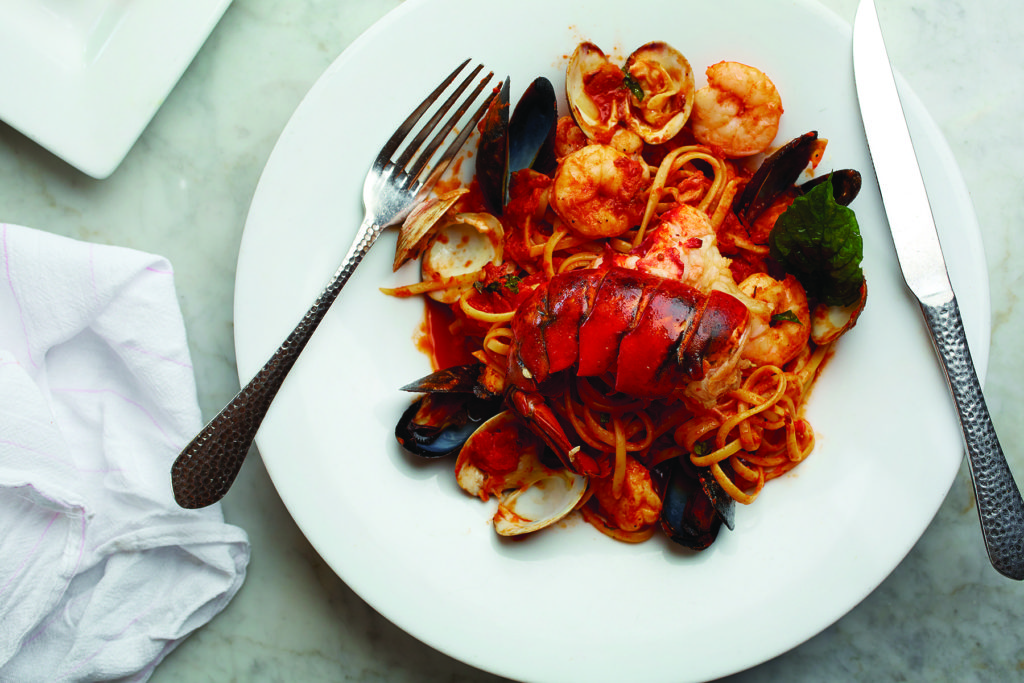 Culinary Opulence: Valentine's Day Utopia at Vic & Angelo's
As invisible cupids hover overhead, lovers of sea-to-table specialties and extravagant pastries will find themselves lingering long after they tuck into executive chef Alain Zimmer's amorous, three-course prix fixe feast at Vic & Angelo's in PGA Commons.
The Valentine's Day prix fixe menu includes:
PRIMO (Select one)
Stuffed Artichoke
Garlic breadcrumb stuffing and lemon butter
Scungilli Salad
Poached calamari, shrimp, scungilli, endive, arugula, frisée, roasted garlic, celery, and lemon-infused olive oil
SECONDO (Select one)
Lobster Francese
Served over truffle mashed potatoes and grilled asparagus
Linguini Frutti di Mare
Maine lobster, Cedar Key clams, tiger shrimp, salmon, calamari, mussels, and San Marzano red sauce
Braciole
Rolled and braised skirt steak, stuffed with soppressata, fontina, Parmesan breadcrumbs, roasted garlic, mozzarella, and served over linguini aglio e olio
DOLCE (To share)
San Gennaro's Valentine Feast
An assortment of cannoli, tiramisu, zeppole, and biscotti
Add a bottle of Prosecco for $24
Cost is $55 per person, excluding tax and gratuity. Reservations are highly recommended. Regular dinner menu is available.
For more information, please call 561.630.9899 or visit vicandangelos.com. Vic & Angelo's is located at 4520 PGA Boulevard, Palm Beach Gardens.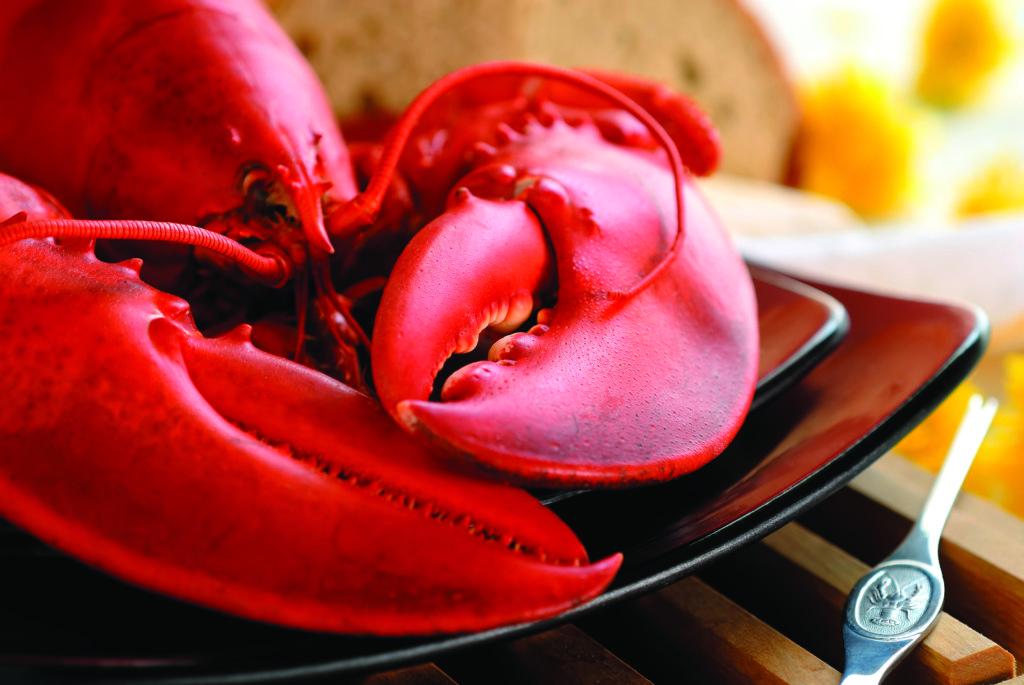 A Real Catch: Spoto's Oyster Bar Offers Decadent Valentine's Day Menu
Couples hungry for romance will strike gastronomic gold at the celebrated Spoto's Oyster Bar in PGA Commons. Executive chef Dan Blair is turning up the heat with a sumptuous feast that will make guests swoon, showcasing sea-to-table favorites, heavenly desserts, and flirty craft cocktails that are anything but tame.
Valentine's Day specials include:
Live Maine Lobster (2 lbs.)
Market Price
Mashed potatoes, sweet potatoes, cream spinach, red beans and rice
Herb-Roasted Whole Yellowtail Snapper for Two
$45
Wild rice and julienned vegetables
Pan-Seared Black Grouper
$31.50
Gnocchi with tomato chardonnay butter sauce
Chocolate Raspberry Torte and Prosecco for Two
$17.50
Chocolate-Covered Strawberry Martini
$11.50
Sobieski vanilla vodka, Godiva chocolate liqueur, white crème de cacao, and strawberry purée, garnished with a chocolate swirl and fresh strawberry
Love Potion #9
$11.50
Sobieski vodka, X-Rated Fusion Liqueur, fresh pineapple, orange juice, and grenadine, garnished with a fresh blood orange
Reservations are highly recommended. Regular dinner menu is available. Valentine's Day dinner hours are from 4 p.m. to 10 p.m.
Spoto's Oyster Bar is located in PGA Commons at 4560 PGA Boulevard, Palm Beach Gardens. For more information, please visit spotos.com or call 561-776-9448.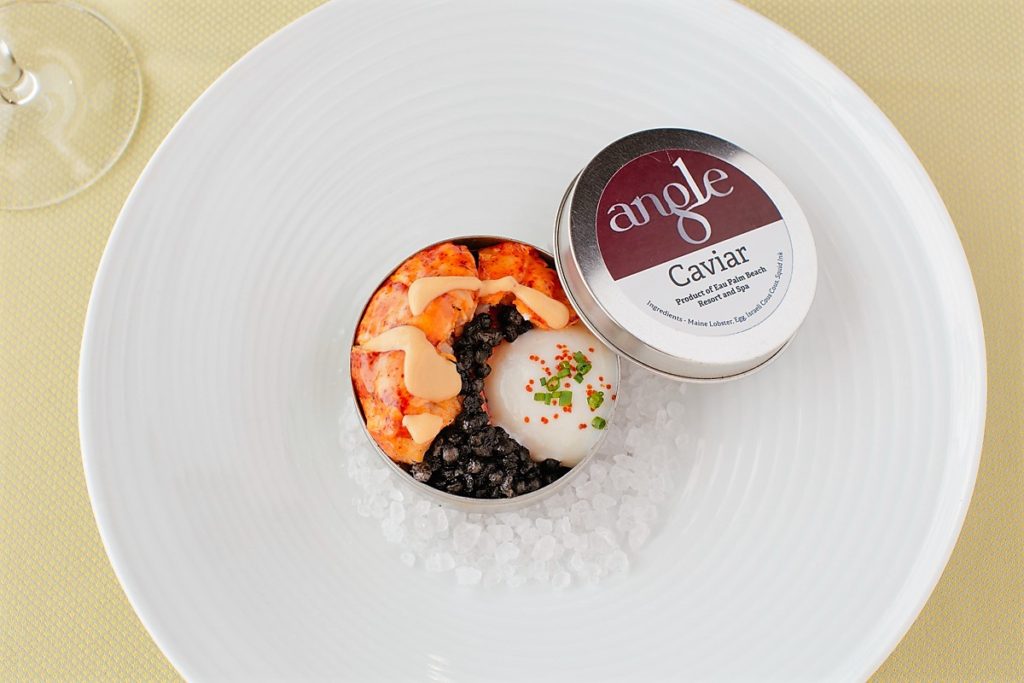 EAU PALM BEACH RESORT & SPA
Valentine's Day is just around the corner, and what could be sweeter for your honey than an exquisite dining experience at Eau Palm Beach Resort & Spa? How about three days of romance instead of February 14th alone?
Because love doesn't follow the calendar, Executive Chef Josh Thomsen is offering exclusive Private Oceanfront Cabana Dining experiences on Friday, February 10th and Saturday, February 11th, as well as on Tuesday, February 14th.
The Private Oceanfront Cabana Dining is $450 per couple and include a four-course meal plus dessert, along with wine pairings by resort Sommelier Levin Glane and a champagne toast to cap the evening. (Complete menu pdf attached).
And for those traditionalists, Eau's flagship restaurant, Angle, and its Chef de Cuisine Manlee Siu, will also offer a special Valentine's menu on February 14th for $95 per person. Four-course menus for $75 will also be offered on Feb. 10th & 11th. Reservations are required for both the Private Oceanfront Cabana Dining and dinner at Angle, and can be made by calling 561-540-4924 or visiting www.anglerestaurant.com/special-events/valentines-day.
LEILA RESTAURANT DISHES UP ROMANTIC INTRIGUE
West Palm Beach locals have long embraced a Middle Eastern gem nestled downtown at the corner of Datura and Dixie, just one block south of Clematis Street. Now, those looking to treat their beloved to a special Valentine's Day dinner can get in on what downtown diners have loved about this longstanding restaurant for many years.
For dinner on Tuesday, February 14th, Leila will feature their special "Leila Grill for Two." Complete with a bottle of wine and dessert, diners will love the combination grill for two featuring a sharing portion of Shish Tawook (tender breast of chicken marinated in fresh garlic and olive oil with a zest of lemon); Shish Kebab (beef tips marinated to tender perfection in a light mix of spices and extra virgin olive oil); Lamb Kebab (succulent spice-rubbed squares of lamb marinated in onion and extra virgin olive oil); and Kraidis (flame-grilled shrimp marinated in a special sauce of garlic, lemon and parsley) for $100 per couple. Those not interested in the special feast also have the option to dine from Leila's daily dinner menu.
Don't want to wait for dinner to celebrate the Day of Love, Leila owners, Akram and Mireille Awad, will be waiting to greet you for lunch beginning at 11:30 a.m. with a warm smile and handshake just like every other day of the week. They suggest starting your Valentine's Day lunch off with a couple of selections from Leila's expansive mezze menu, then topping it off with a signature dish such as Shish Tawook ($11), which is tender breast of chicken marinated in fresh garlic and olive oil with lemon zest. Try the Samak Mishwee ($14), a flame-grilled 8-ounce Mahi-Mahi filet served with tangy citrus sesame taratoor sauce. All luncheon entrees are reasonably priced from $8 to $14 so they won't break your budget. Each is served with a choice of French fries, rice with vermicelli or couscous and your choice of hummus or baba ghanoush.
Casually-chic Leila Restaurant is a cosmopolitan grille featuring authentic regional dishes for lunch and dinner along with traditional Mediterranean specialties like silken hummus, hot and crisp falafels, and baba ghanoush. The special vibe that is uniquely Leila's is unlike that offered in other South Florida restaurants. Blending fine Mediterranean cuisine, Middle Eastern entertainment, and the most dedicated staff, Leila engages all your senses to provide a memorable collage of colorful sights, alluring smells and exciting tastes.
Leila is located at 120 South Dixie Highway, West Palm Beach, FL 33401. Reservations are available via OpenTable on the homepage of the restaurant's website at leilawpb.com. Accommodations for special requests and larger parties are best placed via phone: 561.659-7373. Email at info@leilawpb.com.
VALENTINE'S DAY SWEETHEART MENU AT III FORKS STEAKHO– USE
Sweethearts will delight in a special Valentine's Day menu at III Forks Prime Steakhouse. The "Sweetheart Menu" ($160 per couple) includes the choice of a III Forks salad or lobster bisque, along with two six-ounce filet mignon, accompanied by two six-ounce cold water lobster tails, served with whipped potatoes, off the cob cream corn, vine ripened tomatoes and spring onions. The sweet finish is a chocolate lovers dessert.
Featured sparkling selections include Veuve Clicquot Champagne ($99 a bottle), Beringer Luminus Chardonnay ($16 by the glass, $45 by the bottle) and Terra Valentine Cabernet Sauvignon ($70 a bottle).
III Forks Prime Steakhouse is located at 501 Silks Run in The Villages of Gulfstream Park in Hallandale Beach (954) 457-3920 and at 4645 PGA Boulevard in Palm Beach Gardens (561) 630-3660. For more information, visit www.iiiforks.com
The following two tabs change content below.
Cristyle is a South Florida native, born in Miami and raised in Palm Beach. Her love of food came through her travels and seeing how cuisines differ and relate so much. She attended the University of Florida, had a short stint in Charlotte, NC and is now back home - ready to eat her way through Palm Beach County and share her findings with locals and visitors alike. From brunch to happy hour to foodie events, she's got you covered!