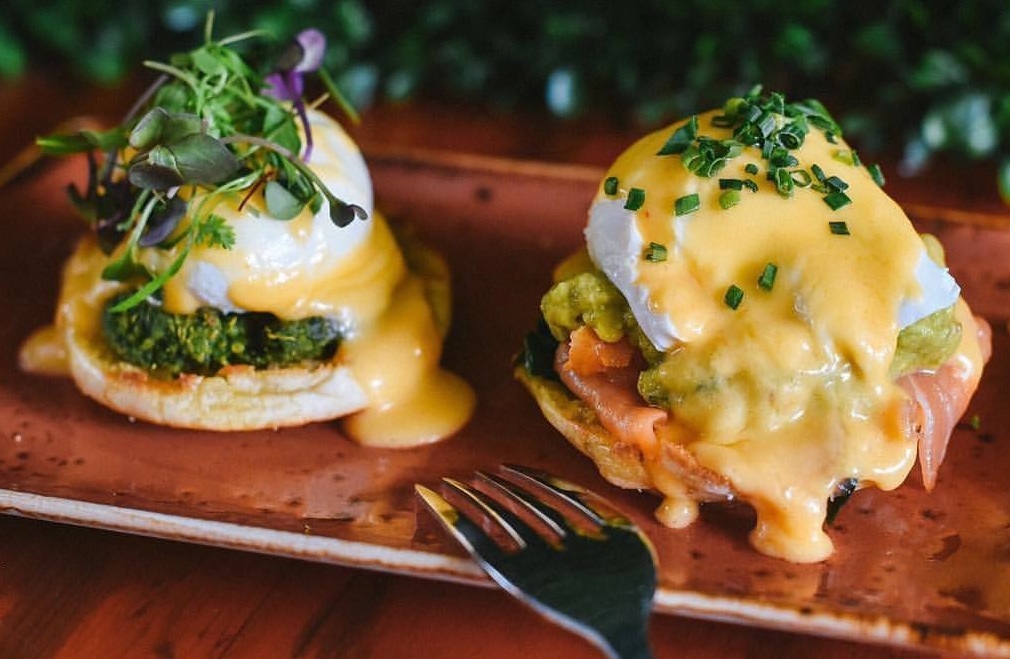 DADS DESERVE A DELICIOUS DAY
Fathers will appreciate Avocado Grill specials that Chef Julien created just for them
Known for smaller plates of the freshest, locally-sourced ingredients, Avocado Grill has heartier appetites in mind when it comes to Father's Day. On Sunday, June 18, 2017, dads will have a choice of five special dishes.
"As a new father myself, I'm really looking forward to honoring other dads on this special day," says Owner/Executive Chef Julien Gremaud.
One of the chef's favorite traditional dishes is Pappardelle Bolognese. This selection is sure to satisfy hungry appetites with house-made pasta blended with rich meat sauce that's been stewed for seven hours. Dads will also have the choice of Korean BBQ Pork Spareribs that are fall-off-the-bone tender and accompanied with baked butterbeans topped with scallions and sesame.
Sea-faring dads will love two special creations. Option one is the Swordfish & Pineapple Skewers. This tropical dish features red bell peppers, red onion, sweet & spicy sauce and avocado mousse. Seafood lovers may have some serious difficulty, though, choosing between the skewers or the Crispy Coconut Gulf Shrimp spiced with green curry sauce and served with bomba rice and tropical salsa.
Finally, the always-popular Grilled Lamb Lollipops dressed with a pineapple and fennel marmalade will also be available. On Father's Day, these will be served with hearty farro that's been seasoned with cucumber, mint, and finished with a basil yogurt dressing.
Avocado Grill's will be open regular hours on Father's Day serving their award-winning weekend brunch and their Sunday Comfort Food dinner. Reservations are strongly encouraged and available through OpenTable.com or by calling (561) 623-0822. Follow the restaurant on Facebook, Twitter and Instagram for all the latest updates and specials.
About Avocado Grill
Opened in downtown West Palm Beach in late 2014, Avocado Grill has become a staple on the dining scene. Led by Chef Julien Gremaud, the award-winning restaurant features small plates of seasonal, locavore-driven fare, specialty ceviche, a full raw bar and an expansive farm-to-table menu that includes fresh, house-made desserts.
In December 2016, Chef Gremaud won the Palm Beach Food and Wine Festival's title for "Best Street Food". The Chef's entry was a Quail Leg Lollipop with truffle aioli, pistachio crust, cherry chutney, and pickled beech mushroom.
Over the restaurant's two years in business, the talented chef and his staff have accumulated an array of awards recognizing the high quality and uniqueness of their delectable offerings including: Florida Trend Magazine's Golden Spoon award for "Best New Restaurant for 2015"; 2014, 2015, & 2016 "Open Table Diners' Choice" award winner, 2014 "New Times Reader's Choice Best New Restaurant in Palm Beach County", and USA Today's 10 Best. Additionally, Avocado Grill has garnered four of The Palm Beach Post's most sought after Critic's Choice Awards: "2016 Best Indie Restaurant," "2015 Best A La Carte Brunch," "2014 Best New Restaurant" and "2014 Rising Star Chef" for Owner/Chef Julien Gremaud, who was also a finalist in the South Florida Business & Wealth Magazine's "Up & Comers Awards." Visit avocadogrillwpb.com.
The following two tabs change content below.
Cristyle is a South Florida native, born in Miami and raised in Palm Beach. Her love of food came through her travels and seeing how cuisines differ and relate so much. She attended the University of Florida, had a short stint in Charlotte, NC and is now back home - ready to eat her way through Palm Beach County and share her findings with locals and visitors alike. From brunch to happy hour to foodie events, she's got you covered!