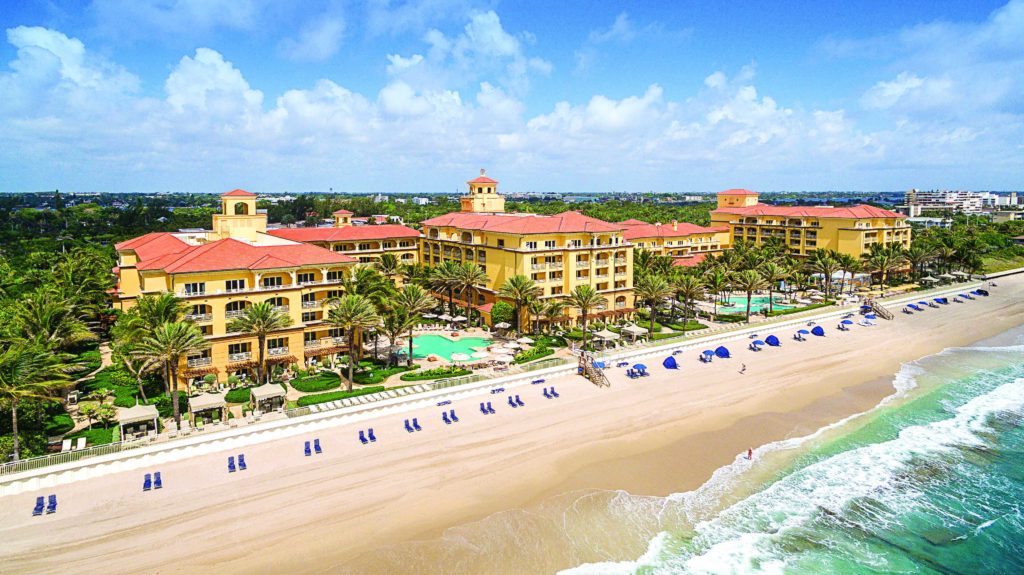 EAU Palm Beach June Highlights
"DRUNCH"
Temple Orange Mediterranean Bistro
Sunday, June 18th
Noon-2:30 p.m.
$95 per person; $25 for children 5-12; children 4 and under are complimentary
Reservations recommended; call 561-533-6000
"Drunch" is back, featuring a man-sized selection of fixings to complement High West Whiskey on the Bloody Mary Bar for truly Dad-worthy drinks. More of a beer guy? Then the new Craft Beer Garden is sudsy perfection. Dad can also have a complimentary engraving of his name on a bottle of his favorite Johnny Walker (with bottle purchase). Paired with a king-sized buffet including raw bar, sushi, and prime rib carving station, Drunch celebrates all the dads in your life with a day fit for royalty.
EAU SPA MEN'S MONTH SPECIALS
Who says that you can't mix business with pleasure? Palm Beach is the oceanfront playground of the aristocratic, famous and elite, and Eau Spa is their social hub. Eau Spa ushers in the new Palm Beach lifestyle, and this is where they all come to play. It is not uncommon to find industry leaders donning robes and dipping their toes in our heated reflection pool while conducting business deals in our outdoor swinging chairs. Men commonly exercise their right to "bare" arms in our wet areas by shooting water guns at one another and using our bobble head sports figures for target practice. Those trying to show off a different but no less impressive set of guns, can bare their arms in our state of the art fitness center. When they work up an appetite, there is always an exotic fairy in our Self Centered Garden willing to take orders. Whether their taste lends itself to fine scotch and cigars or burgers and brewskis, Eau Spa always pleases the palate.
SAVILLE ROW BESPOKE MASSAGE
Perfect for the posh Englishman, this tailored treatment fits even the fussiest father. He may select light to firm pressure and command the sounds, scents and colors that surround him. This aromatherapy massage boasts a jolly good foot treatment and includes complimentary storage space for bowler hats and walking canes.
-60 Minutes for $205
-90 Minutes for $280
THE BIG DADDY
Rulers of roosts from all over the world are invited to revel in four hours of patriarchal pampering. The good ones carry a great burden, and you may lessen their load and show some overdue appreciation with a day that includes a 30-Minute Body Scrub, 90-Minute Self-Centered Massage, 60-Minute Black Tie Facial, and Men's Manicure and Pedicure.
-Four Hours of Services for $675 and includes a complimentary bottle of Champagne and 10% off any retail purchases. Optional upgrades are not included in the price.
ODE TO A BODY BUILDER'S BACK WAX
Men who want to appear buff,
And have bodies that shine,
Also want when they leave,
To look sleek from behind.
They adore this wax,
That removes unwanted hair,
So when they walk down the beach,
Admirers will gawk and stare.
-$75 for as long as it takes.
MEN'S MUSCLE MELTER
Give your body the break it deserves. A deep and meaningful body treatment designed to work on sore, tight and fatigued muscles and joints after a long flight, exercise or day of manual labor stress and strain. This all-over-body massage involves intensive, sports massage techniques to warm, manipulate and ease fatigued or aching muscles.
-90 Minutes for $250
FATHER NATURE
For the organic Prince of PETA, we recommend our sustainable, vegan, paraben-free Red Flower Scrub, 15-Minute Neroli Cypress Soak, 60-Minute Red Flower Massage and 60-Minute Beau Naturale Facial. It does not get greener or cleaner than this divine journey. No animals were harmed in the creation of these products or treatments.
-180 Minutes for $525
BLACK TIE FACIAL
Customized specifically for men, transform weathered skin with a unique facial massage, exfoliation and personalized masque to make your skin smooth and refined.
-60 Minutes for $170
BEAU NATURALE FACIAL
Designed to safely heal skin from the inside, this all natural facial includes a cleansing, mask, moisturizer, exfoliation and facial massage all executed with organic, sustainable and green luxury products.
-60 Minutes for $190
-90 Minutes for $280
GENTLEMEN'S PRIVATE BARBERING ROOM
Straight blade razor shaving is arguably the most luxurious grooming ritual of all time, and we offer a full menu of shaves and aesthetic treatments in our private Gentlemen's Barbering Room. Gentlemen may also watch television in our oversized barbering mirror, choose a preferred playlist, and enjoy hot or cold beverages at their leisure.
HOT LATHER AND STRAIGHT RAZOR SHAVE
Whiskers are usurped with our super-close and top-notch shave complete with hot foam, hot towel mask and calming skin treatment. Gentleman may enjoy a shoulder, scalp and neck massage, as well as a soothing hand and arm massage paired with a softening paraffin treatment. This shave also comes with an amazing anti-aging mask that lifts and moisturizes the skin, and a results oriented eye treatment that reduces fine lines, wrinkles, puffiness and dark circles.
-60 Minute Hot Lather, Wet and Straight-Razor Shave with Facial Treatment and Massage $99
-45 Minute Hot Lather, Wet, Straight-Razor Shave with Facial Mask Only $65
-30 Minute Hot Lather, Wet, Straight-Razor Shave Only $45
-Shave and Haircut $140
-Men's Haircut $45+
-Dry Beard Trim $45
-Wet Beard Trim $45
MANicures & PEDICURES
HONEY, WE'VE GOT THE CURE FOR WHAT ALES YOU
Sit back and relax as we rejuvenate your feet and hands while you enjoy your favorite ale. We will treat your hands and feet to a bourbon bubbler scrub that will have you bouncing back in your boots in no time.
-Manicure $55
-Pedicure $75
MEN'S GROOMING MAN-ICURE & PEDICURE
-MANicure $45
-Pedicure $65
THE NINETEENTH HOLE 
GOLF'S GREATEST GROOMING & MASSAGE PACKAGE
Sure to be a hole-in-one for the golfer in your life, we have spoiling him down to a "tee." Give him a break from the fairway with a refining back polish, 90-Minute Deep Tissue Sports Massage, MANicure or Pedicure, 60-Minute Hot Lather, Wet and Straight-Razor Shave with Facial Treatment and Scalp Massage, Men's Hair Cut and optional ear, eyebrow and nose waxing.
-Four Hours of Services for $630 and includes a complimentary bottle of Champagne and 10% off any retail purchases. Optional upgrades not included in the price.
The following two tabs change content below.
Cristyle is a South Florida native, born in Miami and raised in Palm Beach. Her love of food came through her travels and seeing how cuisines differ and relate so much. She attended the University of Florida, had a short stint in Charlotte, NC and is now back home - ready to eat her way through Palm Beach County and share her findings with locals and visitors alike. From brunch to happy hour to foodie events, she's got you covered!