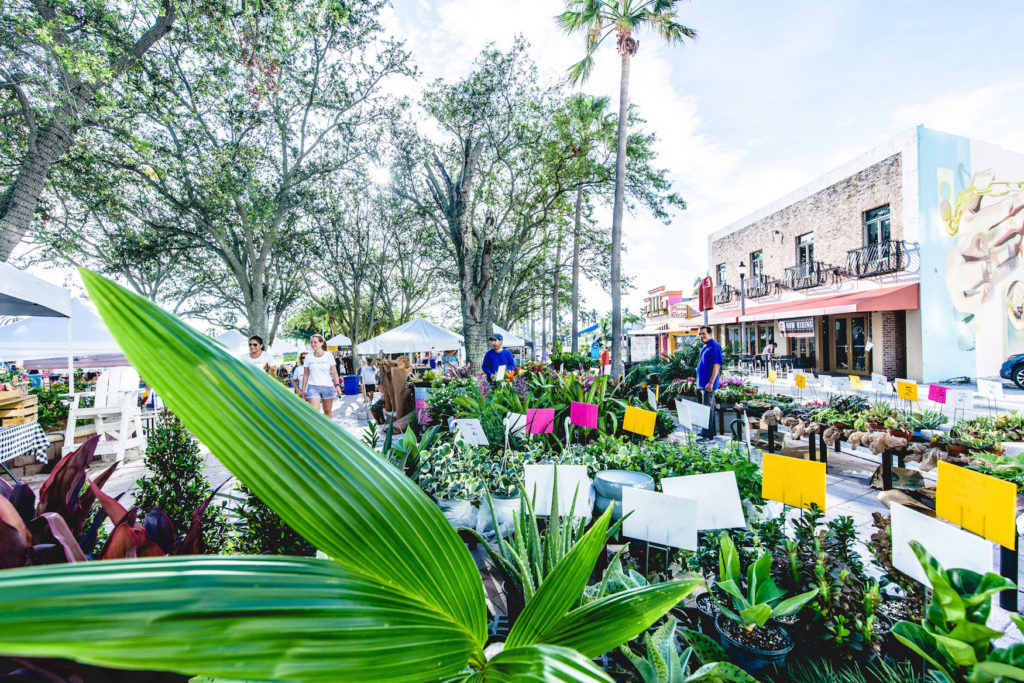 West Palm Beach GreenMarket Goes Greener
2018 – 2019 season to eliminate plastic straws, coffee stirrers and Styrofoam containers
The West Palm Beach GreenMarket, including all of the more than 90 vendors throughout the Waterfront Commons on Saturdays, have pledged to eliminate plastic straws, coffee stirrers and Styrofoam cups and containers this season and beyond. The initiative, which is a collaboration between the Parks and Recreation Department and the Mayor's Office of Sustainability, will make a measurable mark on the City's efforts to enhance the viability of West Palm Beach as a modern model of healthy, environmentally progressive, ecologically sustainable and resilient urban living. In addition, the City is encouraging vendors to eliminate single-use plastic bags, such as grocery-style bags, and suggesting patrons arrive by way of the City's popular and free trolleys. The Yellow Line of the trolley has several stops near the GreenMarket, which opens to the public on Saturday, October 6 and runs weekly from 9 a.m. – 1 p.m.
"Beyond our regular GreenMarket offerings, the GreenMarket will be more environmentally friendly," said City of West Palm Beach Mayor Jeri Muoio. "I find it incredible that more than 90 local vendors have come together to pledge to eliminate environmentally harmful items from our West Palm Beach GreenMarket. Thank you to the Community Events Division of the Parks and Recreation Department and the Sustainability team for being mindful of our goal to create a resilient and sustainable City. We were the first city in Florida to be recognized as a certified 4-STAR community and this announcement is another example of how we continue to lead the way."
The STAR Community Rating System is the nation's first comprehensive framework and certification program for evaluating local sustainability, encompassing economic, environmental and social performance measures. This announcement is a major next step specifically for the Community Events Division, which has long been working to make the City's signature events greener and more environmentally friendly. In 2011, the Mayor's Office of Sustainability and the Community Events Division, in partnership with FPL, installed solar panels above the trellises on South Clematis Street to provide sustainable electricity to vendors and visitors. Most recently, in 2016, the Community Events Division initiated a recycling program for all City of West Palm Beach events, which in addition to the GreenMarket includes Clematis by Night, 4th on Flagler, Screen on the Green and Sunday on the Waterfront, among others.
"Americans use 500 million plastic straws every day, according to the National Park Service," said Elaine Christian, Sustainability Program Coordinator for the Mayor's Office of Sustainability. "Though we sometimes feel small when working as individuals, our collective efforts make a huge impact. We appreciate the enthusiasm of the Community Events Division and the GreenMarket vendors who are fully supporting this exciting and forward-looking initiative."
To make an even farther-reaching impact, the City is also planning to give away more than 5,000 metal straws starting on opening day. The promotion aims to encourage GreenMarket patrons to continue sustainable practices once they leave the Market, thereby spreading sustainability throughout the entire Palm Beach County community.
"The GreenMarket has always been about community – and this announcement is one more way we are meeting the needs of our community," said Mary Pinak, Community Events Manager for the City of West Palm Beach Department of Parks and Recreation. "We 'PRODUCE Fun for Everyone,' this year's GreenMarket theme, is about our commitment to our entire community to have a great time, but we are also equally vested in the sustainability of our events. We love to see generations of families enjoying what we have created, and with extra care to our environment, we can ensure our signature programming will always be enjoyed by all."
This year's GreenMarket theme, "We PRODUCE Fun for Everyone," is apparent in the beyond-the-produce fun that is available for visitors of all ages. In addition to the local vendors, the GreenMarket also features live music, unlimited mimosas for $10, free activities for kids, and plentiful green space and seating, which creates a morning full of fun and relaxation. Additionally, on the third Saturdays of the month, starting in November, visitors can take advantage of "By the Banyan" walking tours, which point out key historical locations throughout the downtown community. In conjunction with the Richard and Pat Johnson Palm Beach County History Museum, the tours are led by local architect and historian, Rick Gonzalez, and start by the large banyan tree on North Clematis Street. Tickets are $10.
Guests are also encouraged to mark their calendars for special events and activities throughout the season, including a dog costume contest on October 27; Veteran's Day recognition on November 10; holiday entertainment on December 22; Salsa Saturday on January 19; The Strawberry Jam on February 9; and an Earth Day celebration on April 20.
The West Palm Beach GreenMarket is produced by the City of West Palm Beach Department of Parks and Recreation, Community Events, and will run weekly through Saturday, April 20, 2019, except for Saturday, March 30, 2019, due to the Palm Beach International Boat Show. The GreenMarket is friendly to dogs on short leashes and is always free. Parking is available in two City garages, both just blocks from the waterfront. Parking is free in the Evernia/Olive garage during market hours and a flat fee of $5 in the Banyan/Olive garage before 1 p.m. Those interested in arriving by boat can also take advantage of the City's free public docks. Locals and visitors are also encouraged to arrive the sustainable way – on City's free and fun trolley. The incredibly popular transport system cuts down on CO2 emissions by eliminating car trips and has several routes, including the Yellow Line, which has several stops near the GreenMarket.
The mission of the West Palm Beach GreenMarket is to provide the community with seasonal access to locally grown fresh fruits, fresh vegetables, plants and agricultural products. The market supports the southeast Florida agricultural community and stimulates agricultural development, particularly in Palm Beach County, by providing an outlet for locally grown crops and specialty products.
GreenMarket sponsors-to-date include: Jupiter Medical Center, Land Rover Palm Beach, Jaguar Palm Beach, Hilton WPB, WIRK 103.1 FM, SUNNY 107.9, WPB Magazine, The Palm Beach Post, Palm Beach Daily News, Palm Beach Medical, WPB Marriott, Rhythm & Hues and JetRide.
The GreenMarket takes place on the corner of Flagler Drive and North Clematis Street at 101 North Clematis Street, West Palm Beach, FL 33401.
For more information about the West Palm Beach GreenMarket and other waterfront events, visit wpb.org/events, call 561-822-1515 or follow the City of West Palm Beach on Facebook @CityofWPB and on Twitter and Instagram @westpalmbch.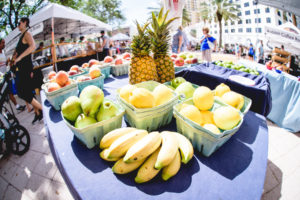 New vendors this year include: Aioli; BMORE crabcakes; Cocowatt; Eddie's Dark Chocolate; Fresh Home Made; Holly's Natural Products; Mi Casa Tu Casa; MONDEPICE; Naughty Nutty Love; NüGrub Vegan Products; Primordic; Soukie's Spring Rolls, Bowls, & More; Strudel Z; and The Cheese Shoppe.
Returning vendors this year include: Airblooms; ARTPIE; Bee Unique Everything Honey & More; Boston Chowda; Brucesghostpepperz.com LLC; Bubbly Boba; Bushdogs ; Celis Produce; Christy's Fresh Catch; Cider Doughnuts; Cottage Garden Teas; Danemilys flowers; Doctor Pickle; DOGDELI CANINE KITCHEN; Don Victorio's Market; Dreamallows; Farmhouse Tomatoes, Inc; Farriss Farm, LLC; Field of Greens; Florida Raw; Frik & Frak Foods; Gables Delight; GFoodZ; Good Dog Bakery; Gracie's Greens; Gratitude Garden; HADAYA SPICE; Havana Restaurant; Heavenly Orchids; Icestasy; Importico's Bakery Café; J and J Seafood; Jerry's Here Farm Fresh; Joe's Herbs and Ornamentals; Joy's International Foods; La Montagne Des Savers; Laurel Orchids; Laurie's Pantry; Le Coin a Crepe; Le Petit Pain; Leila restaurant; Loic Bakery Cafe Bar; Love's Flowers/ Todd Baker wholesale; LOX FARMS; Macy's Smoked Fish & Dip; Makebs; Margie exotic plantscapes; Moonlight Radiance Artisan Market; Mosquito Mud Pottery; Mozzarita; Nisha's Flavors of India; OLIVE OIL OF THE WORLD; PASCALE'S LLC – THE DELRAY BEACH JAM COMPANY; Pasta Amore; Poke smash; Pumphouse Coffee Roasters; R & R Orchids, LLC; Rabbit Coffee Roasting Co; RAWMANTICCHOCOLATE; SANCTUARY EXOTIC TEA; Sassy Palate; Saturday Morning; Seaside Smoothie; Supernaturals LLC; Swank Specialty Produce, Inc.; SWFL Produce; Taspen's Organics; Taste and See Creations; The Ceviche and Guacamole House; The Gourmet Pickle Peddler; The Green Bar; The Purple Shrimp; The Three Plant Ladies of Homestead; TocToc Arepas; Trapical oasis; Turnstyles Woodturnings; Wet Nose Pantry; Wildflower Granola; and Wonders of Nature.
*Photos courtesy of City of WPB
The following two tabs change content below.
Cristyle is a South Florida native, born in Miami and raised in Palm Beach. Her love of food came through her travels and seeing how cuisines differ and relate so much. She attended the University of Florida, had a short stint in Charlotte, NC and is now back home - ready to eat her way through Palm Beach County and share her findings with locals and visitors alike. From brunch to happy hour to foodie events, she's got you covered!