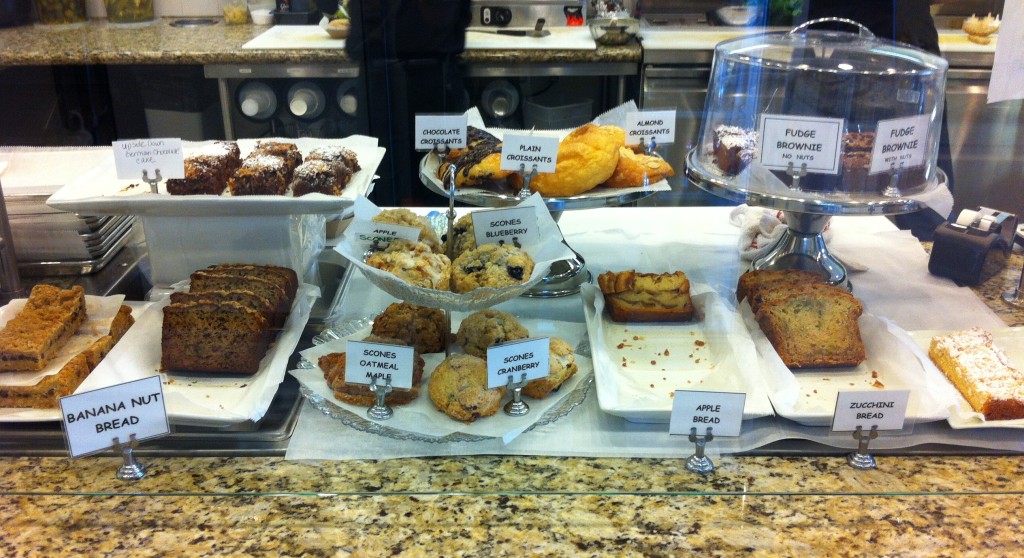 EAT PALM BEACH | ALAINA'S BAKE SHOPPE
I've had Alaina's cupcakes many (maybe too many) times. She is a family favorite for birthday cakes, baby shower mini cupcakes, open house cookies, you name it. Whatever the occasion, we seem to find an excuse to need her baked goodies. However, since opening, Alaina has taken off as a go-to for lunch and savory treats as well. We popped in to Alaina's Bake Shoppe & Cafe this afternoon and gave the savory side of the cafe a go.
We were told to pick a table, any table, and landed at #2. A server took our drink order and then brought us Pumpkin Muffins to start the meal. The kind of unexpected surprise I wish would happen to me every day for the rest of my life. They were bite size with powdered sugar – one for each of us – and went perfectly with my Caramel Latte, which was heavenly. 
After scanning the menu, I decided to go with the 1/2 Panini & Soup Combo and paired the Chicken Pesto Panini with the Lentil Soup of the Day. Lindsay went with the TBA Panini. We both went with multigrain ciabatta, dill vs. spicy pickles on the side and each came with a side of house made chips which were delicious (I love kettle chips).
The PESTO CHICK Panini came with slow roasted white meat chicken, pesto spread, tomatoes, sweet roasted peppers, mozzarella and arugula. The ingredients were all so fresh and flavorful. The sweet peppers really popped. It happened to be a gross day out so the Lentil Soup was the perfect warming addition to the meal.
THE TBA Panini featured oven roasted turkey (house roasted), applewood smoked bacon, avocado, ranch, aged cheddar, arugula and tomato. This thing was packed with turkey and meant business as Lindsay took half to go.
It felt wrong to leave without having a bite of cupcake, so we shared a Key Lime Cupcake, complete with key lime filling and topped with key lime zest and edible *glitter*.
I can now confidently say Alaina's is one of my favorite spots in Palm Beach County. I love the bright clean dining area, the cases full of baked goodness and now the delectable lunch options. I feel like I have to go back to try half of the meals we watched be delivered to surrounding tables (the POWER CLEAN Salad and CLUCKER Chicken Salad looked amazing).
Alaina's also offers to-go, catering, made-to-order desserts, wedding cakes, you name it!
Meals at the Table 
panini (n) italian: a sandwich made with bread other than sliced bread and usually toasted

Alaina's Bake Shoppe & Cafe
4377 Northlake Blvd, Palm Beach Gardens, FL 33410
561.318.6945
alainasbakeshoppe.com
The following two tabs change content below.
Cristyle is a South Florida native, born in Miami and raised in Palm Beach. Her love of food came through her travels and seeing how cuisines differ and relate so much. She attended the University of Florida, had a short stint in Charlotte, NC and is now back home - ready to eat her way through Palm Beach County and share her findings with locals and visitors alike. From brunch to happy hour to foodie events, she's got you covered!