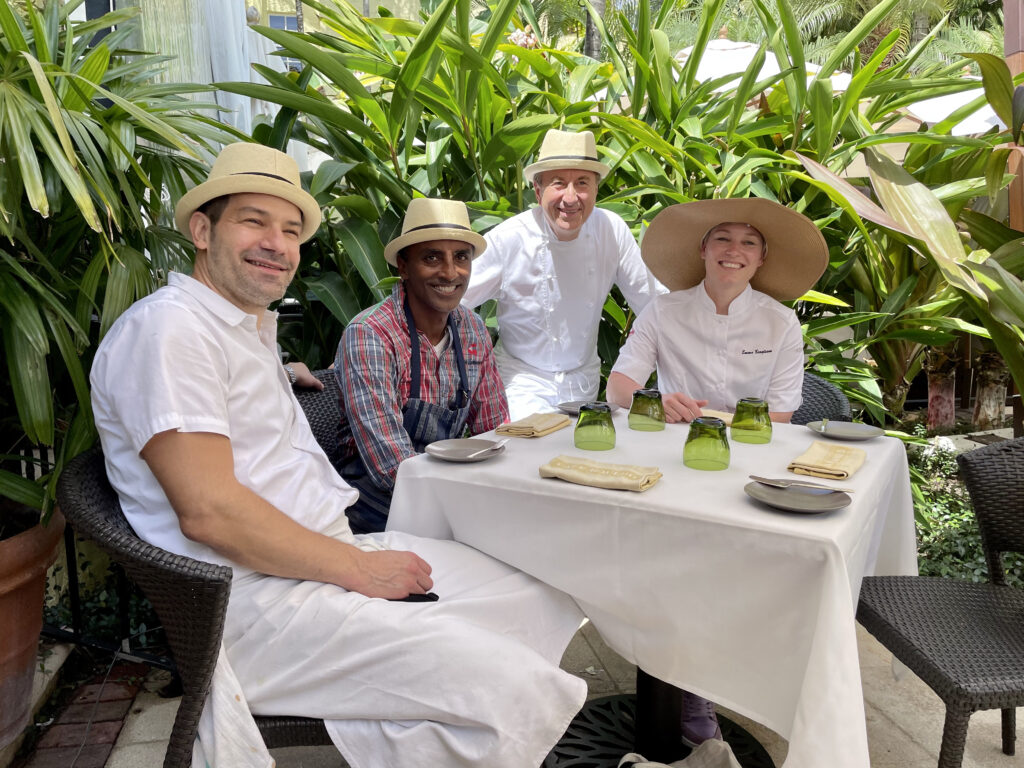 This week I attended "Daniel Entre Amis" at Cafe Boulud Palm Beach at The Brazilian Court Hotel. 
Hosted by the incomparable Chef Daniel Boulud, chefs Marcus Samuelsson, George Mendes, Emma Bengtsson, and teams came together to prepare a stunning meal benefitting World Central Kitchen. 
The excitement was palpable, from the diners eagerly awaiting each course and chef interaction to the chefs giddy with the sensation of being together and sharing their passion. The mood was light, playful and full of love and respect for one another. It reflected in colorful plates of dill-cured salmon, king krabba, pink snapper and canard aux cerises and closed with a stunning monochromatic ivoire & citron noir by Daniel & pastry chef Julie Franceschini 
Hors d'Oeuvres | Fisher Island Oyster: Daniel Boulud & Anthony Di Gregorio | Black Roe, Cultured Cream. Toasted Rye: Emma Bengtsson | Salt Cod & Potato "Bolinho": George Mendes | Bay Scallop: Marcus Samuelsson | Tartelette de Petit Pois: Daniel Boulud & Dieter Samijn
Menu | Dill-Cured Salmon: Emma Bengtsson | King Krabba: Marcus Samuelsson | Florida Pink Snapper: George Mendes | Canid Aux Cerises: Daniel Boulud & Dieter Samijn | Ivoire & Citron Noir: Daniel Boulud & Julie Franceschini
From the wine pairings by Imre Papp to the chefs personally sprinkling each snapper dish in the room with sunflower petals to the picture perfect Florida weather flowing from the outdoor courtyard seating into the dining room, the meal was flawless.
I had the pleasure of dining with David Sabin of Palm Beach Food & Wine Festival and felt honored to be at his table as the chefs declared their need to be brought together without a festival this past year. What he's built for our food community, especially on a national scale, is truly amazing
The afternoon was one I will not soon forget and a reminder of why I love food and the people who create it so much. Such a talented group of individuals, led by such a charming man who has touched so many through his food, guidance, and friendship. I loved it.
Thank you for having me.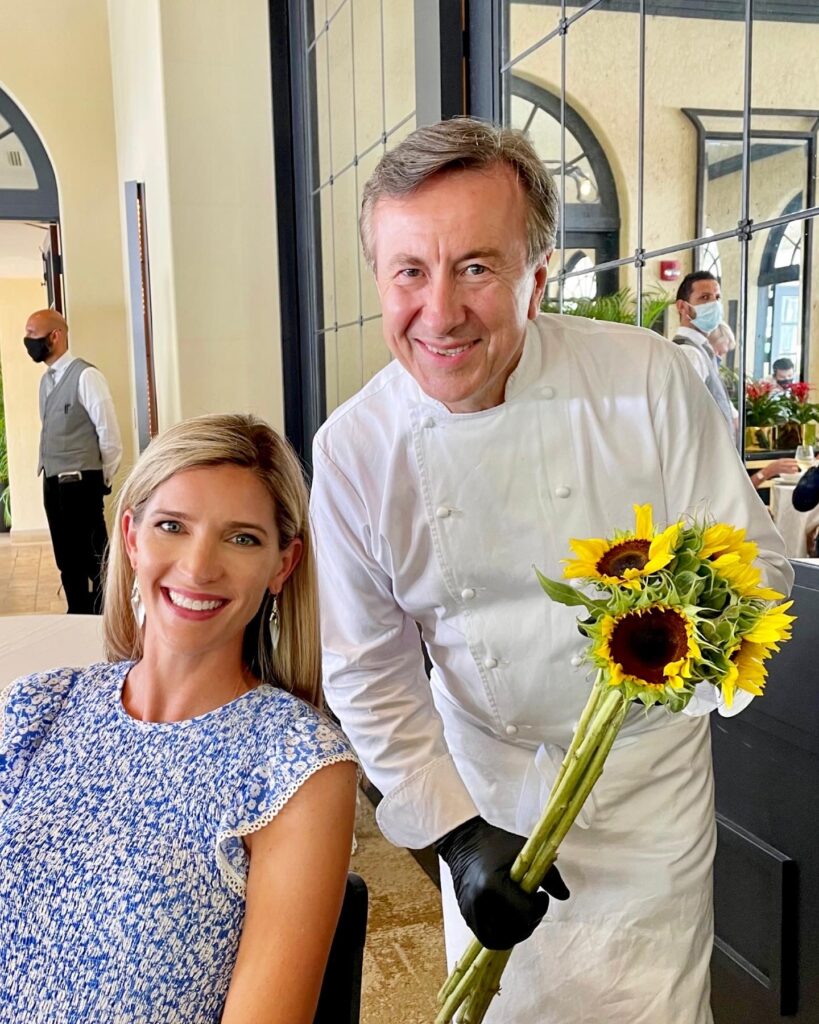 Daniel Boulud | A native of Lyon, France, Daniel Boulud is considered one of America's leading culinary authorities and one of the most revered French chefs in New York, his home since 1982. Daniel is Chef-Owner of 14 restaurants around the world, and is best known for his eponymous, exquisitely refined DANIEL on Manhattan's Upper East Side. Boulud is also the author of nine cookbooks and the recipient of numerous awards, including James Beard Foundation "Outstanding Chef" and "Outstanding Restaurateur." He is a generous supporter and Co-President of Citymeals-on-Wheels for more than two decades, and is Chairman of the mentor BKB foundation.
Marcus Samuelsson | Marcus Samuelsson is the acclaimed chef behind many restaurants worldwide. He has won multiple James Beard Foundation awards for his work as a chef and as host of No Passport Required, his public television series with Vox/Eater. Samuelsson was crowned champion of Top Chef Masters and Chopped All Stars, and was the guest chef for President Obama's first state dinner. A committed philanthropist, Samuelsson is co-chair of Careers through Culinary Arts Program (C-CAP), which focuses on underserved youth. Author of several cookbooks, in addition to the New York Times bestselling memoir Yes, Chef, Samuelsson also co-produces the annual Harlem EatUp! festival, which celebrates the food, art, and culture of Harlem. During the COVID-19 pandemic, Samuelsson converted his restaurants Red Rooster Harlem, Marcus B&P in Newark, and Red Rooster Overtown in Miami into community kitchens in partnership with World Central Kitchen, serving over 200,000 meals to those in need. His podcast titled This Moment with Swedish rapper Timbuktu is available on ACAST. His newest cookbook, The Rise: Black Cooks and the Soul of American Food, is out now.   
George Mendes | A first-generation American born to Portuguese parents, acclaimed chef and cookbook author George Mendes brought elevated Portuguese inspired cooking to New York City when he opened Aldea in 2009. After graduating from the Culinary Institute of America in 1992, Mendes spent 17 years honing his knowledge, technique, and style under the guidance of some of the world's greatest culinary masters including Alain Passard ( 3 star Michelin ) at Arpege in Paris,  Martín Berasategui ( 3 Star Michelin )  Alain Ducasse, (3 Star Michelin) and his most influential mentor, David Bouley. At Aldea, Mendes served a menu of refined and modern dishes reflective of his classic training, Iberian experiences, and the flavors of his heritage—earning the restaurant a Michelin star and holding on to it every year since 2010. Mendes has been named a "Best New Chef" by Food & Wine magazine, and his first cookbook, My Portugal was published in October 2014 to critical acclaim. He has made numerous television appearances, including on NBC's "TODAY Show," CBS's "This Morning," and Bravo's "Top Chef Masters." George is currently working on a new restaurant project to open this Spring.
Emma Bengtsson | Emma Bengtsson grew up in the small Swedish fishing village of Falkenberg and originally wanted to be a fighter pilot. In her youth, Emma would go to shooting ranges with her father in preparation for a military career, however, her grandmother was an avid home cook and inspired her to go on to study at the International Restaurant School in Stockholm at the age of 16. Emma went on to stage as a pastry chef at Edsbacka Krog — the only Swedish restaurant to hold two Michelin stars at the time. Here, she discovered she enjoyed working as a pastry chef. 
In 2010, at 29-years-old, then Aquavit Executive Chef Marcus Jernmark recruited her to join the team as pastry chef. Her interpretation of classic Scandinavian desserts quickly garnered critical acclaim with Aquavit winning a Michelin star. Emma caught the attention of owner Hakan Swahn, who offered her the Executive Chef position in 2014 when Jernmark resigned. She took her delicate approach to pastry and adapted it to savory dishes which led to the restaurant being awarded two Michelin stars the same year. This award made her the first Swedish woman to hold two Michelin stars and only the second in the United States after Dominique Crenn.
In 2016, under Emma's culinary direction, Aquavit opened a second restaurant in London. At Aquavit, Emma is serving the kind of food she likes to eat. The fare is true to Scandinavia offering light and bright dishes with a focus on fresh ingredients, seafood and traditional methods like pickling and preserving.
World Central Kitchen | Founded by world renowned Chef José Andrés in 2010, World Central Kitchen brings smart solutions to hunger and poverty. A registered 501(c)3 non-profit, this humanitarian organization uses the expertise of chefs to empower the people to be part of the solution – with focus on health, education, and jobs. World Central Kitchen currently works in Haiti, Zambia, Dominican Republic, Nicaragua, and the U.S. http://wck.org
The following two tabs change content below.
Cristyle is a South Florida native, born in Miami and raised in Palm Beach. Her love of food came through her travels and seeing how cuisines differ and relate so much. She attended the University of Florida, had a short stint in Charlotte, NC and is now back home - ready to eat her way through Palm Beach County and share her findings with locals and visitors alike. From brunch to happy hour to foodie events, she's got you covered!