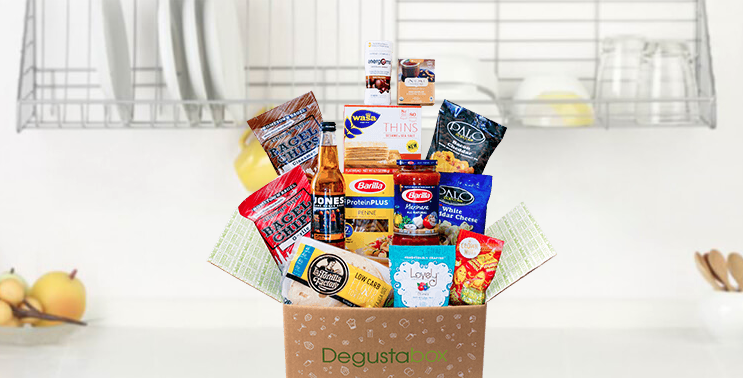 EAT PALM BEACH | DEGUSTABOX
Experience Degustabox at 50% off! Use Code: D444I and pay just $9.99!
(Regular Price: $19.99 | Box Value: Approx. $30)
Degustabox is a subscription service offering a surprise package of 10-15 consumer goods each month.
The October Box included:
Jones Soda
Numi Tea
Palo Popcorn
Hometown Bagel
Lovely Candy
La Tortilla Factory
Wasa Thins
Energems
Crown Nut
Barilla Marinara Sauce
Barilla ProteinPLUS Pasta
Opening up the box just after dinner, the Lovely Candy caught my eye as a dessert treat. I would compare these to a wholesome Starburst candy, the same chewy texture – only these made with super fruits and nothing artificial!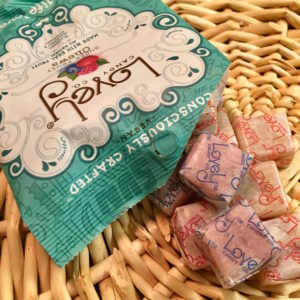 I popped the Jones Soda, Pumpkin Pie flavored, in the fridge for the next day. It literally tastes like liquid pumpkin pie. I feel like pouring it over a scoop of vanilla ice cream for a pumpkin pie float would be a great idea.
My house goes through a lot of tortillas as my little one loves a toaster oven quesadilla, so I was excited to see La Tortilla Factory. It's fun to try out new brands of a family favorite.
I'm a Barilla lover so I was also happy to see the ProteinPLUS pasta and sauce. My husband is Italian, so I'm always on the lookout for amped up pasta options (which he probably wishes I would quit and just keep it old school but – sorry love!).
Thankfully Degustabox distracts him from my nonsense with things like Crown Nut Sriracha Almonds. Those immediately went in the "take to work" pile for his desktop snacking.
Flavored popcorn is a weakness of mine so Palo Popcorn was a welcomed surprise! I love white cheddar and am looking forward to tasting the cheddar bacon – who doesn't love cheddar bacon?!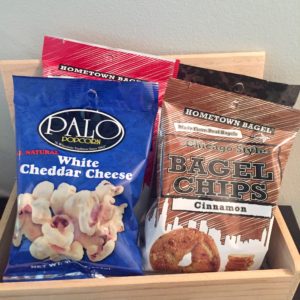 Hometown Bagel chips also proved to be a great snacktime addition. I love cinnamon bagels and the garlic was a great savory choice. The Wasa snack thins are a great guilt-free healthy snack – only 80 calories? Yes, please.
Numi Organic Tea has been in a couple of my last boxes and it's been nice to see the variety they offer. This month included a sampler with green, black, earl grey, chamomile and more. I love samplers because nothing makes me sadder than buying a box of a flavor and then not being a fan and watching it sink into the back of the pantry.
Energems seems like a product developed just for me – dark chocolate and caffeine. These are the kind of Degustabox finds I feel like I would never discover on my own or be too wary to purchase randomly. And then I become a raving fan and have to tell everyone about them.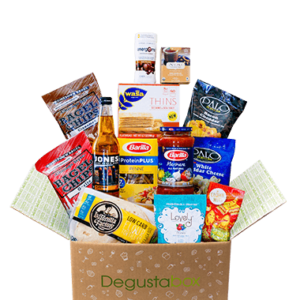 If you're looking for a way to try out some new products and get a fun surprise box every month, I'd give Degustabox a try and see what you think!
For more information or to order, visit Degustabox.
Experience Degustabox at 50% off! 
Use Code: D444I and pay just $9.99!
(Regular Price: $19.99 | Box Value: Approx. $30)
@DegustaboxUSA | #DegustaboxUSA
The following two tabs change content below.
Cristyle is a South Florida native, born in Miami and raised in Palm Beach. Her love of food came through her travels and seeing how cuisines differ and relate so much. She attended the University of Florida, had a short stint in Charlotte, NC and is now back home - ready to eat her way through Palm Beach County and share her findings with locals and visitors alike. From brunch to happy hour to foodie events, she's got you covered!