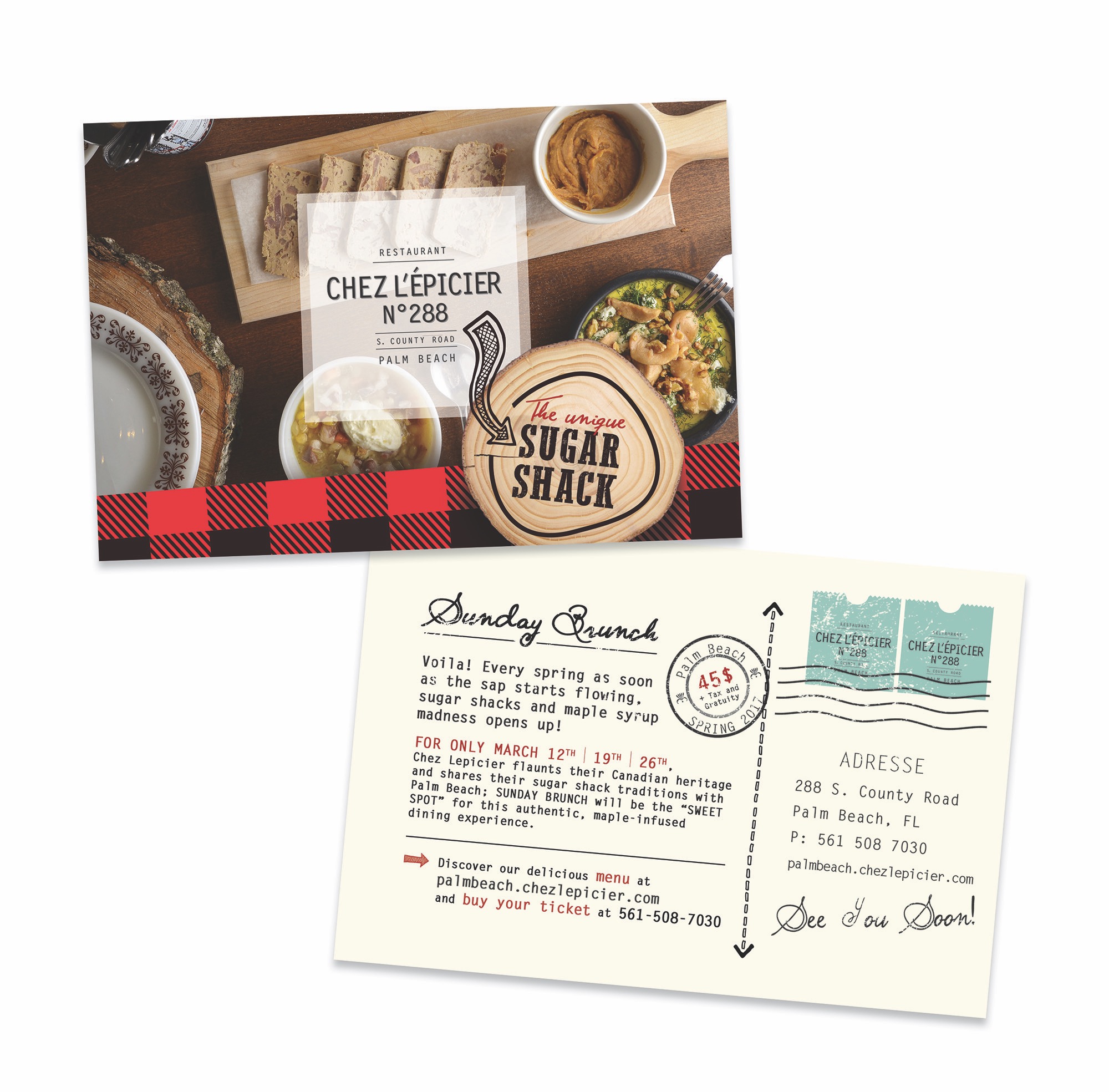 TAP INTO MAPLE SWEETNESS THIS SEASON AT CHEZ L'EPICIER AND INDULGE WITH TRADITIONAL THE "CABANE À SUCRE" MENU
Every spring as soon as the sap starts flowing, sugar shacks and maple syrup madness opens up throughout Quebec. From March and April, Chez Lepicier flaunts their Canadian heritage and shares their sugar shack traditions with Palm Beach and Sunday brunch will be the "sweet spot" for this maple-infused dining experience. The "cabane à sucre" (sugar shack) is a unique Quebecois tradition (like American's Thanksgiving) and an annual Canadian rite of spring where celebrations of syrup include a huge meal topped off with maple taffy made from pouring syrup on snow. Chef Laurent, amaple syrup sommelier, has owned three sugar shacks in Quebec and is happy to share his confectionary customs with guests in Quebec and Palm Beach. According to Chef Laurent, "Don't think about the calories, think about the tradition." Gird your loins for this Montreal treat!
The Canadian classic, maple-centric cuisine is served family style and is a hearty menu based on time-honored foods eaten for centuries by maple syrup harvesters. Voila! Enjoy the Sugar Shack Brunch Menu for spring, 2017.
Family style starters include authentic, traditional French Canadian pea soup, maple whipped cream; Omelette, dill, goat cheese and caramelized apple; veal and apple juice ''creton'' (veal spread), mixed greens salad, maple dressing. Entrees platters are bountiful with maple ham and foie gras terrine, white beans and celery salad; potato and butternut squash ''au gratin," bacon lardons; braised shortrib, roasted Brussels sprouts and cauliflower, maple flakes; and meat pie, seared mushrooms, Crown Royal and peppercorn sauce. Dessert is decadent with chocolate meat balls; maple pudding cake; maple sugar pie; apple pie in a jar, maple foam; "tire d'érable'' (maple taffy on snow); and maple house-made marshmallows.
The traditional French-Canadian feast is $45 per person, plus tax and gratuity. Reservations are encouraged and tickets will be pre-sold for the brunch at 11:00 a.m. and 1:00 p.m. seatings. Located at 288 S. County Road, Palm Beach, Chez l'Épicier serves nightly dinner, happy hour specials, private dining parties and Sunday brunch.
For more information and reservations, please visit palmbeach.chezlepicier.com or call 561- 508-7030. Bon Appétit!
The highly acclaimed flagship Chez l'Épicier in Montreal was established in 2000. Chef/ Owner Laurent Godbout and his wife, Veroniqué Denault introduced their inventive, French Canadian cuisine to the states and opened his Palm Beach location in July 2015. The 120 seat restaurant is casual with an elegant ambience and "beachy" chic décor. The winner of numerous culinary prizes and awards, author of two cookbooks and lauded by numerous media in Canada as well as in North America and Europe, Chef Laurent stands apart in the Montreal restaurant industry for his culinary style and unsurpassed hospitality. Chef Laurent has repeatedly served as Quebec's culinary ambassador to the world and takes a global, widespread approach to cuisine that restores good taste to the forefront. Chez l'Épicier serves dinner, happy hour specials, private dining parties and Sunday brunch. Chez l'Épicier also has an onsite wine cellar which stores up to two thousand bottles of wine including "bottles for every budget." For more information and reservations, please visit palmbeach.chezlepicier.com or call 561- 508-7030.
About Sugar Shacks
Around 200 sugar shacks operate in Quebec Province, ground zero for the country's maple syrup production. As Danielle Pépin of the Federation of Quebec Maple Syrup Producers explains, sugar shacks date back to the mid-1800s. "Today's sugar houses have modern equipment. Maple syrup's production has changed over the years. But the product is as authentic as it was in the very beginning."Traditionally, the gourmand sugar shack feast can range from small family-run operations to large dining halls where guests will indulge family style. Tables typically are set with pickled vegetables, pitchers of sweet water (from the tree) and jugs of maple syrup where guests can pour the syrup on practically anything that's on their plate. The meal ends with a symbolic taste of fresh syrup drizzled on snow. Many festivals include wagon or sleigh rides into the nearby woods to see syrup tapping operations before or after the meal.
As the world's largest producer of the "liquid gold," Canada accounts for 71% of the globe's maple syrup output, according to the Federation of Quebec Maple Syrup Producers. Just like oil-producing countries in the Middle East, Canada has a strategic reserve, created in 2000 to hold its sticky treasure and control output and prices. Strict quotas are set for syrup producers, who must sell their product through the federation. At the beginning of the 2015harvest season, 52 million pounds of syrup were in the strategic reserve, though 11.5 million pounds were sold in March and April.
The following two tabs change content below.
Cristyle is a South Florida native, born in Miami and raised in Palm Beach. Her love of food came through her travels and seeing how cuisines differ and relate so much. She attended the University of Florida, had a short stint in Charlotte, NC and is now back home - ready to eat her way through Palm Beach County and share her findings with locals and visitors alike. From brunch to happy hour to foodie events, she's got you covered!