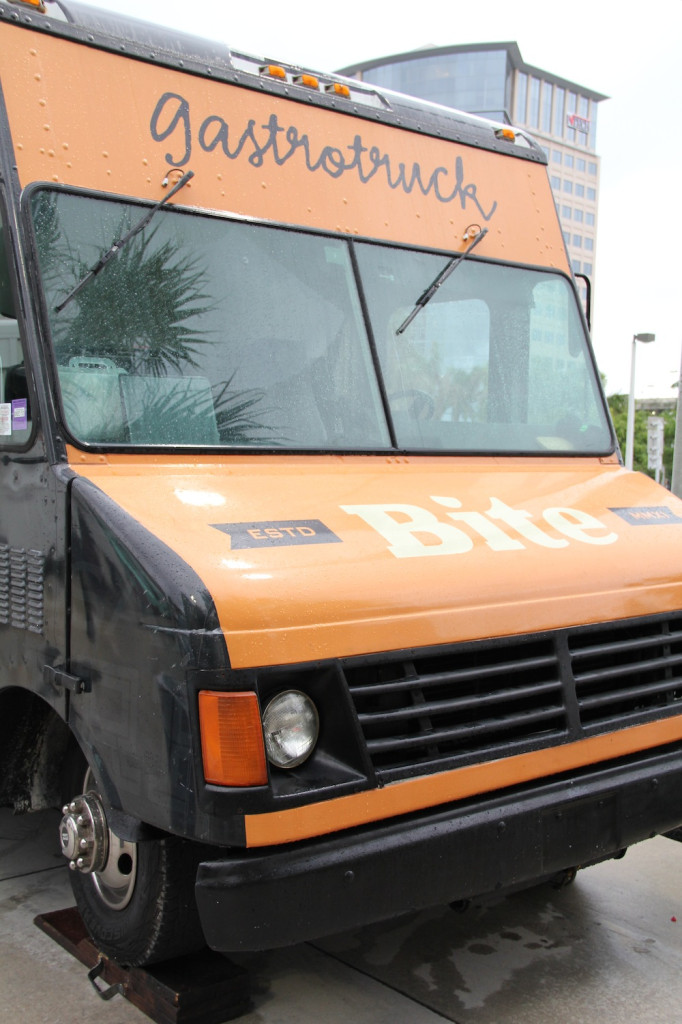 EAT PALM BEACH | BITE GASTROTRUCK
Bite Gastrotruck is a local food truck serving up serious burgers and milkshakes to the streets of South Florida.
We ran into Bite Gastrotruck at a recent #TEAMAIME event in downtown West Palm Beach and gave them a try.
The event featured set menus, so we had the Brisket with a carrot puree. It was super yummy and a great way to start off the event. Sadly, I planned to go back for the salmon with rice and totally forgot.
My husband isn't a huge food truck guy, but he was all over this menu, especially the BAMF with bacon-onion jam, American cheese and chipotle mayo. Personally, I was eyeing the Big Easy with aged cheddar, bacon, an over easy egg and chipotle mayo – NOM. – and the BBQ with aged cheddar, bacon, onion rings and honey BBQ. For you vegetarians out there, they have the Tree Hugger starring a grilled portobello mushroom.
For sides they do Hand Cut Fries, Sweet Potato Fries and Onion Rings which you can top with sea salt and vinegar, lemon-garlic aioli, cajun spice or parmesan truffle.
Their shakes menu also looked amazing with PB&J, Key Lime Pie, Krispy Kreme Doughnut and Nutella flavors making the list.
I will definitely be on the look out for Bite again so I can grab one of these burgers and a shake.. and then a nap.
Meals at the Truck
Brisket | Salmon & Rice
Bite Gastrotruck
Find them at:
facebook.com/bitegastrotruck
bitecatering.us
305.394.3575
The following two tabs change content below.
Cristyle is a South Florida native, born in Miami and raised in Palm Beach. Her love of food came through her travels and seeing how cuisines differ and relate so much. She attended the University of Florida, had a short stint in Charlotte, NC and is now back home - ready to eat her way through Palm Beach County and share her findings with locals and visitors alike. From brunch to happy hour to foodie events, she's got you covered!