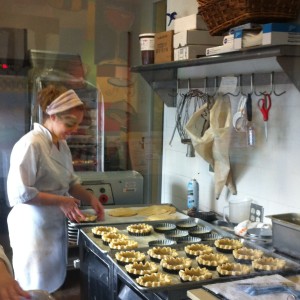 EAT PALM BEACH | PROSECCO CAFE
Prosecco Cafe is an upscale, European bistro-style cafe located in PGA Commons. For me, the atmosphere screams "girls' lunch out." Like a place you could linger and laugh over wine, which means they've kind of nailed it design-wise as that is how I always feel when in Europe and why I always miss that type of dining at home.
One thing I loved walking into Prosecco was the clear glass displaying the bakers preparing tart shells and whatnot for the bakery cases. That combined with the delicious aroma made me excited for the meal which is a nice feeling.
One reason why we chose to dine here was that I had a serious craving for breakfast, which is typically not convenient around 11:30am. However, they serve breakfast until Noon (yes!). So I went with the Belgian Waffle and Strawberries with a side of Hash Browns. My review of this meal is fairly mixed. I love waffles, syrup, strawberries, butter and whipped cream, so any meal that combines these elements should be an instant winner. However, I was sad when my plate arrived sans-whipped cream which it said on the menu I should receive (I asked and they said it was an extra 50 cents, which just irritated me so I passed). The waffle needed that extra few seconds to get the golden crisp on the outside, however was still delicious. The hash browns were actually home fries and a little greasy so they didn't have the brown and crunch  I look forward to. I also ordered a Latte which came in a tall glass mug – loved the presentation. It was very good.
One thing I love about restaurants that serve breakfast late is that they give other diners the option for lunch, so the other meal at the table was the Angus Sirloin Roast Beef Sandwich. It was served on toasted garlic bread that had a weight to it with a rustic garlic aioli, and dijon mustard. They also have a horseradish cream which is my favorite on any roast beef sandwich. Their side options are sweet potato, side salad, hash browns (home fries), or fruit. The side salad looked pretty with mixed greens and they had a range of vinaigrettes from raspberry to balsamic to Zinfandel.
We finished off the meal with the Raspberry Chocolate Truffle which was very dense. The chocolate was rich but the aftertaste was oddly light, almost like there was mint in the raspberry layers.
Overall I enjoyed the meal. The food wasn't perfect, but the atmosphere made up for it and I'm hoping on my next visit it'll be that little extra to make it a regular on my lunch schedule. They also had baked good to go and you can order lunch to go as well.
Meals at the Table
prosecco (n): an Italian sparkling white wine that is typically dry or extra-dry
Prosecco Cafe
4580 PGA Blvd, Palm Beach Gardens, FL 33418
561.622.3222
proseccocafe.com
The following two tabs change content below.
Cristyle is a South Florida native, born in Miami and raised in Palm Beach. Her love of food came through her travels and seeing how cuisines differ and relate so much. She attended the University of Florida, had a short stint in Charlotte, NC and is now back home - ready to eat her way through Palm Beach County and share her findings with locals and visitors alike. From brunch to happy hour to foodie events, she's got you covered!