EAT PALM BEACH | TREVINI RISTORANTE
We had heard good things about Trevini, so we decided to make a reservation for Valentine's Day. We had a 8:00pm reservation and were seated immediately upon arrival. It was a little chilly out so we chose to sit inside, though the outdoor courtyard seating looked beautiful.
The restaurant was intimate but swanky with a bar in the back corner. Everyone seemed to have a uniform with servers in white jackets, bussers in vests, etc. giving the restaurant an upscale feel without being stuffy. Our server was a handsome gentleman with a sexy Italian accent which I didn't have a problem with. The service was impeccable and the menu and wine menu were plentiful.
We were started with a Bruschetta of fresh tomato and onion on a crisp toast. It was light and fresh and the onion definitely shown through. The butter they served with the bread was delicious and whipped with herbs. We shared a Caesar Salad for appetizer. The dressing was creamy with a tanginess and the romaine was perfectly crisp.
Italian food is my favorite so ordering is always a nightmare. I narrowed it down to the Branzino (Mediterranean Sea Bass) which was prepared whole in a salt crust, the Scaloppine Sorrentina with veal, eggplant and prosciutto, or the Gnocchi in a genovese sauce. After consulting the our server, I decided on the Gnocchi. They were rich and tender and served in a basil pesto sauce. The table next to us ordered the Branzino, which they prepared table side. I may try that next time now that I know I won't have a fish staring at me while I eat.
Andrew shook it up and didn't order the Chicken Parmigiano. He went with one of the specials of the evening – the Veal Osso Buco. For this alone, I love Trevini! I had never heard of Osso Buco, but it is awesome. I would call it the equivalent of an America Pot Roast – slow cooked, fall apart meat. It was served with a Saffron Risotto and it was delicious. The flavor was amazing and the texture is what I referred to as "meat butter." The meat fell off the bone and then melted in your mouth. I fully intend on trying to recreate this meal at home. The server had mentioned that it's a meal that people who've had it before order anytime they hear it's available and I can totally understand why. It had that home-cooked, comfort food feel that just screamed "Grandma's Osso Buco."
Their Wine Menu was fantastic with a blend of Italian and American wines. They also had a handful of champagnes and sparkling wines to choose from. I had the De Bertiol Prosecco and Andrew went with the Mettler Cabernet Sauvignon. But if you're feeling frisky they have a menu of Super Tuscans and Brunello.
I would absolutely recommend Trevini. It is a beautiful place with great food, service and atmosphere. I'm sure we'll be back – again and again.
Meals at the Table
Bruschetta | Caesar Salad | Gnocchi | Veal Osso Buco
trevini | italian: a hybrid of the names of owners Gianni Minervini and Claudio Trevisan
osso buco italian: a classic Italian recipe that involves slow-cooking veal shanks until the meat is tender and succulent
Entree Menu (Credit: Trevini Website):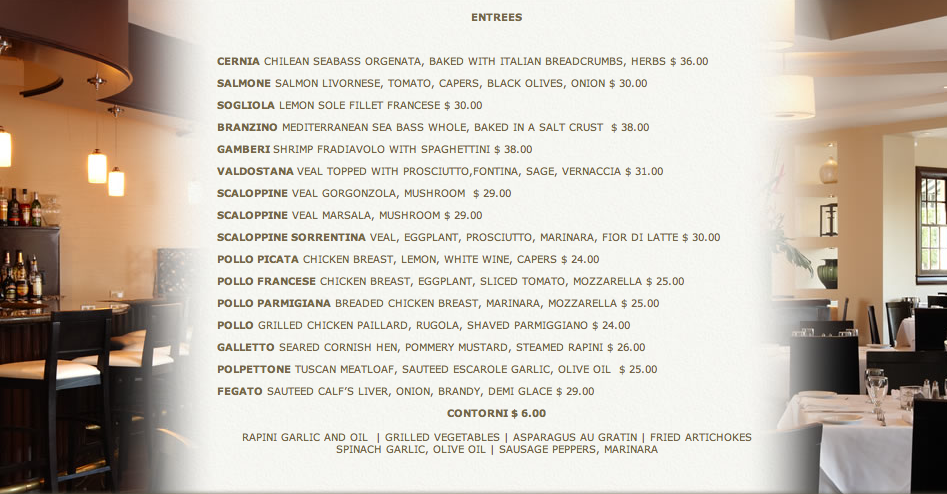 "Our menu reflects the owners' heritage with a beautiful meritage of Northern and Southern Italian cuisine. The northern region is represented by Claudio being from Stresa, and the Southern by Gianni from Bari."
Trevini Ristorante
290 Sunset Ave, Palm Beach, Florida 33480
561.833.3883
treviniristorante.com
The following two tabs change content below.
Cristyle is a South Florida native, born in Miami and raised in Palm Beach. Her love of food came through her travels and seeing how cuisines differ and relate so much. She attended the University of Florida, had a short stint in Charlotte, NC and is now back home - ready to eat her way through Palm Beach County and share her findings with locals and visitors alike. From brunch to happy hour to foodie events, she's got you covered!