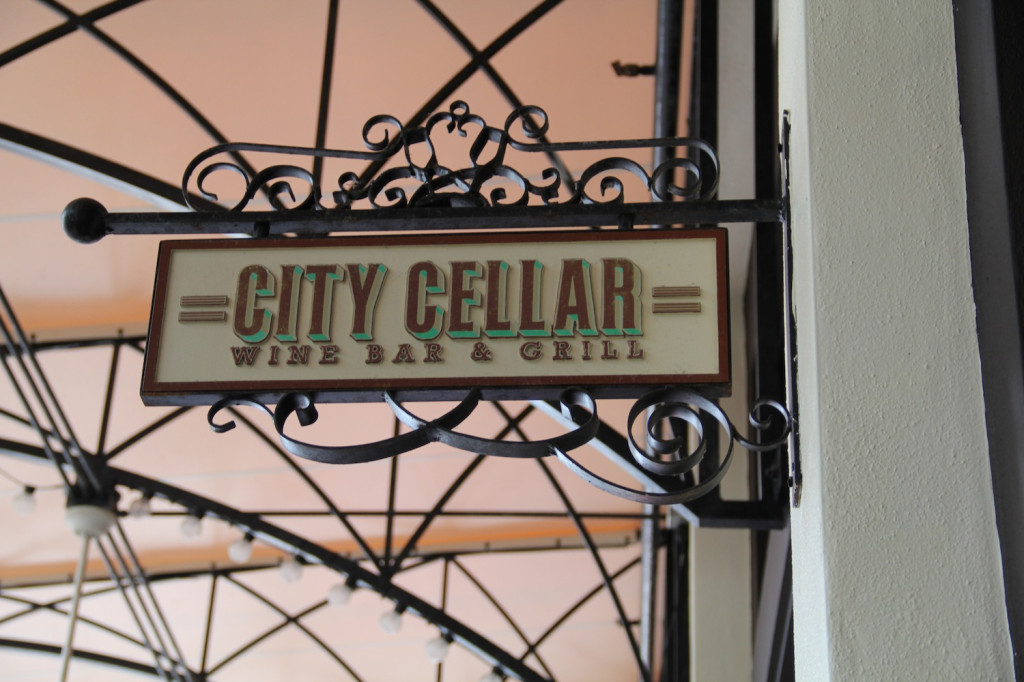 EAT PALM BEACH | CITY CELLAR
I visited City Cellar for lunch and had totally forgotten how good this place is! The atmosphere, outdoor seating, bar, food, everything.
First off, I love the look and feel of City Cellar. It's open with high ceilings, but still intimate at your table with dark colors grounding the space. It has a great vibe for any occasion – work lunch, date night, girls night out. The bar is large and in charge with bottles towering their way up the wall. They also have outdoor seating off the upstairs of the main courtyard area of CityPlace (where the fountain is).
We were started off with a plate of garlic bread and ordered a glass of White Haven Sauvignon Blanc. The wine list is expansive with lots to peruse. The menu is a mixture of American and Mediterranean dishes with an array of sandwiches, salads, pizzas and pastas to choose from. The Specials Menu alone was hard to narrow down as I debated the Eggplant Panini or Creamy Pea Soup.
Noticing a dish at the table next to us, we ordered another lunch special – the fresh caught Snapper topped with Arugula and served over a bed of Summer Corn Risotto. The risotto was delightfully creamy and the fish was cooked just right. It was warm and comforting, yet light and refreshing.. I cleared my plate.
Our server was phenomenal. He was super nice and attentive without being overbearing. Our water glasses were never empty and our second glass of wine was right on time.
City Cellar is open for lunch and dinner and offers a Weekend Brunch with Endless Mimosas and Bottomless Bloody Marys. The bar also hosts a daily Happy Hour from 4-7pm. This is a tried and true CityPlace original, and definitely worth checking out!
Meals at the Table
Garlic Bread | Snapper & Corn Risotto
Menus
City Cellar Wine Bar & Grill
700 South Rosemary Ave, West Palm Beach, FL 33401 (CityPlace)
561.366.0071
citycellarwpb.com
The following two tabs change content below.
Cristyle is a South Florida native, born in Miami and raised in Palm Beach. Her love of food came through her travels and seeing how cuisines differ and relate so much. She attended the University of Florida, had a short stint in Charlotte, NC and is now back home - ready to eat her way through Palm Beach County and share her findings with locals and visitors alike. From brunch to happy hour to foodie events, she's got you covered!