I get requests quite a bit for recommendations. Sometimes it's for guests coming into town, sometimes it's someone looking to discover a new place in their area, and sometimes people just want a straight-up recommendation from someone they know eats their way around the area.
So I've decided to put together some "round-up" type posts of some of my favorites called "Where To Go." I'll add and edit as I go. The Northern Palm Beach area is really my stomping grounds but I'll try to branch out as much as I can! 
Have something you want to see? Let me know! That's the whole point after all 🙂
EAT PALM BEACH | BREAKFAST
Diner / Comfort Food
In the mood for some pancakes? Maybe an egg biscuit sandwich with a side of home fries? These are the places you'll catch locals grabbing a quick breakfast bite.
Sara's Kitchen: Perfect on a Saturday or Sunday morning after a night out. A total go-to for 15+ years, Sara's has one of those breakfast menus that I have to sit and debate for a little bit. Sometimes I go for the Eggs Benedict, but I also love their breakfast plate with eggs, bacon, hashbrowns and toast or pancakes. You can go straight pancakes too and they are huge and fluffy. Sara's is also known for their skillets which are big and delicious – basically a skillet of hash browns, toppings, cheese and topped with egg. You can't really wrong here at breakfast – and they offer bottomless coffee which is always a plus.
City Center, 2000 PGA Boulevard, Palm Beach Gardens, FL 33408
Flamingo Cafe: Tried and true, I've been a Flamingo Cafe frequenter since the early 2000s. Granted, the "cafe" name is a little misleading as this is more of a diner in my opinion. A good stop for a quick breakfast I normally go with the Egg & Cheese Biscuit with home fries or grits. They also have great omelets and waffles. I've seen some annoying reviews online since the plaza was redone – this isn't a new spot or even a new plaza, so don't be fooled by the 2015 facade. This place has been there for years and is still going strong. The ladies are always super sweet and accommodating and it's service with a smile.
PGA Plaza, 2588 PGA Boulevard, Palm Beach Gardens, FL 33410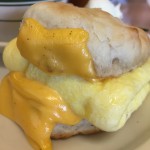 Debra's Place: Another diner breakfast spot. Inexpensive, yummy and consistent, Debra's is pretty small so you may have to grab a stool at the bar. Here you have great egg plates, omelets, pancakes, biscuits and gravy.. home cooking kind of food. Again, not a fancy place but the kind of place you head when you want a hot off-the-griddle breakfast that feels like it was made with love.
785 Northlake Blvd North Palm Beach, FL 33408
Pastry / Elevated Breakfast
Looking for something a little more elevated? Maybe a nice coffee?
Paris in Town: I only visit the original NPB location because there is something about the space that makes the experience for me. If you want newer and bigger vs smaller and charming check out their PBG location. This is the spot for a delicious crepe, breakfast croissant, quiche or pastry. They have fantastic coffee (I always get the Caramel Latte) and a great atmosphere to lounge.
11460 U.S. 1, North Palm Beach, FL 33408
Prosecco Cafe: The perfect spot for grabbing coffee with a girlfriend, a business acquaintance, your significant other, you name it. The space is charming but modern and always smells so good. They have an array of baked goods and pastries, not to mention their omelets, breakfast sandwiches and waffles. The coffee and espresso is wonderful and there is outdoor seating.
PGA Commons, 4580 PGA Boulevard, Palm Beach Gardens, FL 33418
Caffe Luna Rosa: A friend of mine introduced me to this place a year or so ago and I love it! Just off the beach in Delray, it is so my kind of breakfast scene. They offer daily brunch with pancakes, omelets, french toast, waffles, you name it! You could even grab a bowl of oatmeal and some fruit and just sit outside and enjoy the morning. Coffee and mimosas (on the weekend) round out my breakfast here. It's a cute atmosphere and I love being so close to the water. Really, no complaints.
34 S Ocean Blvd, Delray Beach, FL 33483
—
This is for everyday breakfast. If you're up in Juno Beach, I'd check out Hurricane Cafe on US1 as well. For a quick coffee and pastry on the go, I really like Paneterie on Clematis in WPB.  And don't forget about Jupiter Donut Factory, also with a Royal Palm Beach location now.
The list grows quite a bit as you get into brunch and the weekend. I'd definitely add:
The Wine Dive on Clematis Street in downtown WPB
Vic & Angelo's in PGA Commons in PBG and also in Delray Beach on Atlantic Ave
Pistache on Clematis Street in downtown WPB
Sailfish Marina on Singer Island for brunch on the water
The following two tabs change content below.
Cristyle is a South Florida native, born in Miami and raised in Palm Beach. Her love of food came through her travels and seeing how cuisines differ and relate so much. She attended the University of Florida, had a short stint in Charlotte, NC and is now back home - ready to eat her way through Palm Beach County and share her findings with locals and visitors alike. From brunch to happy hour to foodie events, she's got you covered!