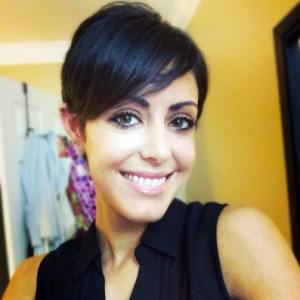 MEET
Shaina Wizov
OF
Take a Bite Out of Boca
What made you decide to start a food blog? What is your focus?
I started my blog out of sheer boredom. I moved to Boca from New Jersey a little over 3 years ago because I needed a change, so I moved in with my Bubby (my grandmother) and was unemployed for a good 5 months. Take A Bite Out of Boca was born during that time. There isn't much else on TV during the day besides cooking shows, so I kind of immersed myself in that. I also cooked dinners with Bubby a lot, and she always took me out to the best restaurants in town. I've always been a writer, and I already had a blog on Tumblr that was about nothing in particular — I decided that I needed a niche and cooking/food seemed to make the most sense at the time.
My focus is two things: Cooking and Restaurants. There are lots of easy recipes for the single gal with no professional training in the kitchen — the true home cook. I'm usually cooking for one or two, or cooking a dish to bring to a potluck/party. I like to stick to healthy dishes whenever possible, but I do have a sweet tooth and love to bake. As for restaurants, I review places all over South Florida. I started out just writing about anywhere I would go to eat but after a year or so, I started to get invited to different events and new restaurant menu tastings, openings, festivals, etc. I mostly cover Boca Raton and Delray, but there are some reviews of places in Fort Lauderdale, Miami, and West Palm Beach too.
How did you come up with the name "Take a Bite out of Boca?"
In my sleep. I'm not kidding. It was one of those moments when I woke up in the middle of the night and had to put it in the Notepad on my phone so I wouldn't forget it in the morning. It just makes sense. I live in Boca, and I'm eating my way around town (and then some…). Plus, Boca means mouth…
Who is the person behind the keyboard/smartphone? 
I am originally from Egg Harbor Township, NJ — a huge town outside of Atlantic City. I have no formal training in cooking, baking, or anything in the kitchen. I've learned from watching my parents, my Bubby, Food Network and Cooking Channel, reading tons of food magazines, and just being curious — Pinterest and the whole food blog community helped immensely. My background is in Journalism. I went to Rutgers University and graduated with my BA in Journalism and Media Studies. Believe it or not, I knew I wanted to be a writer since I was in middle school. In 7th grade, my guidance counselor asked me what I wanted to go to college for and I said writing or journalism. I never thought twice.
To balance out my love of food, I also have a very serious love affair with the gym and working out. I can lift weights with the big boys! I spin regularly and love yoga, although I haven't been doing enough of it and need to get back to a routine.
What is your food crush of the moment?
Octopus. I crush hard on octopus. If it's on the menu, there's no doubt I'm ordering it.
What's one thing you would love people to know about your blog/site?
Well, for starters, don't come to Take A Bite Out of Boca looking for steakhouse reviews or meaty recipes — you won't find 'em. I am a Pescatarian (vegetarian + seafood). I gave up meat when I was 18, and poultry at the beginning of this past year. So if you search posts before 2014, you will find some chicken and turkey recipes.
I also would like people to know that I LOVE hearing your suggestions for restaurants and especially like to know if you go to any of the places I've reviewed. Feedback is always welcome! Leave me comments, send emails, Facebook messages, whatever! I'm happy to give you my recommendations if you are traveling to the area too.
…
Please share some of your top picks in your area:
Happy Hour: Biergarten, Truluck's, El Camino
Brunch: Tin Muffin Cafe, Cafe Luna Rosa
Date Night: Twenty Twenty Grill, 50 Ocean
Bakery: Gramma's Bakery
Wild Card: Rebel House
…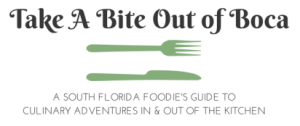 Where can you be found?
Facebook: facebook.com/takeabiteblog
Twitter: @takeabiteblog
Instagram: instagram.com/takeabiteoutofboca
Bloglovin: bloglovin.com/takeabiteoutofboca
Pinterest: pinterest.com/takeabiteblog
Website: takeabiteoutofboca.com
*Photos courtesy of TakeaBiteOutofBoca.com
The following two tabs change content below.
Cristyle is a South Florida native, born in Miami and raised in Palm Beach. Her love of food came through her travels and seeing how cuisines differ and relate so much. She attended the University of Florida, had a short stint in Charlotte, NC and is now back home - ready to eat her way through Palm Beach County and share her findings with locals and visitors alike. From brunch to happy hour to foodie events, she's got you covered!