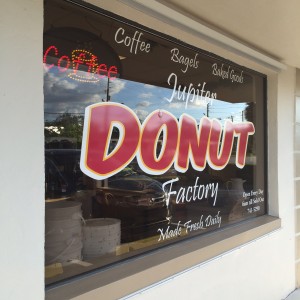 EAT PALM BEACH | JUPITER DONUT FACTORY
Jupiter Donut Factory is one of those places I constantly see on Instagram and pout about not having. After suffering through watching enough people enjoy their glazed goodies, I finally made the trip!
One thing that's awesome about bakeries and donuts is you can try so many options and take more to go. I of course took this opportunity very seriously. Unlike donut shops where I can exclude half of the wall of flavors in the first couple of seconds, Jupiter Donut Factory is a tricky situation because I basically wanted to eat everything. And also get an egg and cheese biscuit. And a coffee.
I was warned that JDF sells out on big days and with certain flavors, so I didn't take any chances. I called ahead to reserve a cronut and make sure I'd have some options. I was not disappointed!
I am a Boston Cream girl, so that was the first one in the box. It didn't make it to the door. Then I added in a Blueberry (that's a fruit serving, right?), Chocolate Frosted with Sprinkles and Cookies and Cream for some chocolate-y goodness, a Glazed, Heath Bar, and Samoa (Girl Scout inspired? Yes, please!). I could have ordered for 20 minutes… Smore, Snickers, Red Velvet, etc… it could have gotten really bad.
If you are a Krispy Kreme kind of donut lover, this may not be the place for you. If you are a DD'er, I think it's more your style. The donuts are big and beautiful and delicious. And if you pick a flavor that can be covered in toppings, it is.
JDF serves Oceana Coffee, so that was a no-brainer and then I was happy to see my friend order an Egg & Cheese Biscuit which I had also been eyeing. I like how there are some savory options.
I did get a Cronut. I have yet to experience the original so I won't try to act like a cronut snob as I think it's a term used pretty loosely (I've had a few and none have been similar or even the same shape). If you're a die-hard, you may not like this one but I thought it was pretty tasty and would definitely go back for more. It was like a glazed croissant and light and flaky inside which I liked.
Jupiter Donut Factory is a local favorite and rightfully so. All of their packaging says "You deserve a donut." which is a statement I can stand behind. They recently opened up a Royal Palm Beach location for those looking to partake further south.  If you haven't been, make the trip. Or convince a co-worker to bring in a dozen if you're lazy. It's a great family-run business offering up some seriously yummy treats.
Jupiter Donut Factory
141 Center Street, Jupiter, FL 33458
561.741.5290
The following two tabs change content below.
Cristyle is a South Florida native, born in Miami and raised in Palm Beach. Her love of food came through her travels and seeing how cuisines differ and relate so much. She attended the University of Florida, had a short stint in Charlotte, NC and is now back home - ready to eat her way through Palm Beach County and share her findings with locals and visitors alike. From brunch to happy hour to foodie events, she's got you covered!