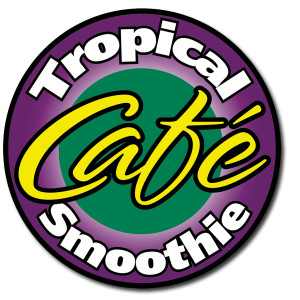 EAT PALM BEACH | TROPICAL SMOOTHIE CAFE
Tropical Smoothie Cafe has been one of my local go-tos for years.. like long enough to make me feel old. They have a great selection of smoothies, wraps, sandwiches, salads and flatbreads. With locations throughout the area, Tropical Smoothie Cafe is convenient for a consistently good spot to grab a quick bite or grab-and-go.
One thing I love is that the smoothies are always actually smooth. And they have a ton of flavors to choose from whether you want a classic like the strawberry and banana Jetty Punch, a healthy boost with spinach and kale like in the Island Green or Avocolada or something a little more decadent like peanut butter and chocolate in the Peanut Butter Cup. You can also amp up your smoothie with supplements like the Multi-Vitamin, Fat Burner or Soy/Whey Protein.
While Tropical Smoothie is a safe bet anytime, they are offering some limited time menu items that are worth a trip now.
If you are a berry lover, you'll be thrilled to hear that they have two smoothies rocking some serious blueberry flavor at the moment..
First up is the Blueberry Bliss Smoothie with blueberries, strawberries and banana. This smoothie has such a gorgeous color and is light, sweet and delicious.
For a more indulgent experience, check out their Blueberry Pom Truffle Smoothie with blueberries, pomegranate, avocado & white chocolate flavored frappe. This one has a thicker, creamier consistency thanks to the avocado and a decadent finish with the white chocolate.
On to the food!
I started off with the Moho Mojo Club with all-natural grilled chicken, bacon, cheddar, avocado, tomato, a zesty mojo sauce and cilantro slaw. The toasted brioche was the perfect vessel for this tasty treat. The chicken was plump, the avocado creamy and the slaw gave it the right amount of crunch and tang.
The Island Buffalo Sandwich features grilled chicken, a buffalo cheese spread with Frank's Red hot buffalo sauce, mozzarella and gorgonzola and a citrus slaw. It was delicious! It definitely has some kick to it, but the slaw helps cool it down and it's just so good.
They also have super yummy cookies. I had a White Chocolate Macadamia Nut and Chocolate Chunk – don't judge me – and they were both soft, chewy and awesome.
The regular menu features an array of options from the Thai Chicken Wrap to the Veggie Hummus Wrap, the Cilantro Lime Fish Taco to the Loaded Spinach Salad. They also have a large vegetarian menu and can alter recipes using "Beyond Meat" as a substitute. Their morning menu includes breakfast wraps and flatbreads and they also offer catering.
Now go check out a Tropical Smoothie Cafe near you and see why they've been a local favorite for so long!
Tropical Smoothie Cafe
ABACOA | 5440 Military Trail #5, Jupiter, FL 33458 | 561.624.8775
PBG | 2508 PGA Blvd, Palm Beach Gardens, FL 33410 | 561.626.0412
PBG | 4276 Northlake Blvd, Palm Beach Gardens, FL 33410 | 561.624.4513
JUPITER | 6671 W. Indianatown Rd #52, Jupiter, FL 33458 | 561.748.4457
…more locations throughout South Florida!
tropicalsmoothie.com
The following two tabs change content below.
Cristyle is a South Florida native, born in Miami and raised in Palm Beach. Her love of food came through her travels and seeing how cuisines differ and relate so much. She attended the University of Florida, had a short stint in Charlotte, NC and is now back home - ready to eat her way through Palm Beach County and share her findings with locals and visitors alike. From brunch to happy hour to foodie events, she's got you covered!