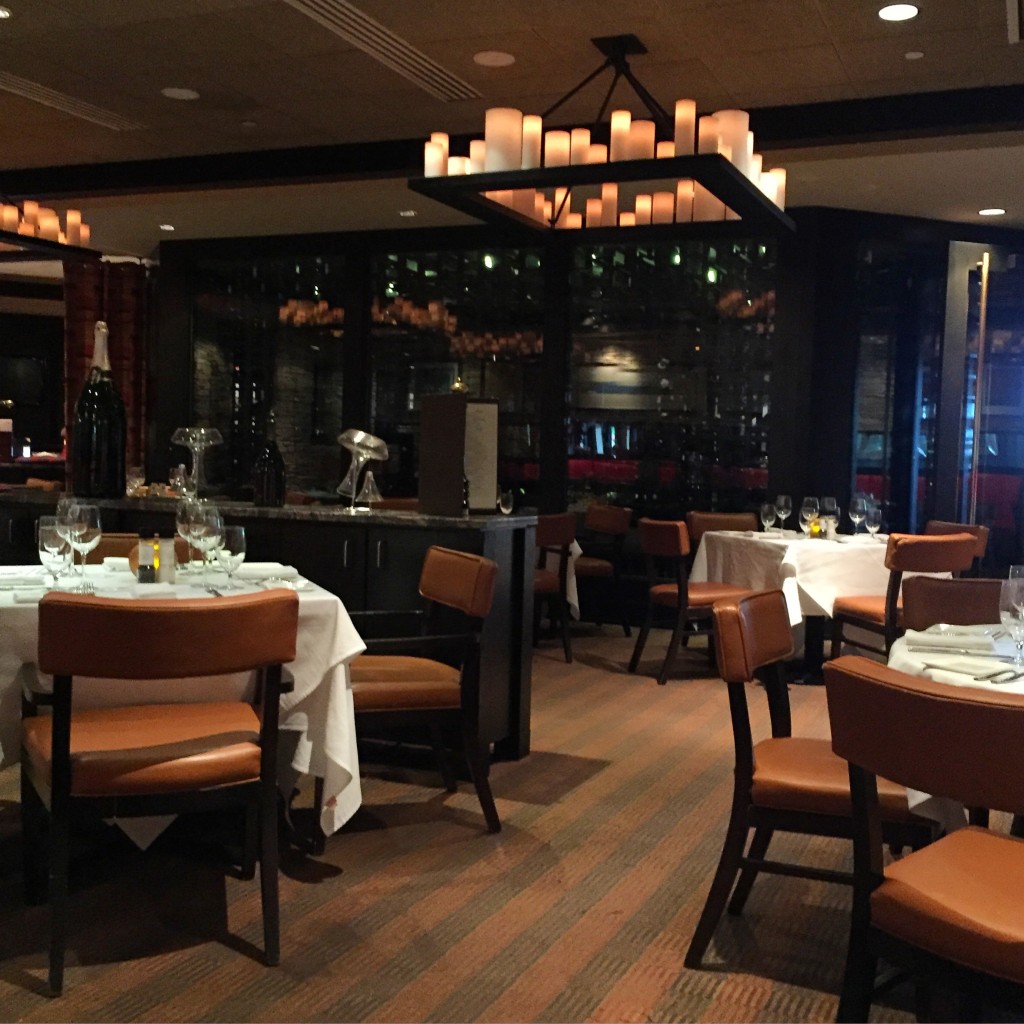 EAT PALM BEACH | IRONWOOD STEAK AND SEAFOOD
Last week I visited Ironwood Steak and Seafood at PGA National Resort and Spa in Palm Beach Gardens. Situated just off the grand lobby, Ironwood also hosts the popular and ever-lively iBar, jazzy iClub Piano Bar and recently introduced outdoor iDeck.
The atmosphere at Ironwood is intimate with dim lighting, white linens and cozy red booths. On my visit there was entertainment in the iClub with a pianist and female vocalist performing which really added to the ambience.
I sat down to dinner with Jenny Zdankowski, Private Dining and Special Events Manager for PGA National. We were visited by Chef Colin Pate, Chef de Cuisine for Ironwood (Read his spotlight HERE), who introduced us to the signature dishes of Ironwood and suggested our menu for the evening.
We were started off with a beautiful bread basket – which had a pretzel roll in the front I could not ignore – accompanied by a trio of spreads. I decided to order one of the specialty cocktails and went with "The Pommer," a pomegranate martini with mint garnish. I also had the Key Lime Martini with vanilla vodka, pineapple juice and fresh lime zest, which was creamy and delicious. The wine list at Ironwood is expansive and varied and PGA offers their own house label out of California.
First to the table was the Tomahawk Steak, a gorgeous 32oz rib-eye for two. I loved the presentation in cast iron with the bone removed but displayed and a sprig of rosemary. The meat was cooked to perfection at medium rare, juicy and had great flavor.
Next up was the Surf and Turf featuring the 8oz filet and lobster. The filet was everything you want in a steakhouse experience. Perfectly cooked with a melt in your mouth texture and paired beautifully with a lobster tail and butter dipping sauce. I also loved the presentation as I always find a lonely cut of meat on a white plate a sad dish to behold.
The Atlantic Salmon over "Clam Chowder" was the surprise dish for me. The salmon was fresh with a beautiful smoked flavor and the bed of "chowder" was delicious with razorback clams and fingerling potatoes. The salmon was a generous portion and not the slightest bit fishy. I liked this entree option as it was a meal within itself and did not require sides.
For our sides we split the Jumbo Asparagus and Sweet Potato Au Gratin. The asparagus were large, crisp and fresh with a drizzle of balsamic reduction. They paired perfectly with the steak and brought a bright pop of color and texture to the table and meal. The sweet potato was a seasonal special and a total stand-out. Layered like a traditional au gratin, it was sweet, warm and savory with the earthy sweet potatoes, heavy cream, cinnamon and nutmeg. It was an elevated version of your mom's sweet potato casserole at Thanksgiving (no offense) and one of those flavors you randomly think about and then crave for days.
After all of that, dessert seemed far-fetched however I did peek at the menu and would go back just to order every offering. The Mortal Sin brownie with ice cream? Yes, please. A warm white chocolate and blueberry Bread Pudding? Don't mind if I do. Vanilla Bean Creme Brule or Mile High Key Lime Pie? I say all of the above!
I had such a lovely evening and would absolutely recommend Ironwood. It would be ideal for a date night, special occasion, business dinner, or just a great night out. Something I also really enjoy about Ironwood is you are so easily able to extend the evening beyond your meal. You can grab an appetizer at iBar before being seated, lounge at the iClub for an after-dinner cocktail or take in the South Florida air on the iDeck. They also have private dining spaces available for groups and special occasions and the resort offers valet parking which is very convenient.
All in all, a wonderful steakhouse and restaurant in our beloved Palm Beach Gardens!
Meals at the Table
Ironwood Steak and Seafood
PGA National | 400 Ave of the Champions, Palm Beach Gardens, FL 33418
561.627.4852
pgaresort.com
The following two tabs change content below.
Cristyle is a South Florida native, born in Miami and raised in Palm Beach. Her love of food came through her travels and seeing how cuisines differ and relate so much. She attended the University of Florida, had a short stint in Charlotte, NC and is now back home - ready to eat her way through Palm Beach County and share her findings with locals and visitors alike. From brunch to happy hour to foodie events, she's got you covered!