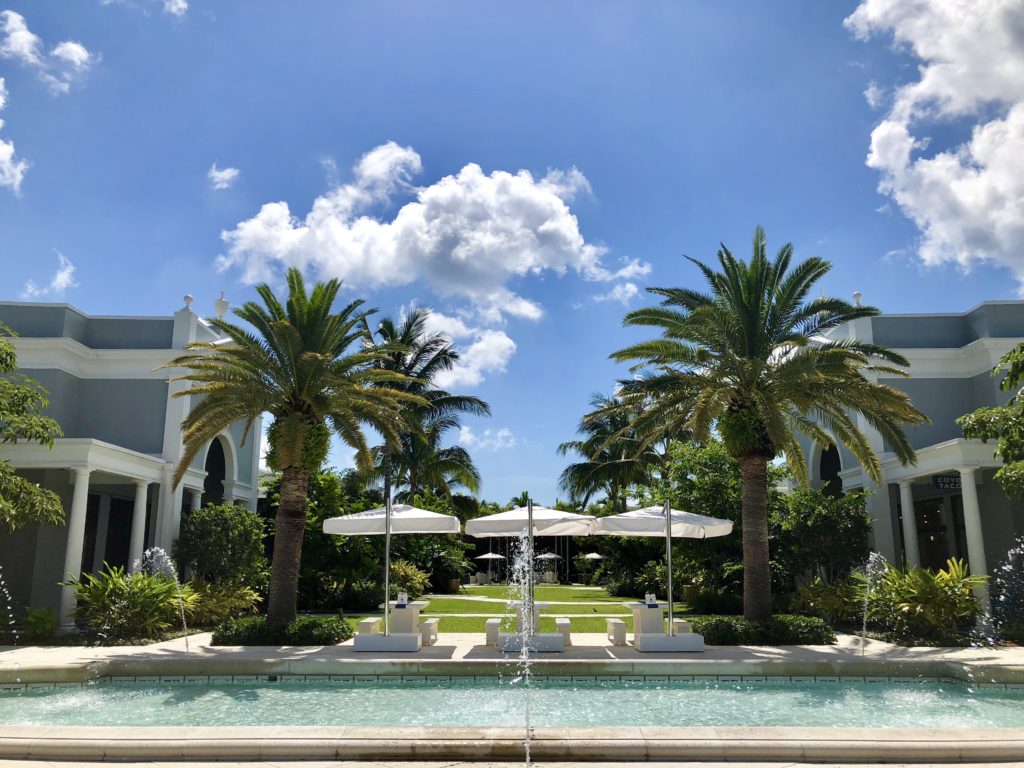 EAT PALM BEACH | THE ROYAL
Last week I went on an afternoon foodie adventure at The Royal Poinciana Plaza on Palm Beach. One of the most exciting re-imaginations I've seen, The Royal has become a renewed epicenter of the north end of the island. Offering a stunning backdrop, high-end retail, an array of food and beverage outlets, along with a quality program of events and services I think this has become one of the most exciting places to see and be seen in our area.
Join by Leah of Palm Beach Social Diary, I entered the offices UpMarkets and was greeted by Brittany. Our sharp yet bubbly guide, she checked in us throughout our tour and proved to be a lovely host for the day.
CELIS PRODUCE | We began at Celis Produce, the locally beloved family-owned and operated organic market and juice bar. While their OG store is located in the Dixie Corridor the Celis brothers have been popping up all over town with their beautiful produce, colorful açai bowls and delicious smoothies.
We decided to split a Classic açai bowl which was bright with fresh strawberries, blueberries, pineapple, kiwi and banana. A layer of peanut and almond butter didn't hurt either. We also split my favorite, the Berry Yum Yum smoothie with Coconut Milk, Blueberries, Strawberries, Banana, Honey, Almond Butter, Spinach and LivWell Protein.
Glancing around the store we saw anything from locally roasted coffee to farm eggs to cold pressed juices. We took our breakfast out to the courtyard to enjoy the greenscape of the property.
TOOJAY'S | Our next stop was TooJay's Deli, Bakery and Restaurant. I was shocked to find that this was their flagship; opening in 1981. I grew up visiting their Palm Beach Gardens location which has since relocated to Downtown at the Gardens. The flagship has been renovated over the years but maintains its New York deli-themed sensibility and they now have nearly 30 restaurants throughout the state.
Glancing at the menu, we decided to go with the tried-and-true "TooJay's Classic" sandwich of corned beef and pastrami along with the newly released small plates, Brussel Sprout Medley and Nova Latkes. Served on their soft rye bread, the sandwich did not disappoint and was paired with coleslaw and a pickle. The brussels sprouts' medley was a surprise with roasted vegetables throughout, chopped bacon and a balsamic glaze rounding out the plate. The Nova Latkes were the star of the show with their crispy potato pancake base, sour cream smear, bright nova salmon and salty capers. The textures and flavors were perfection with arugula and red onion and it was perfectly light but filling. We decided to take two Black & White Cookies to go, because what is a visit to TooJay's without black and white cookies?
THE ROYAL | Wandering through the property we window-shopped at stores like Cynthia Rowley, Beach, and Hermes. We glanced at the available amenities like Nail Lab and even considered popping in for a class at Squeeze Pilates. The Royal definitely lends itself to a pre- or post-meal stroll.
COYO TACO | Next we made our way to Coyo Taco, the Miami favorite that has made its way to Palm Beach County. Offering a fast casual taco dining option, I have found this to be a fantastic addition to the plaza and the island.
We were greeted by Charles, the General Manager, and Matt and lead to the back bar, a hidden speakeasy offering a full bar. The space is light and bright during the day and becomes a sexy lounge in the evenings with music and cocktails. Justin, the Bar Manager, strolled up with a Margarita and Cucumber Smash, a gin-based cocktail that is refreshing and perfect for summer. Next a line of trays came out with tacos stuffed with lobster, grouper, and shrimp. A bowl of freshly prepared guacamole was accompanied with crisp tortilla chips and I struggle not to finish the entire bowl by myself every time.
The menu also features burritos, bowls, quesadillas and the most amazing tortas. I have had quite a few menu items and have to say they are all really well-balanced with color, texture and heat. If you have any room for dessert, get the churros with Mexican caramel and chocolate dipping sauces. Because, churros.
THE HONOR BAR | Taking a short trip across the lawn we entered The Honor Bar, a sister alcove to the beloved Palm Beach Grill that serves a smaller menu of small plates, salads and sandwiches. Though it was daytime, the seating still managed to have a dimly lit sultriness with leather banquettes and dark wood tables. Seating is fairly limited as the space is intimate and the vibe was in line with its neighboring relative.
We decided to sample their signature cocktails with the most popular being the Jack Rabbit, prepared with tequila, Campari, grapefruit and mint. Glancing at the small plates menu we debated the burrata but decided to go with the Tuna Tartare which was beautifully presented with a fan of fresh avocado, a large heap of fresh ahi tuna and peaks of ciabatta toast points by culinary manager Chef Jason. I have been told I absolutely have to try the Chicken Sandwich and am still eyeing the burrata for a future visit.
Though we didn't visit the Palm Beach Grill side, I'd still like to note its presence in the plaza as it has been a bustling focal point of the plaza for over a decade. A Hillstone restaurant, they serve upscale American cuisine including my husband's favorite ribs on earth.
SANT AMBROEUS | For dessert we made our way to San Ambroeus, the New York mainstay come to Palm Beach. Known for their vintage decor, ladies who lunch, espresso and gelato this space feels like an escape into retro Milan.
We were seated in the front café and after perusing the dessert display case decided to satisfy our sweet tooth with a vanilla cone of strawberry and vanilla gelato and a beautiful berry fruit tart. They also offer slices of specialty cakes like the Profiterole and their signature Mousse Cake.
Though they have become a popular destination for coffee, lunch and dessert their dinner in the elegant dining room is equally notable with gorgeous displays of Italian fare like octopus, carpaccio, cacio e pepe and branzino. And yes, the gelato is a must so save room.
VIRGINIA PHILLIP | Our day rounded out with a trip to Virginia Phillip Wine Spirits and Academy. One of my favorite finds of the day was that you can buy mini Moët splits, bottles of wine or champagne and borrow glasses to enjoy in the courtyard.
If you are not familiar with her, Virginia Phillip was just the 11th woman in the world to earn the sommelier designation. She is renowned for her wine knowledge and community involvement. She hosts classes from her Royal location while offering a boutique shop of curated wines and liquors.
The shop is beautiful with a cellar of global wines to choose from, rows of select spirits and a brightly lit wine room where tastings are held or you can enjoy a glass of wine along the window bar. I absolutely plan to return for a tasting and have already glanced at upcoming events on her website.

The Royal Poinciana Plaza is an iconic 1950's John Volk design with monochromatic buildings framing a vibrant interior of palm trees and gardens. The re-imagniation of their tenant mix has created a destination for locals and tourists alike with a unique blend of fashion, dining, retail and amenities.
The atmosphere lends itself to friends, families and professionals with its array of offerings while the landscape creates a stunning backdrop that showcases the beauty of Palm Beach.
If you haven't visited The Royal recently, I recommend it. Whether it be for a quick breakfast, relaxing lunch, happy hour, romantic dinner or gelato stroll. The Royal really has everything.
The Royal Poinciana Plaza
340 Royal Poinciana Way, Palm Beach, FL 33480
561.440.5441