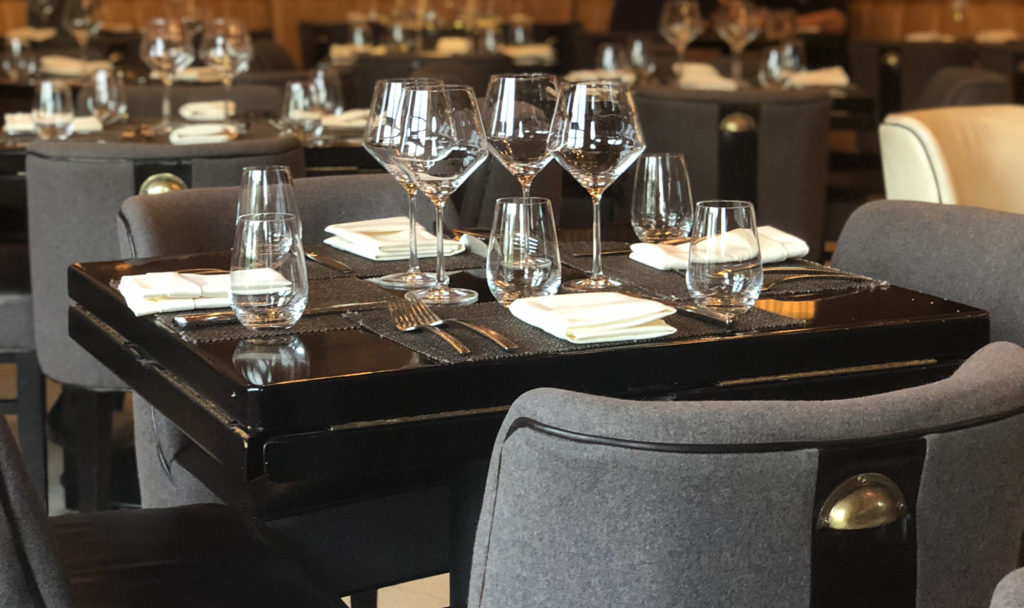 EAT PALM BEACH | MEAT MARKET
This week we visited Meat Market Palm Beach to celebrate our seven year wedding anniversary. Start to finish, it was a memorably wonderful evening.
We were seated in a round leather banquette overlooking the dining room. The decor is sophisticated and sexy with dark tables, cushioned seating, intricate lighting fixtures and eye-catching metallic wall coverings. The restaurant also boasts a lively bar and lounge area.
A Veuve Clicquot champagne toast was the perfect way to ring in our meal as we perused the menu and reminisced over the last year. We both quickly agreed on the Roasted Cauliflower to start, which was even better than I had remembered it. The presentation is beautiful and the puree it rests in with lemon, parsley and parmesan is divine.
I decided to go with the petit 6oz Filet, which I'm actually fairly certain I had decided on during the car ride. It was cooked beautifully, medium rare at the discretion of the chef. The hubs was easily distracted by the special of the evening, a Bone-In Filet Mignon topped with Black Truffle and Marrow Butter, served with a Lobster Tail. I loved the plating of this dish and the placement of the lobster meat resting on its shell.
We also ordered the Brussel Sprouts and signature Lobster Mashed Potatoes to share and were surprised with a side car of creative sauces. My personal favorite was the Marrow Butter which was rich, creamy and flavorful. The brussel sprouts were cooked crispy with bacon and almond, just the way I like them, and paired well with the creamy mashed potatoes filled with chunks of lobster.
With dinner we each enjoyed a glass of the Mount Veeder Cabernet Sauvignon out of Napa Valley. Meat Market offers a fantastic by the glass and by the bottle wine list as well as an expansive list of speciality cocktails and spirits.
For dessert we received a sampler of the Nutella S'mores (his) and Vanilla Bean Creme Brûlée (hers). Both were delicious and we appreciated the candle and chocolate "Happy Anniversary" design. I always like details that make an occasion feel a little more special.
Overall I don't think we could have asked for a better anniversary evening. The service was impeccable, our meals were delicious and the atmosphere was just what we were looking for.
If you haven't been, I recommend making a reservation and seeing for yourself. Meat Market also hosts Happy Hour boasting $10 Veueve glasses, $8 cocktails, $2 oysters and discounted small plates. You can also find a DJ setting the mood in the lounge area on select nights for a livelier experience. So whether it be a special occasion or simply sharing an evening with a friend, there are several options to enjoy.
Meat Market Palm Beach
191 Bradley Pl, Palm Beach, FL 33480
561.354.9800
meatmarket.net
The following two tabs change content below.
Cristyle is a South Florida native, born in Miami and raised in Palm Beach. Her love of food came through her travels and seeing how cuisines differ and relate so much. She attended the University of Florida, had a short stint in Charlotte, NC and is now back home - ready to eat her way through Palm Beach County and share her findings with locals and visitors alike. From brunch to happy hour to foodie events, she's got you covered!