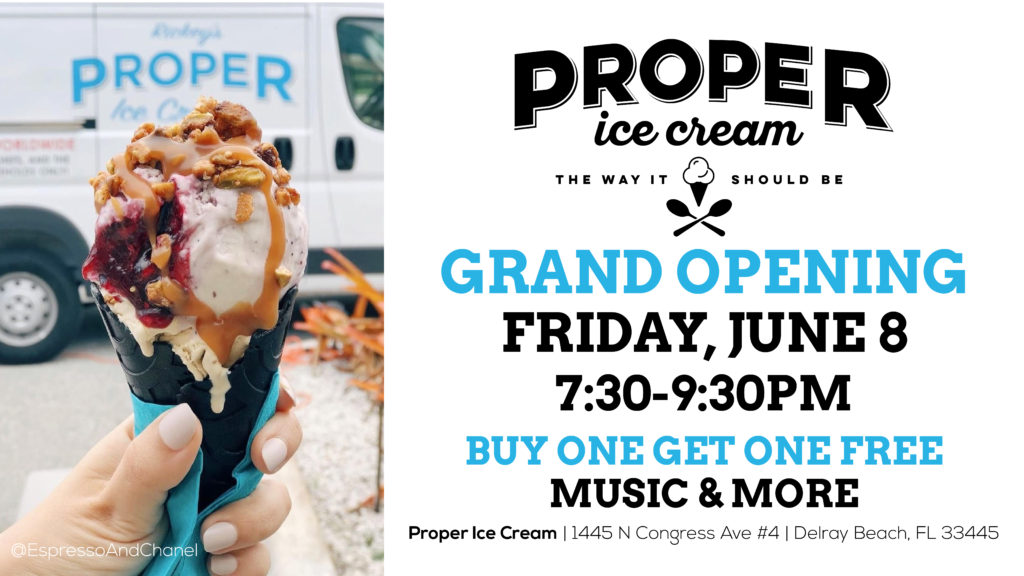 EAT PALM BEACH | PROPER ICE CREAM
PROPER ICE CREAM HOSTS GRAND OPENING IN DELRAY BEACH
Calling All Foodies and Ice Cream Lovers
Proper Ice Cream will be a hosting a Grand Opening on Friday, June 8, 2018 from 7:30-9:30pm. Guests are invited to visit their new retail location located at 1445 N Congress Ave #4, Delray Beach, FL 33445 and enjoy an array of ice cream desserts.
Grand Opening festivities will include a Buy One, Get One FREE deal, music, social deals, and more. Normal retail hours will start this Tuesday, June 5, 2018. The scoop shop is set to be open six days a week.
Offering artisanal, hand crafted ice cream, Proper Ice Cream was born in the kitchen of some of the hottest restaurants in Palm Beach County and is served at Buccan, Grato, Imoto, and 1000 North. Their pints can be purchased at Joseph's Classic Market.
The scoop shop will serve a menu of inventive flavors like Pistachio with Caramelized Fig, Freshest Strawberry Meringue, Banana Cream Pound Cake and Dark Chocolate and Honey, with gourmet toppings like honey comb and peanut butter crunch. Proper Ice Cream offers scoops, Konery cones and cups, and creative sundaes and ice cream sandwiches. Guests can also purchase pints from the shop.
The retail location is Rick Felberbaum's over year-long vision come to life to bring high quality, inspired ice cream to Palm Beach County. Previously a lawyer, Felberbaum closed his firm and left his career behind to pursue his passion in ice cream. That adventure culminates this week and he looks forward to celebrating with family, friends, foodies and ice cream lovers.
For more information visit www.propericecream.com.
Proper Ice Cream
1445 N Congress Ave #4, Delray Beach, FL 33445
propericecream.com
The following two tabs change content below.
Cristyle is a South Florida native, born in Miami and raised in Palm Beach. Her love of food came through her travels and seeing how cuisines differ and relate so much. She attended the University of Florida, had a short stint in Charlotte, NC and is now back home - ready to eat her way through Palm Beach County and share her findings with locals and visitors alike. From brunch to happy hour to foodie events, she's got you covered!