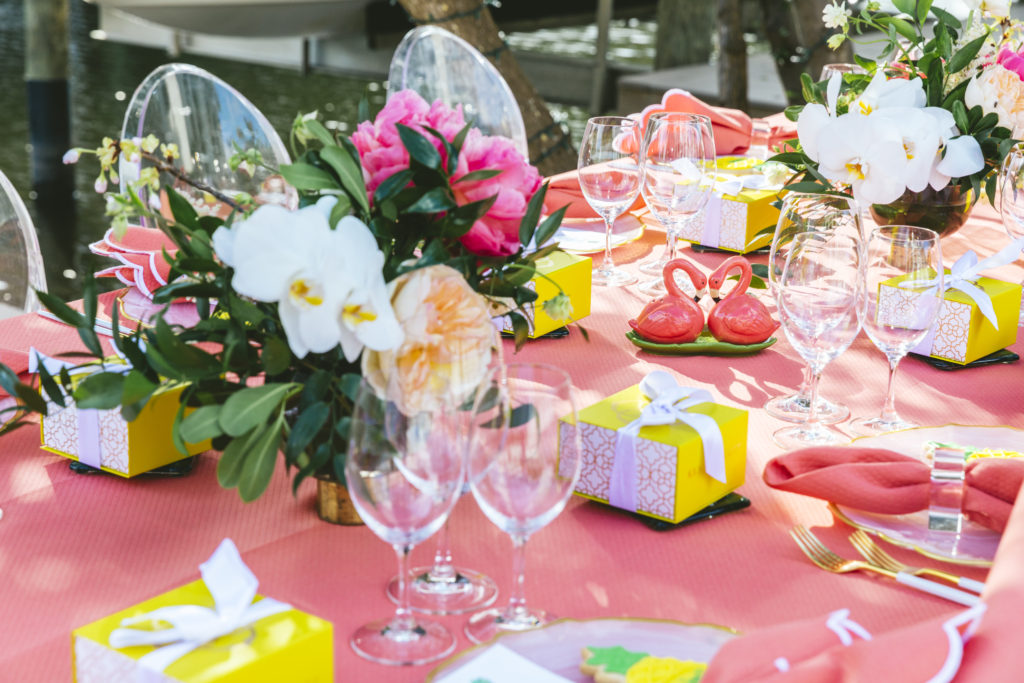 EATPALMBEACH | #TOURDEFLORIDA | PHOTOS BY NICK MELE
On Wednesday, May 9, 2018 EatPalmBeach alongside Palm Beach Social Diary hosted the inaugural #TourDeFlorida collaborative dining experience featuring local brands, businesses and talent. The event highlighted South Florida offerings from Florida Bay oysters to handcrafted marshmallows.
Guests, which included local media and influencers, entered the private resident of PBSD co-founder Leah Logue and were greeted with a craft cocktail by John Moore of Black Coral Rum. Making their way to the backyard, Florida Bay Oysters were served by Jill Kravitz in tandem with champagne selected by Brian Chamis of The Vine Post. Passed h'ordeuvres by Chris Marshall made their way as the crowd arrived and gathered.
A stunning table graced the waterfront dock with scalloped edge coral and white Matouk linens secured by Melissa Murphy of Pioneer Linens and gold table settings designed by Heather Rouffe of Atlas Event Rentals. Centerpieces of peonies and orchids created by Halle Frey of Flower & Fringe gave the table height and delicate texture.
Diners found their seat by way of pineapple placecard cookies by Alaina Sabatello Witherell of namesake Alaina's Bake Shoppe and Cafe. Each place setting featured a pop of color with handmade green coasters by Taylor Materio of McMow Art Glass and bright yellow Kendra Scott boxes featuring gifts by The Gardens Mall location. The ladies enjoyed opening earrings and necklaces while the gentleman received cufflinks. The handsome fellows of the event were also styled by Palm Beach-based Strong Boalt.
Once seated Jessica Fontaine, co-founder of Palm Beach Social Diary, welcomed and introduced the table.
Chef Chris Marshall of Hampton Forks began delivering course after course of a Florida-inspired menu featuring proteins by Bush Brothers Provisions and wine pairings with The Vine Post's Leticia Sawyer.
Chef Marshall's vision included Pork Belly with Guava BBQ and Cracked Conch, Gnocchi with Confir Rabbit, English Peas and Cured Chorizo and a Wagyu Strip with Florida Lobster Celery Root Remoulade and Creamy White Sweet Potato.
Special guest Jack Lighton of Loggerhead Marinelife Center addressed the crowd and was presented with a commissioned watercolor of a sea turtle by Lydia Marie Elizabeth Art.
To cap off the meal Rick Felberbaum of Proper Ice Cream built pavlova sundaes with scoops of pistachio and strawberry ice creams, jams, honey and toppings in an ice cream social held inside.
Parting favors included Loggerhead Marinelife bags with a collection of brand materials, turtle adoption paperwork (EatPalmBeach is the proud adoptive parent of Tiffany, a Hawksbill sea turtle named after long-time Loggerhead Mareinlife supporter Tiffany & Co.) and a handcrafted artisan marshmallow by Milka Gordilla of Dreamallows.
The intention of the evening was to bring together a group of individuals to experience a collaborative showcase of local brands and talents while bringing awareness to a Florida-based cause. This goal was accomplished and culminated in a beautiful evening around the dinner table among friends new and old.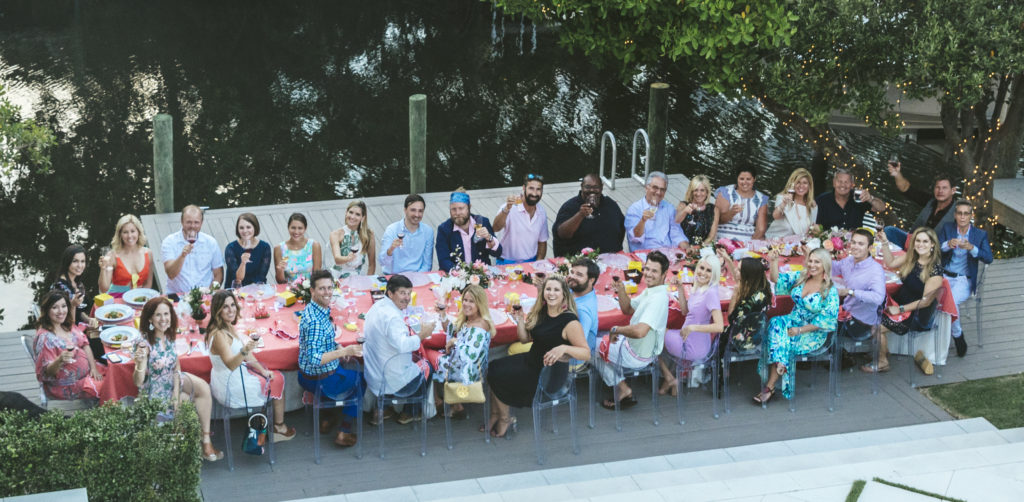 Thank you to everyone who participated and made the evening possible!