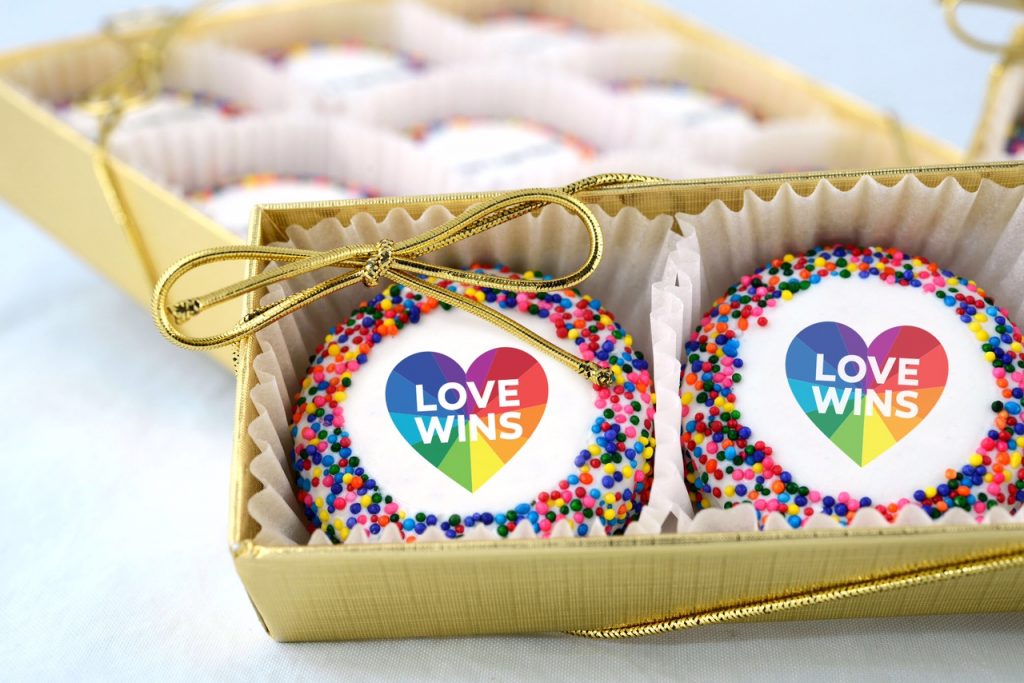 HOFFMAN'S CHOCOLATES TO DONATE A PORTION OF SALES TO THE ONEORLANDO FUND
For every special edition Love Wins Oreos® Box of 3 sold, Hoffman's Chocolates will donate $1.00 to OneOrlando Fund
Hoffman's Chocolates is proud to announce that it will be supporting the Orlando, Florida community by donating a portion of sales of its special edition Love Wins Oreos® Box of 3 to the OneOrlando Fund. The South Florida chocolatier has created these special cookies, designed with a Love Wins logo, a rainbow heart and rainbow sprinkles, to signify its support of the victims of the Pulse Night Club tragedy, their families and the LGBTQ community. Orlando Mayor Buddy Dyer recently announced the formation of the OneOrlando Fund (#OrlandoUnited), to help provide financial support to the victims of the tragedy and their families.
Hoffman's Chocolates Love Wins Oreos® Box of 3 costs $6.50 per pack and Hoffman's will donate $1.00 of each pack sold to the OneOrlando Fund.
The Love Wins Oreos® will be available at Hoffman's Chocolates nine retail locations in Broward and Palm Beach Counties and online at www.hoffmans.com beginning the week of June 27th.
Lois Marino, Director of Marketing for Hoffman's Chocolates, stated: "We mourn the loss of the victims of this horrific tragedy. Our thoughts are with the families and friends who lost loved ones in Orlando."
Hoffman Chocolates' currently has five retail locations in Broward County (including one in the Fort Lauderdale-Hollywood International Airport) and four retail locations in Palm Beach County.
For more information or to find a Hoffman's Chocolates location, please visit www.Hoffmans.com or follow on social media at www.facebook.com/hoffmanschoc, www.instagram.com/hoffmanschocolate or www.twitter.com/hoffmanschoc.
Please use the hashtag #OrlandoUnited.
About Hoffman's Chocolates
Headquartered in Greenacres, Florida, Hoffman's Chocolates, a subsidiary of BBX Sweet Holdings, is a manufacturer of gourmet chocolates, with several retail locations throughout South Florida. The tradition of legendary chocolates began 40 years ago in a small chocolate shop in Lake Worth with a commitment to use the finest and freshest ingredients from around the world. The Hoffman's Chocolates Factory in Greenacres is a popular tourist destination where guests from all over the world are greeted by the aroma of slow-simmering chocolate and caramel and watch the art of candy making first hand at its observation windows. The company is notable for its elaborate December holiday displays, including the Hoffman's Winter Wonderland, and products such as gift baskets and chocolate covered pretzels. Other extraordinary creations include the "Snoodle" and "Pecan Caramel Jitterbugs."
Hoffman's Chocolates product lines includes over 70 varieties of confections (all hand made using time honored traditions of candy making). Hoffman's Chocolates are available via its retail store locations, thru online distribution channels and by direct shipping throughout the U.S. It has been a favorite local brand for residents throughout Florida. For more information, please visit www.Hoffmans.com. BBX Sweet Holdings is a 100% owned subsidiary of BBX Capital (NYSE:BBX).
About OneOrlando Fund
The OneOrlando Fund is a project of Strengthen Orlando, Inc., a 501(c)(3) nonprofit corporation created for the purpose of supporting and starting projects to strengthen the Orlando community. For more information go to www.oneorlando.org.
Hoffman's Chocolates
BOCA RATON
Shops at Boca Center
5250 Town Center Circle, Suite 135
Boca Raton, FL 33486
(561) 750-0021
FORT LAUDERDALE
920 East Las Olas Boulevard
Fort Lauderdale, FL 33301
(954) 368-4320
FORT LAUDERDALE-HOLLYWOOD INTERNATIONAL AIRPORT
300 Terminal Drive, Terminal 4 (Between gates G9-G10)
Fort Lauderdale, FL 33315
(954) 995-2222
GREENACRES
5190 Lake Worth Road
Greenacres, FL 33463
(561) 967-2213
HOLLYWOOD
3341 Sheridan Street
Hollywood, FL 33021
(954) 962-5972
LAKE WORTH
705 Lake Avenue
Lake Worth, FL 33460
(561) 766-2517
PALM BEACH GARDENS
10957 North Military Trail
Palm Beach Gardens, FL 33410
(561) 626-2009
PLANTATION
The Fountains
801 S. University Drive
Plantation, FL 33324
(954) 616-5775
WESTON
Weston Town Center
1727 Main Street
Weston, FL 33326
(954) 660-0575
The following two tabs change content below.
Cristyle is a South Florida native, born in Miami and raised in Palm Beach. Her love of food came through her travels and seeing how cuisines differ and relate so much. She attended the University of Florida, had a short stint in Charlotte, NC and is now back home - ready to eat her way through Palm Beach County and share her findings with locals and visitors alike. From brunch to happy hour to foodie events, she's got you covered!