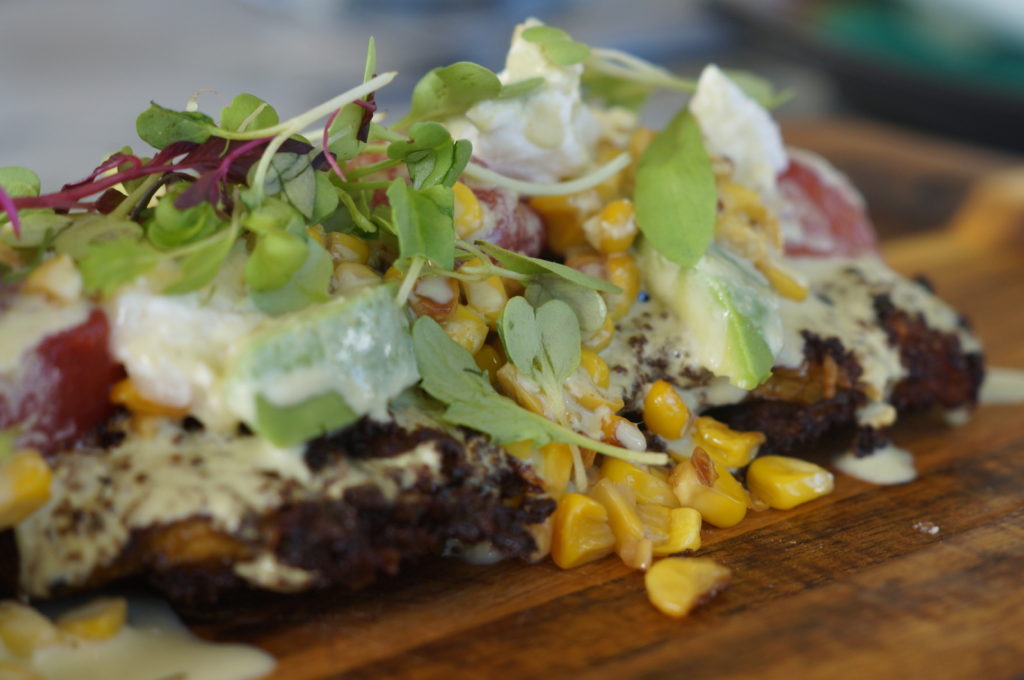 HEALTHIER OPTIONS ABOUND FOR THE HOLIDAY OF OVERINDULGENCE
Avocado Grill Reveals Fresher, Lighter Thanksgiving Dinner Offerings
Chef Julien Gremaud has been hard at work to create the perfect lighter, healthier gourmet Thanksgiving. He's got the menu planned and is now excited to announce Avocado Grill's Thanksgiving Day offerings that promise to delight each visiting guest and family member, especially the strong band of foodie-faithful's.
Served from 1 – 9 p.m. on Thursday, November 24, 2016, Avocado Grill's Thanksgiving Day menu will include a three-course meal for $47 per person ($25 for children) and will feature healthy options for the holiday of overindulgence, a traditional turkey dinner, and popular menu items from the restaurant's daily dinner menu.
"We are excited to take a creative approach to Thanksgiving using the finest, locally sourced ingredients as much as possible for our dishes," said Avocado Grill Chef and Owner Julien Gremaud. "As we all know, Thanksgiving is the day to splurge and eat all of those favorites that are not so healthy. We are helping guests satisfy their holiday cravings while staying a bit healthier so they don't feel so guilty on Friday."
Menu options available on Thanksgiving Day and evening will include:
First Course Options:
Jumbo Lump Crab & Avocado with orange/scallions/and tarragon vinaigrette
Beets & Warm Goat Cheese with arugula/caramelized apples/walnuts/and melted Spanish goat cheese crostini
Crispy Green Tomatoes with avocado/sweet corn/watermelon/goat cheese/and basil yogurt dressing
Kale Salad with endive/cranberry/apple/boursin cheese/ and walnut vinaigrette
Whole Avocado Vinaigrette with sherry vinaigrette/maldon salt
Crispy Fish Tacos with avocado/tropical fruit salsa/lime ginger sauce/and slaw
Traditional Ceviche with mahi/bay scallops/shrimp/calamari/lime/red onion/cilantro/ and aji amarillo
Second Course Options:
AG Thanksgiving Dinner with turkey/quinoa/braised kale/roasted tomatoes/green beans/sweet potatoes/and cranberry
Traditional Thanksgiving Dinner with turkey/stuffing/ mashed potatoes/sweet potatoes/green beans/Brussels sprouts and cranberry
Mussels and Fries with basil/garlic/shallots and white wine
Grilled Hangar Steak with chimichurri/parmesan truffle fries
Organic Salmon with quinoa/artichoke/pickled mushrooms/and feta
Risotto with scallops/sweet peas/ corn
Sweet Potato Gnocchi with mushrooms/broccolini/baby zucchini/and brown butter
Dessert Options:
Cinnamon White Chocolate Bread Pudding with piña colada sauce
Pumpkin Pie
Pecan Pie
Peanut Butter Chocolate Macadamia Nut Brownie
Fresh Berries & Whipped Cream
Reservations are available now through OpenTable.com or by calling (561) 623-0822 and are strongly recommended.
For additional information, please visit www.avocadogrillwpb.com.


The following two tabs change content below.
Cristyle is a South Florida native, born in Miami and raised in Palm Beach. Her love of food came through her travels and seeing how cuisines differ and relate so much. She attended the University of Florida, had a short stint in Charlotte, NC and is now back home - ready to eat her way through Palm Beach County and share her findings with locals and visitors alike. From brunch to happy hour to foodie events, she's got you covered!