EAT PALM BEACH | THANKSGIVING
Thanksgiving is around the corner! Here are some local offerings for Turkey Day 2015:

VIC & ANGELO'S
PALM BEACH GARDENS | Being thankful never tasted so delicious. On November 26, executive chef Alain Zimmer of Vic & Angelo's in Palm Beach Gardens will create a bountiful Thanksgiving feast to appease every appetite on your family tree.
Vic & Angelo's "Be Grateful Thanksgiving Menu" includes a roasted turkey dinner with Parmesan mashed potatoes, sweet yams, homemade stuffing, cran-raspberry sauce, and crispy Brussels sprouts. A glass of red or white wine is included.
Not in a fowl mood? Guests can also choose from the regular dinner menu, which features signature homemade pasta, fine seafood, and rustic, coal-fired pizzas. End the meal on a sweet note with a thick slice of heavenly pumpkin pie, or tuck into one of the restaurant's sweet tooth-approved desserts or sorbet-infused martinis.
Thanksgiving Day hours are 11:30 a.m. to 10 p.m.; $27.95 per person. Regular dining menu is available. Reservations are recommended.
Vic & Angelo's at PGA Commons, 4520 PGA Boulevard, Palm Beach Gardens; 561.630.9899. For more information, please visit vicandangelos.com.
DELRAY | Feeling peckish? On November 26, executive chef Erick Miranda of Vic & Angelo's Delray Beach will present a three-course Thanksgiving Day prix fixe menu that will satisfy every craving on your culinary bucket list.
APPETIZER (Choice of one)
Carrot Ginger Soup or
 V&A Salad
ENTRÉE
 (Choice of one)
Roasted Turkey 
or
 Honey Bourbon Glazed Ham
Includes sweet mashed potatoes with marshmallows, sweet Italian sausage and mushroom stuffing, butternut squash, mashed potatoes, mixed baby vegetables, homemade turkey gravy, cranberry sauce with pear and cardamom
Add a glass of house red or white wine for $5.
DESSERT (Choice of one)
Pumpkin Pie
Apple Pie
Pecan Cheesecake
Sweet Potato Pie with Marshmallow Meringue
Thanksgiving Day hours are 11:30 a.m. to 11 p.m.; $22.95 per person. Regular dining menu is available. Reservations are recommended.
Vic & Angelo's, 290 East Atlantic Avenue, Delray Beach; 561.278.9570. For more information, please visit vicandangelos.com.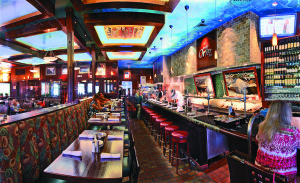 SPOTO'S OYSTER BAR
Spoto's Oyster Bar in PGA Commons will be serving up a mouthwatering Thanksgiving Day feast on Thursday, November 26 from 12 p.m.-7p.m. The holiday menu will showcase traditional Thanksgiving favorites, seasonal, sea-to-table entrees, and surf-and-turf classics.
Traditional Roasted Turkey Dinner | $24.75
New Orleans Crab Cakes | $26.75
8 oz. Filet Mignon | $39.75
Grilled Black Grouper | $29.75
Macadamia Nut-Crusted Mahi Mahi | $29.75
Pretzel-Crusted Grouper | $30.75
Seafood Fettuccine | $32.75
1¼-pound Live Maine Lobster | $31.75
Alaskan King Crab | $42.75
Reservations are recommended.
Spoto's Oyster Bar, 4560 PGA Boulevard, Palm Beach Gardens; 561-776-9448 For more information, please visit spotos.com.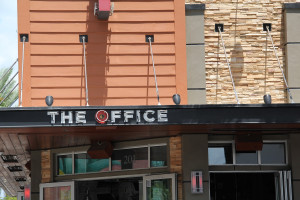 THE OFFICE
What better place to celebrate the all-American holiday than at an all-American gastropub? The Office – its outdoor tables, bar, and décor evoke the chic, mid-century Mad Men era, with polished, Brazilian walnut shelves loaded with art and design books, an ethanol fireplace, a vintage Underwood typewriter, chevron tiled floors, and pony hair-patterned armchairs. The ambience complements the rich, culinary traditions of a sweet, savory, salty, and seasonal Thanksgiving meal. It's time to gobble up all the flavors of The Office's Thanksgiving feast– a menu created with the most delicious sides sourced from local and seasonal produce.
An early a la carte brunch from 11:30 a.m. to 3 p.m. opens up the feeding frenzy with a cornucopia of traditional favorites. Turkey sandwich with cranberry fennel jam, brie, arugula, and Dijonnaise on rye bread; traditional eggs Benedict; sausage stuffing frittata served with field greens and home fries; bagels with lox and caper cream cheese; and a pancake stack with raspberry compote, lemon whipped cream, and warm maple syrup.
After brunch, the bountiful buffet commences with a purée of butternut squash soup with hazelnut cream and a Waldorf salad. Carving stations are lemon-thyme, traditional roasted turkey, garlic-rosemary roasted duck, and house-smoked honey glazed ham. Sides abound with sausage stuffing, buttermilk mashed potatoes, molasses sweet potato casserole, caramelized onion and crimini mushrooms, green bean casserole, and cranberry-pear compote. The decadence is a fait accompli with desserts, including pumpkin pie, key lime pie, baked apples with Greek yogurt, candied walnuts, and honey drizzle. Pair with cider, sparkling wines, artisan cocktails, and craft beers for a ubiquitous, autumnal feast. Eat, drink, and be merry!
The price is $40 per person, plus sales tax and gratuity. Reservations are suggested. Phone 561-276-3600 or go online to OpenTable.com.

PATRICK LEZE PALM BEACH & PANETERIE
Master Pastry Chef Patrick Lézé has created a special menu of seasonal desserts, specially prepared and embellished for the Thanksgiving holiday. All selections will be available at both his flagship patisserie, Patrick Lézé- Palm Beach and Panaterie, TITOU hospitality's newest café and bakery in downtown West Palm Beach. The menu of five rich and traditional tarts and pies are each available in three sizes: 8", 10" and 12", for 4 people, 6-8 people, and 8-10 people, respectively. Additionally, the bakeries' regular selection of baked goods, chocolates, and delicacies will also be available for pre-order for special events throughout the holiday season. Both bakeries will be open for select hours on Thanksgiving, to accommodate day-of order pickups.
MENU
Pumpkin Pie: Sliced Pumpkin Purée
4 pp: $16 / 6-8 pp: $24 / 8-10 pp: $32
Pecan Pie: Traditional with Caramelized Pecans
4 pp: $24 / 6-8 pp: $36 / 8-10 pp: $48
Apple Crumble Tart: Crispy Puff Pastry, Almond Cream, Sliced Apples, Crumble
4 pp: $22 / 6-8 pp: $33 / 8-10 pp: $44
Apple Pie: Crispy Puff Pastry, Sliced Apples, Spices
4 pp: $24 / 6-8 pp: $36 / 8-10 pp: $48
Apple Tart: Almond Cream, Sliced Apples
4 pp: $20 / 6-8 pp: $30 / 8-10 pp: $40
Seasonal Fruit Tart: Sablé Crust, Pistachio Cream
4 pp: $24 / 6-8 pp: $36 / 8-10 pp: $48
…
Classic Napoleon: mille-feuille, $6
Eclairs: chocolate or coffee, $6
Puff Tarts: apple or puff tart du jour, $5
Cream Puff Trio: chocolate, coffee, vanilla, $6
Tartlet: lemon, blueberry, seasonal fruit, $6
Fraisier: sponge cake, fresh strawberries, vanilla mousseline, raspberry preserve, $6
Opera: chocolate and coffee layers, $6
Seasonal cookies, prices vary
…
The following two tabs change content below.
Cristyle is a South Florida native, born in Miami and raised in Palm Beach. Her love of food came through her travels and seeing how cuisines differ and relate so much. She attended the University of Florida, had a short stint in Charlotte, NC and is now back home - ready to eat her way through Palm Beach County and share her findings with locals and visitors alike. From brunch to happy hour to foodie events, she's got you covered!