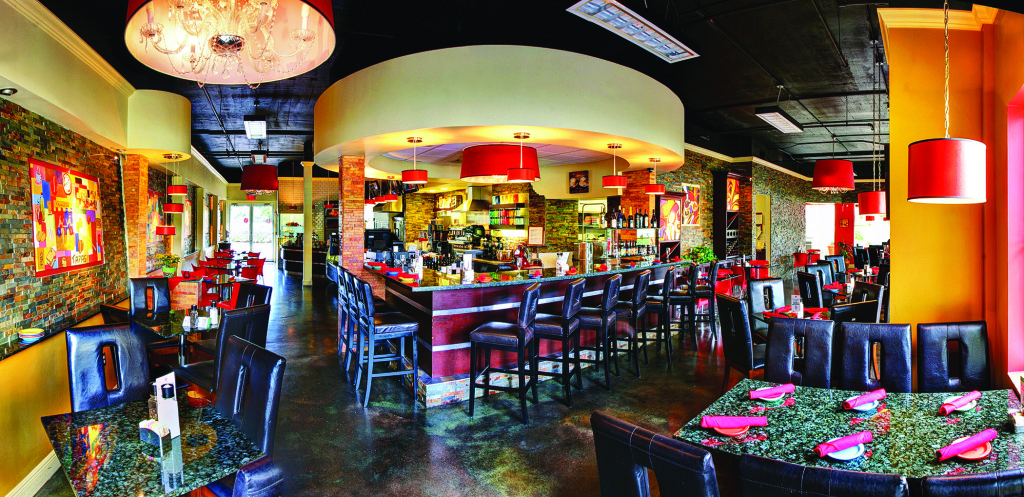 PROSECCO CAFE | PALM BEACH GARDENS
Cupid's Duet: Valentine's Day Feasting at Prosecco Café
Lovers looking for a Valentine's Day hot spot that's both romantic and off the beaten path will find themselves in good company at Prosecco Café. Chef Dwayne Bell has created a four-course Cupid's Duet menu to fulfill every gastronomic desire.
Lovers' Sensation (One per person)
Strawberry Fields
Strawberries, Winter Mix Greens, Frizzled Onions, Candied Pecans, Gorgonzola, Whipped Lemon, and Yogurt Sauce
Lovers' Bliss
Lobster Bisque or Italian Wedding Soup
Palate Sharing (One per couple)
Passion Chèvre Plate
Chèvre Crunch Croque, Arugula, Passion Fruit Foam Crème, Honey Balsamic Fig Coulis, and Toast Points
Cupid's Formaggio
Fresh Mozzarella, Spiced Walnuts, Heritage Tomatoes, Mint Relish, Pickled Beets, and Pancetta
Main Course (One per person)
Salmon Duet Rigatoni Bowl
Smoked Salmon, Scottish Salmon, San Marzano Sauce, Ricotta, Herbs, and Prosecco Vin Dressed Arugula
Pomegranate 6-Hour Short Rib
Tempranillo-Braised Short Rib, Peppered Mash, Honey-Braised Baby Carrots, and Fresh Pomegranate
Rosmarino Amor Chicken
Rosemary Grilled Chicken, Grilled Eggplant, Sweet Potatoes, Mint-Infused Goat Cheese, and
Lemon Tahini Dressing
Sweet Endings (One choice per couple)
Dolce Passione Cioccolato
White Chocolate Passion Fruit Cheesecake with Ginger Cracker Crust
L'amore Torta
Flourless Chocolate Torte with Drunken Dark Cherry Sauce
The price is $39.95 per person (exclusive of tax and gratuity). Reservations are recommended. Valentine's Day dinner menu is available 5 p.m.-10 p.m.
Prosecco Café is located at 4580 PGA Blvd., Palm Beach Gardens. For more information, call 561.622.3222 or visit ProseccoCafe.com.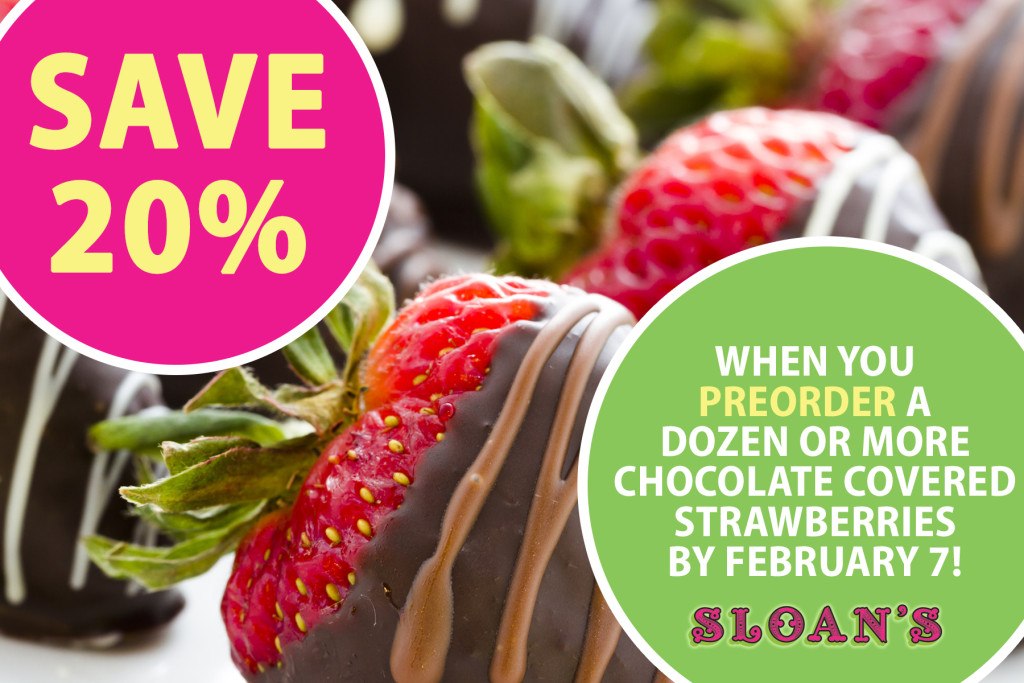 SLOAN'S | PALM BEACH GARDENS & WEST PALM BEACH
Chocolate Covered Strawberries
Save 20% when you preorder a dozen or more chocolate covered strawberries by February 7th.
SPOTO'S OYSTER BAR | PALM BEACH GARDENS
Culinary Opulence: Valentine's Day Feasting at Spoto's Oyster Bar
As invisible cupids hover overhead, lovers of sea-to-plate specialties will find themselves lingering longer after they tuck into amorous delights at Spoto's Oyster Bar in PGA Commons.
The Valentine's Day menu will showcase three crustacean classics, including melt-in-your-mouth shrimp and lobster cakes ($29.75), gigantic, two-pound lobsters (market price), and elegant twin lobster tails (market price). Guests can toast their undying love over handcrafted cocktails, including the Chocolate-Covered Strawberry Martini ($11) and Love Potion #9 ($11). End the evening indulging your sweet tooth with the last mouthful of Chocolate Decadence, a homemade dessert with raspberry coulis ($8.75). So good you may find yourself proposing to the pastry chef.
Reservations are highly recommended. Regular dinner menu is available. Valentine's Day hours are 11:30 a.m. to 10 p.m.
For more information, please call 561.776.9448 or visit spotos.com. Spoto's Oyster Bar is located at 4560 PGA Boulevard, Palm Beach Gardens.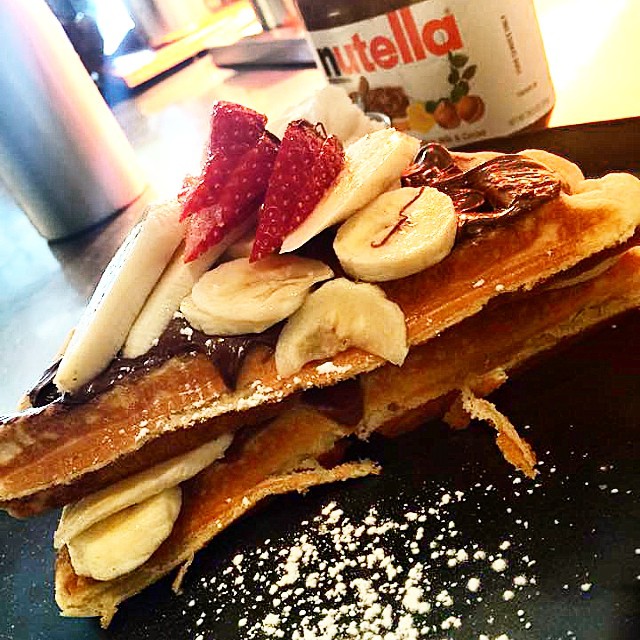 AVOCADO GRILL | WEST PALM BEACH
VALENTINE'S DAY GETS PASSIONATE AT AVOCADO GRILL
Romance is served morning to night
On Valentine's Day, February 14th, enjoy your favorite farm-to-table creations during Avocado Grill's award-winning Sunday brunch – featuring special Valentine's themed offerings from 11 a.m. to 3 p.m. Beginning at 4:30 p.m, guests will enjoy a prix fixe menu for just $59 each. Served until 10 p.m., this unique ensemble of the freshest culinary creations includes a complimentary glass of champagne.
"Guests will delight all Sunday long in our romantic Valentine's Day menu," promises award-winning Excecutive Chef and Owner Julien Gremaud.
Think of AG's beginning course as your "First Date." Make the evening especially memorable with your choice of grilled avocados, beet salad, arugula salad, mushroom fricassee, butternut squash salad, lamb sliders or fish tacos. Give into temptation, and move closer to enjoy "The Kiss" – a second course consisting of your choice of one of these entrees: mahi, mussels, chicken paillard, salmon, hangar steak, butternut squash risotto or short ribs. Vegan and vegetarian options will also be available.
Finally, indulge and share a "Passionate Embrace" over any dessert from Avocado Grill's extensive list: Ginger Lime Créme Brulee; Nutella Avocado Mousse with espresso whipped cream and carmelized hazelnuts; Passion Fruit Tiramisu; Cinnamon White Chocolate Bread Pudding with pina colada sauce, Peanut Butter Chocolate Macademia Brownie; or Fresh Berries and Whipped Cream.
Florida Trend Magazine recently awarded Avocado Grill their Golden Spoon's "Best New Restaurant for 2015" coveted honor. As the 2014 and 2015 "Open Table Diners' Choice" award winner and 2014 "New Times Reader's Choice Best New Restaurant in Palm Beach County" award winner, Avocado Grill has been fortunate to win critical acclaim including being highlighted by USA Today's 10 Best.
Avocado Grill also garnered three of The Palm Beach Post's most sought after Critic's Choice Awards: "2015 Best A La Carte Brunch," "2014 Best New Restaurant"
and "2014 Rising Star Chef" for Owner/Chef Julien Gremaud, who was also a finalist in the South Florida Business & Wealth Magazine's "Up & Comers Awards."
The trendy culinary destination continually offers imaginative artisanal cuisine that entices food enthusiasts from around the world while its epicurean creativity and expertise continues to delight regular visitors. Small plates of seasonal, locavore-driven fare, ceviche and a full raw bar spotlight an expansive menu that includes fresh, house-made desserts and a sophisticated collection of wine, beer, and signature libations.
Avocado Grill serves lunch Monday through Friday, weekend brunch, and dinner seven nights a week. Happy Hour is every evening from 5:00 p.m to 7:00 p.m. and features two-for-one speciality drinks such as Kiwi Basil or Passionfruit Ginger along with $1.50 Bluepoint oysters on Monday nights. Indoor and open-air seating areas provide plenty of inviting space to relax with friends and family in addition to the colorful bar.
Reservations are highly recommended through OpenTable.com. Be sure to follow the restaurant on Facebook, Twitter and Instagram for all the lastest updates and specials.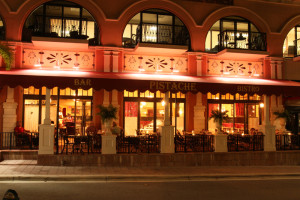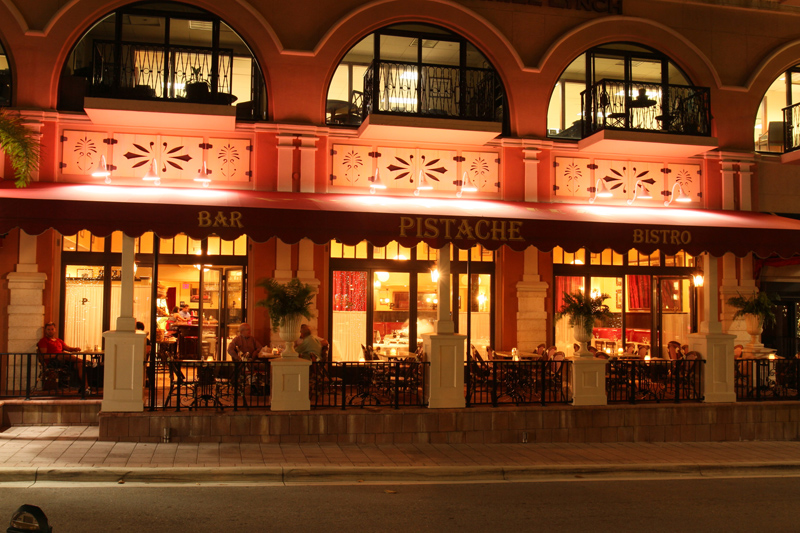 PISTACHE | WEST PALM BEACH
WHAT: Whether your celebrating love of celebrating your love for the single life, PISTACHE French Bistro has something in store for your this Valentine's Day. Featuring sensual Parisian décor, aphrodisiac-inspired dishes and cocktails, a kissing booth, and even special day-time brunch option, Pistache French Bistro is the place to fall in love this Valentine's Day
WHERE: Pistache French Bistro, 101 North Clematis Street, West Palm Beach, FL 33401
WHEN: Sunday, February 14, 2016
MENU: Pistache will offer a three-course Valentine's Day brunch menu- with complimentary Mimosa, Bellini, or Bloody Mary- for $50 per person, as well as a three-course special dinner menu for S75 per person.
Brunch Menu
Appetizers: 
Salmon tartare: Smoked and fresh salmon, cilantro avocado mousse, grapefruit, ginger oil, pickled shitake, lemon aioli, Brioche croutons
Maytag blue cheese salad: Walnuts, cranberries, apples, balsamic vinaigrette
Tropical fruit parfait: Kiwi, carambola, mango, banana, papaya, honey and vanilla yogurt, toasted coconut and macadamia streusel crumb
Entrées:  
Roasted duck and waffles: Poached egg, spicy grain mustard maple syrup
Jumbo lump crab omelette: Shallots, chives, truffle frisee & arugula
Steak frites: Grilled 10oz center cut NY strip, house cut fries watercress & cherry tomatoes, maitre d' butter
Desserts: 
Crepes Suzette: Caramelized orange butter sauce flambée in liqueur Bauchant, vanilla ice cream
Crème Brulée: A classic made with fresh vanilla beans
Mousse au chocolat: Rich dark chocolate mousse
Dinner Menu
Appetizers:   
Salmon tartare: Smoked and fresh salmon, cilantro avocado mousse, grapefruit, ginger oil, pickled shitake, lemon aioli, Brioche croutons
Maytag blue cheese salad: Walnuts, cranberries, apples, balsamic vinaigrette
Mediterranean tomato salad: Goats milk feta, cucumber, red onion, mint, toasted pita, lemon oregano vinaigrette
Winter squash salad: Black pepper ricotta, Anjou pear, crispy prosciutto, watercress, apple sesame vinaigrette
Zucchini blossom beignets: Pontano farms zucchini blossoms, bay scallops, Boursin, tomato compote, pesto
Burgundy escargots: in lemon garlic butter
Choux de Bruxelles: roasted Brussels sprouts, Anjou pear, shaved comté, poached farm egg, fingerling chips, apple wood smoked bacon vinaigrette
Crispy Spanish octopus: roasted fingerling potatoes, Picholine olives, arugula, smoked paprika aioli, Piquillo pepper, sauce Basque
Entrées:
Moules frites "Mariniere": Prince Edward Island mussels steamed in white wine-garlic-shallot broth, served with pommes frites
Grilled swordfish: Marinated with preserved lemon, saffron couscous, roasted cherry tomatoes, arugula, Barissa cream
Bell & Evans chicken breast: Bone-in, pan roasted, baby artisan tomatoes, roasted mushrooms, sautéed broccolini, fines herbes pommes dauphine, roasted garlic & black truffle jus
Jumbo sea scallops: rRasted Kabocha squash puree, Brussels sprouts, spaghetti squash, honey glazed parsnips,           sherry bacon jus
Local grouper: Grilled, Brussels sprouts, fennel, lardons, sage, chestnut purée, sauce Beurre rouge
Slow roasted duck: sweet & sour braised red cabbage, celery root mousseline, apple frisée salad, foie gras madeira jus
Beef Bourguignon: red wine braised short rib, roasted button mushrooms, pearl onions, lardons, roasted carrots, potatoes
Filet au Poivre: pepper crusted beef tenderloin, black pepper brandy sauce
Desserts:   
Crème Brulée: A classic made with fresh vanilla beans
Mousse au chocolat: Rich dark chocolate mousse
Pudding Breton: Brioche bread pudding with rum, raisins served with crème anglaise
French-style lemon cheesecake: Light and fluffy, topped with berry salad
Chocolate & raspberry gateau: Dark chocolate ganache, raspberry coulis, vanilla cream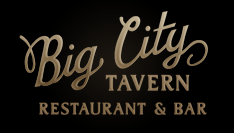 BIG CITY TAVERN | FORT LAUDERDALE
SWEETEN UP YOUR VALENTINE'S DAY AT BIG CITY TAVERN
Special Menu from Executive Chef Steven Zobel
Plan a romantic night on Las Olas Boulevard with Big City Tavern Executive Chef Steven Zobel's mouthwatering Valentine's Day menu. Begin your succulent meal with aphrodisiac Oysters on the Half Shell ($15 per 1/2 dozen), then move on to the Baked Lemon Sole and Crab Stuffing with Asparagus and Béarnaise Sauce ($31) or Chateaubriand for Two with Mushroom Demi Glaze and Gratin Potatoes ($78). End your night on a sweet note by indulging in the Molten Chocolate cake with Port Wine and Raspberries ($7) or Chocolate Mousse and Berry Parfait ($7).
A la carte with specials.
Reservations recommended.
Big City Tavern
609 E. Las Olas Blvd | Ft. Lauderdale, FL 33301
(954) 727-0307
www.bigcitylasolas.com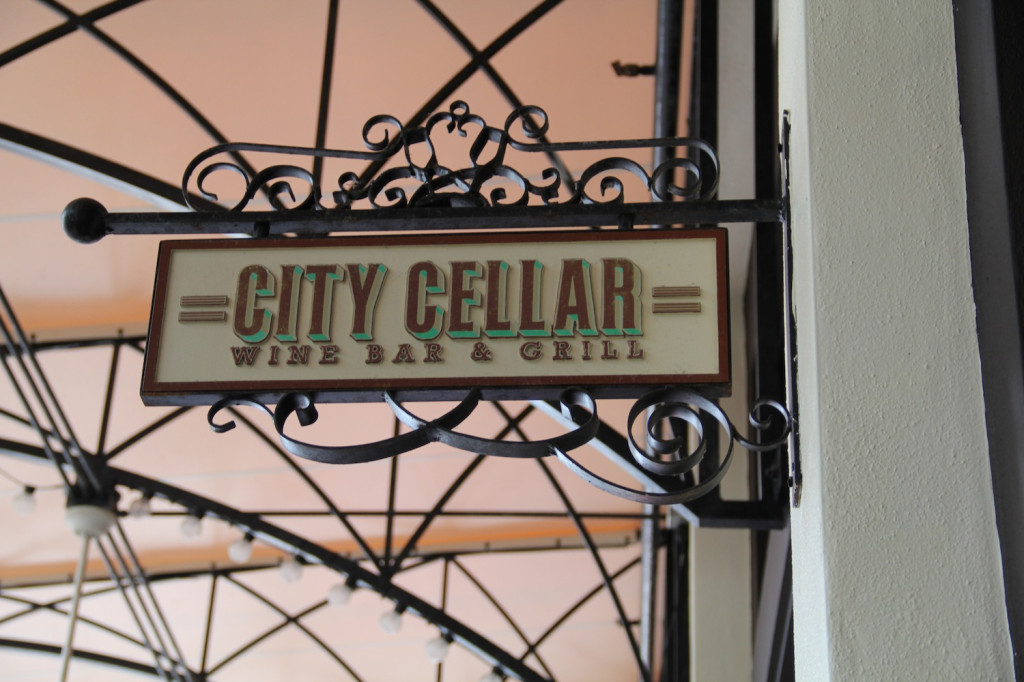 CITY CELLAR | WEST PALM BEACH
CITY CELLAR WINE BAR & GRILL CELEBRATES VALENTINE'S DAY
Make it a memorable night with cuisine from Chef Kevin Darr
Cozy up to your sweetie at City Cellar Wine Bar & Grill this Valentine's Day! Executive Chef Kevin Darr will be serving his a la carte menu along with a variety of delicious specials including Grilled Wagyu NY Strip, lobster risotto, organic mache, roasted shallot agro dolce ($45), Pan Seared Halibut, butternut squash puree, sautéed Chinese broccoli, pistachio beurre blanc ($34) and Housemade Fresh Sweet Corn Gnocchi, cellar bacon, rock shrimp, local heirloom tomatoes, opal basil ($30). General Manager Michael "Iggy" Ignatowicz will also be on hand offering pairing suggestions from the restaurant's award-winning wine list with more than 400 wines by the bottle, half bottle, glass and flight, including some great values. Reservations recommended.
City Cellar Wine Bar & Grill
700 South Rosemary Avenue, Suite 218 | West Palm Beach, FL 33401
(561) 366-0071
www.citycellarwpb.com
CITY OYSTER | DELRAY BEACH
INVITE YOUR SWEETHEART TO CITY OYSTER & SUSHI BAR
Valentine's Day Specials from Chef Dennis Teixeira
City Oyster & Sushi Bar invites guests to indulge in a special dinner for two or a night out with friends on Valentine's Day. Start your culinary journey with the Double Dragon Roll featuring shrimp tempura, spicy tuna, seaweed salad & cucumber, topped with half avocado and half tuna, eel sauce and spicy mayo. ($23) before diving into delicious mains from Chef Dennis Teixeira like the Conchilli Bolognese made with beef, pork & veal, baked al forno with fresh mozzarella ($28) and the Moroccan Spiced Grouper with cous cous veggie salad with pine nuts, raisins, Sicilian olives and salsa verde ($36). End the night with a delicious homemade dessert from Pastry Chef Nico Jambetakis.
A la carte menu with specials.
Reservations recommended.
City Oyster & Sushi Bar
213 East Atlantic Avenue | Delray Beach, FL 33444
(561) 272-0220
www.cityoysterdelray.com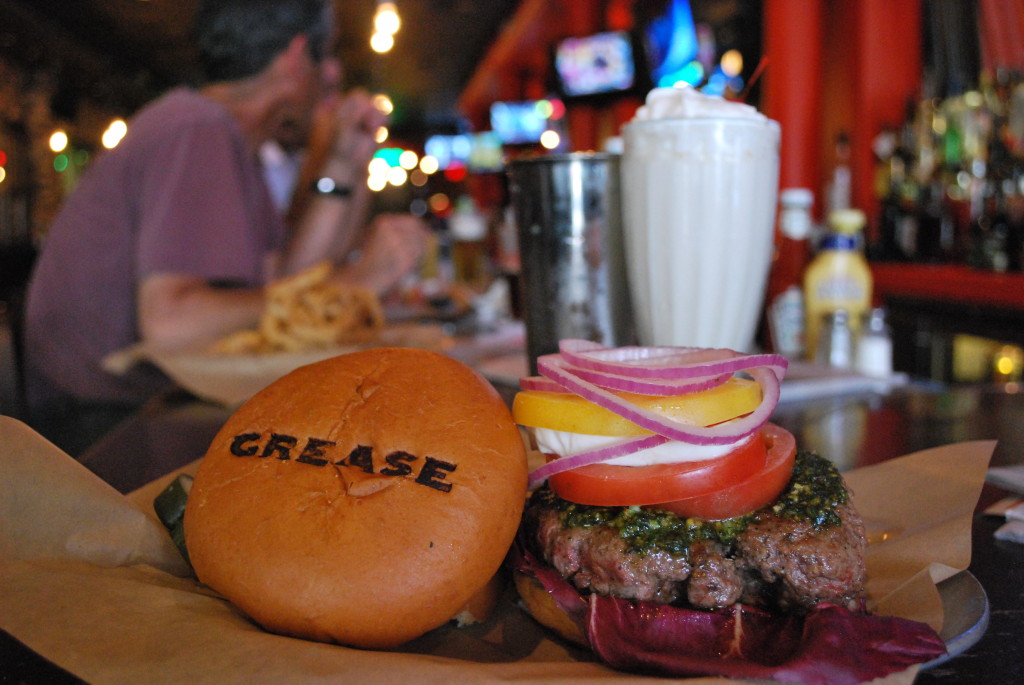 GREASE | WEST PALM BEACH
KEEP IT CASUAL ON VALENTINE'S DAY AT GREASE BURGER, BEER & WHISKY BAR
Gourmet Burgers, Craft Beer and No Reservations Needed
Ah, Valentine's Day—or should we say, "$75-set-menu day." For those hoping to spend less this year and still enjoy a night out, visit Grease Burger, Beer & Whiskey Bar on Clematis Street. The entire menu will be offered a la carte along with a delicious Brie Mine Burger, a 10oz Brie stuffed burger topped with homemade apple walnut chutney. For dessert, dive into a mammoth slice of double stacked chocolate cake. Grease also features a huge craft beer list with over 130 selections by the bottle and on tap, over 110 whiskeys and bourbons available including their own house-made whiskey, and a craft cocktail menu.
A la carte menu.
No reservations needed.
Grease Burger, Beer & Whiskey Bar
213 Clematis Street | West Palm Beach FL, 33401
561.651.1075
www.GreaseWPB.com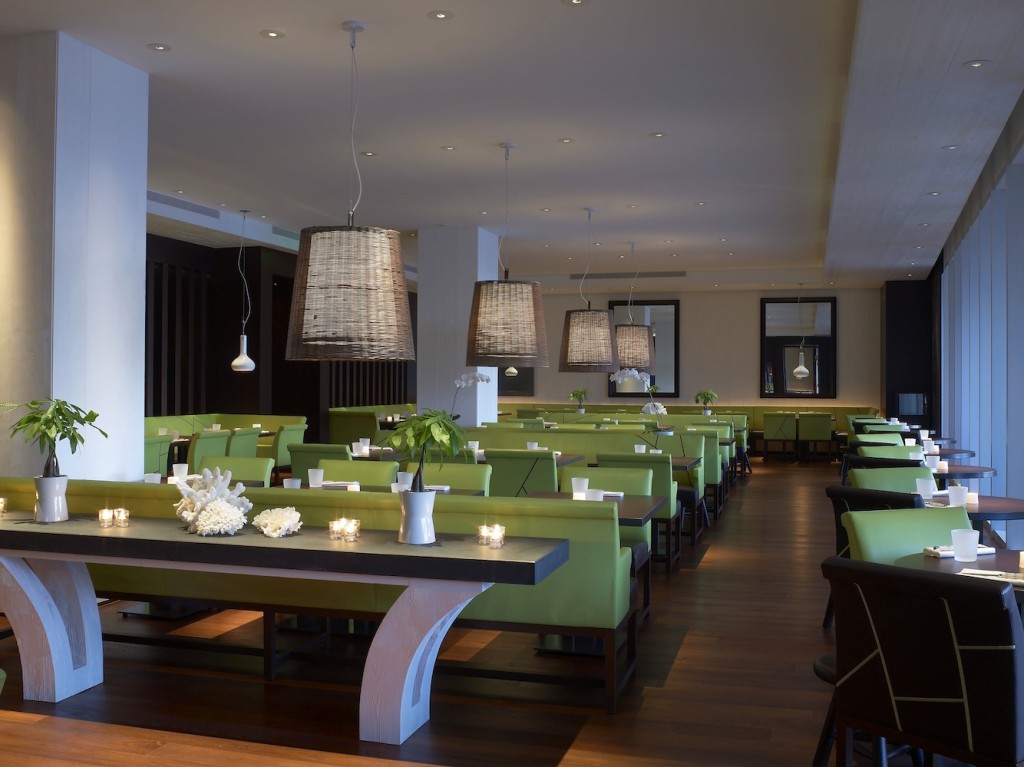 STEAK 954 | FOURT LAUDERDALE
Celebrate Your Love at Steak 954
Share an unforgettable Valentine's Day dinner at Fort Lauderdale's premier steakhouse
Let Steak 954 set the mood for a romantic Valentine's Day with your loved one. In addition to their delicious a la carte menu, Steak 954 will be offering specials prepared by Chef Nicolay Adinaguev including fluke crudo with satsuma orange, pickled fresnos, extra virgin olive oil and sea salt to start. Entree specials will include petite filet and Maine lobster surf and turf with sauce bordelaise and grilled lemon as well as butter poached pompano with verjus, watercress and grapes. A side of sautéed lacinato kale, toasted faro, salsa verde and shaved grana padano complements each dish perfectly. Top off the meal with something sweet prepared by Pastry Chef.
A la carte menu with specials.
Reservations recommended.
Steak 954 | W Fort Lauderdale Hotel
401 N. Ft. Lauderdale Beach Blvd, | Fort Lauderdale, FL 33034
954.414.8333
starr-restaurant.com/steak954.com
The following two tabs change content below.
Cristyle is a South Florida native, born in Miami and raised in Palm Beach. Her love of food came through her travels and seeing how cuisines differ and relate so much. She attended the University of Florida, had a short stint in Charlotte, NC and is now back home - ready to eat her way through Palm Beach County and share her findings with locals and visitors alike. From brunch to happy hour to foodie events, she's got you covered!