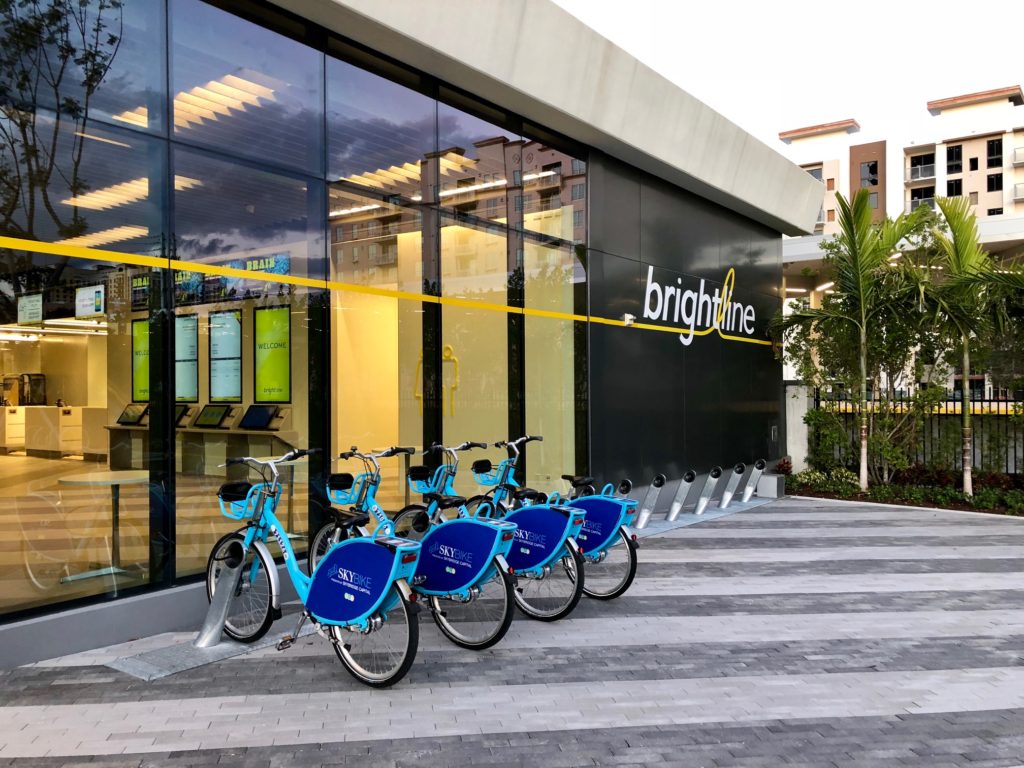 EAT PALM BEACH | BRIGHTLINE
This week I teamed up with Brightline to experience Ft. Lauderdale by train and check out the F&B offerings around the FTL station.
If you're not familiar, Brightline is a new high-speed train option making it's way through South Florida. The West Palm Beach and Ft. Lauderdale stations have opened with Miami close behind and Orlando in the future.
The cars are well-equipped with comfortable seats, food and beverage carts, tables and WIFI. Passengers can choose between Smart $10 passes or Select $15 passes with a separate waiting area and amenities.
The stations feature lounges, a cafe, children's play area and floor-to-ceiling glass window views of the city. Riders can download the app making ticket purchasing and check-in a breeze.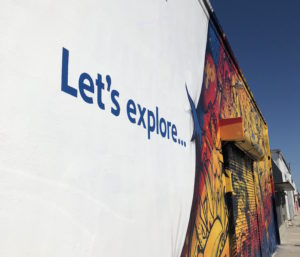 I hopped on the 9:00am WPB>FTL train which arrived in Fort Lauderdale at 9:40am. The station is fairly centrally located with easy access to surrounding venues and a short Uber ride to most attractions.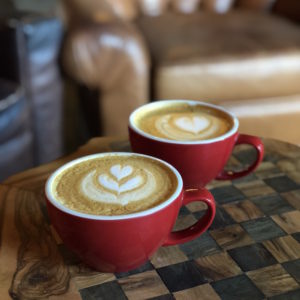 BREW URBAN CAFE
Within walking distance, just .5 miles from the Ft. Lauderdale station, Brew Urban Cafe serves locally roasted Wells Coffee, pastries and a handful of craft beers in a cool and calm vibe.
A large library wall of books flanks the coffee bar with seating vignettes and barstools to sit and enjoy your espresso or baked good.
We kicked off the day with a Cappuccino and Lavender Latte. The latte art was on point and the patrons were a mix of grab-and-go professionals and lingering caffeine aficionados.
A few pups made their way through while we sat and chatted and the overall atmosphere was warm and inviting.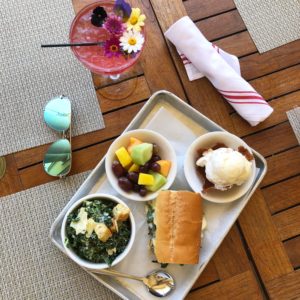 COASTAL
Next we headed to the waterfront for lunch. Located on Ft. Lauderdale Beach in the Atlantic Hotel, Coastal is a beach chic restaurant serving up light and fresh dining options with beautiful craft cocktails.
We were greeted by Andra and met up with Albert at the indoor bar to sample his award-winning Cucumber Mint Martini and April special cocktail featuring Three Olives Rosé vodka. Albert makes a killer cocktail with garnish perfection of flowers and fruit.
Enrique showed us to our table outside with a stunning view of the beach. We both selected an "All-in-One" lunch option, which is a bento box-style pre-fixed menu featuring light options giving patrons the ability to lunch in under 45 minutes. We were the first to preview this new offering, and it did not disappoint.
I went with the Kale Caesar Salad with a Chicken & Broccoli Rabe Sandwich, Fruit Salad and Key Lime Ice Cream. Marilyn had the Tomato Basil Bisque with a stacked Turkey Club Sandwich, Fruit Salad and Chocolate Cookies.
The meals were perfectly balanced to feel full but not overstuffed and ready for the afternoon. They are also geared towards locals in the area who would like to hit the waterfront during their lunch hour.
Coastal serves breakfast, lunch and dinner with happy hour, Sunday brunch and private events.
eatcoastal.com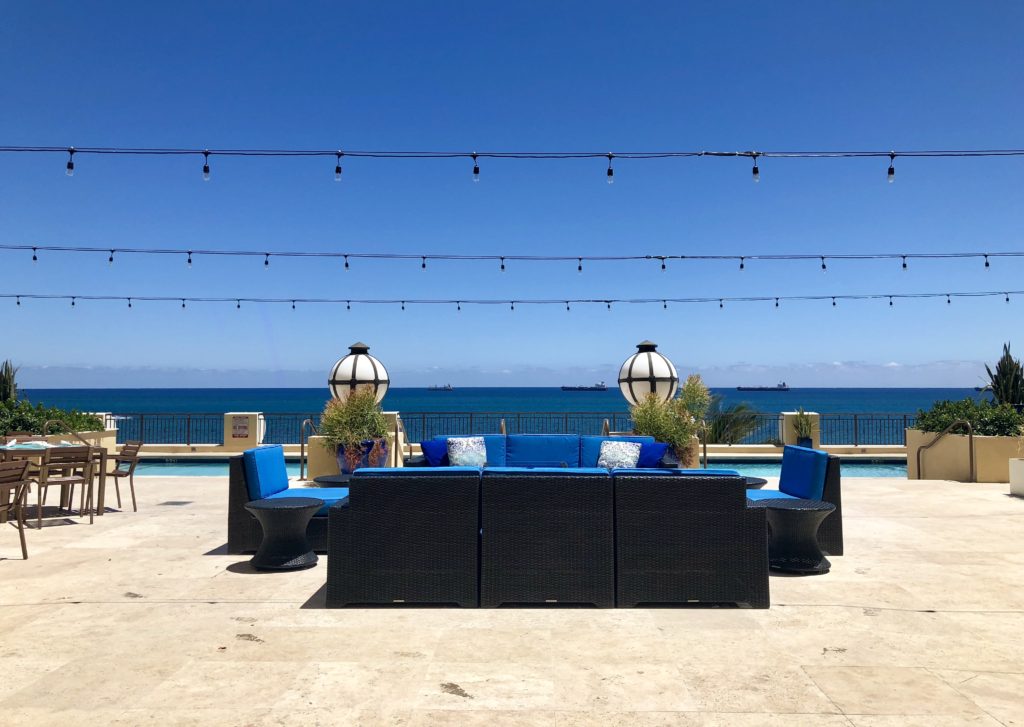 ATLANTIC HOTEL
After lunch we met up with Blanka to tour the hotel and visit some of the rooms on property. Boasting the largest spa on the beach, the 10,000SF space features an array of treatment rooms, salon, sauna, steam room and fitness center.
The pool deck gleams with the sparkling water of the ocean as a backdrop and bright blue furnishings. it also acts as their event space for social gatherings and weddings.
The rooms are tastefully decorated with stunning views of the water and blue umbrellas lining the sand. A boutique hotel, with just over 100 rooms, the Atlantic Hotel gives guests a personalized experience with a blend of studios and suites.
atlantichotelfl.com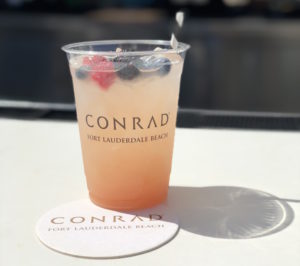 CONRAD
Next we made our way a few doors down to the Conrad Hotel. A Hilton property, the lobby is sexy with that Atlas Cocktail Lounge and a gourmet market called Cornucopia serving LaVazza coffee, gelato, Zak the Baker pastries, pizzas and snacks.
Kara gave us a tour and I thought the rooms were reminiscent of Las Vegas with junior suites featuring living rooms and balconies overlooking the beach. A nautical feel runs throughout the resort and the spa features an array of aromatherapy options and single and couple treatments including hydrafacials.
The pool deck is designed to replicate the feeling of a cruise liner and features a Veuve Cliquot garden with bistro tables, corn hole boards and life-size Jenga. We visited Ruben at the Spinnaker bar and enjoyed glasses of champagne in the sunlight. The vibe was relaxed, welcoming and energetic.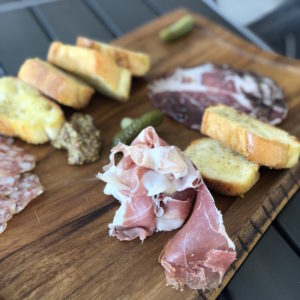 TERRA MARE
Just downstairs at the Conrad, off the valet entrance, is Terra Mare, a waterfront restaurant featuring craft cocktails and a tempting happy hour. They are open throughout the day serving breakfast, lunch and dinner. The menu encourages sharing with small plates alongside larger entrees. The space overlooks the ocean with an expansive deck as well as a sultry interior.
We joined a visiting group outside and enjoyed blistered shishito peppers, fried calamari, oysters and charcuterie. The cocktail menu is inventive with ingredients like jalapenos and beets and they have beautiful presentation.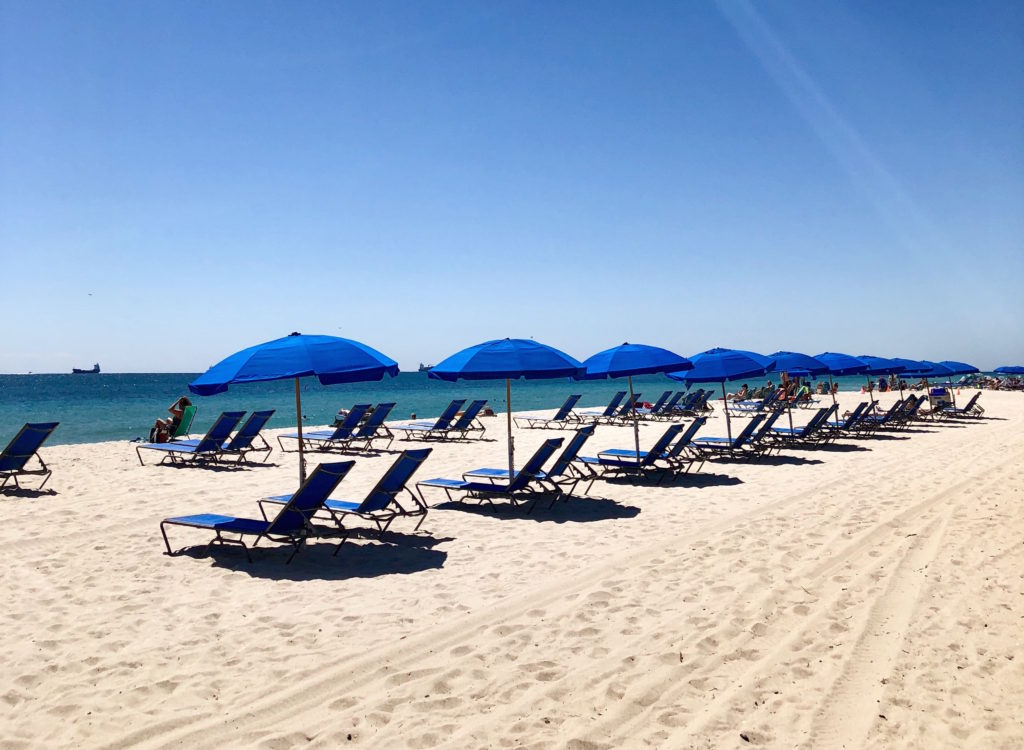 While I was booked for the 3:55pm train, Ft Lauderdale proved to be too fun to leave and I changed my ticket for the 6:55pm. A quick Uber ride back and I kicked my feet up at the station, enjoying a snack before boarding. We cruised home to WPB by 7:35pm, with a refreshing beverage for the ride and I headed home for the day.
I usually dread trips south. Between the traffic, unpredictable drive times and loss of productivity while on the road the commute rarely feels worth the effort. Not to mention the battle for parking and timed spots.
While this particular trip was planned to explore Ft. Lauderdale, I have also taken Brightline home from the FLL Airport, visited friends at the W and fully intend to adventure around the area more with an easier mode of transportation. I love being able to work while I travel, interacting with other passengers and having a generally worry-free trip.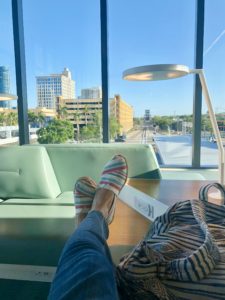 If you haven't given Brightline a try, I suggest booking a trip and seeing what it's all about. It's a great way to discover new gems and enjoy a day in South Florida. I honestly can't wait for the Miami leg to start running between Miami Heat games, restaurant events and friends and family we don't see nearly enough.
If you are from the Ft. Lauderdale area and looking to visit West Palm Beach, I absolutely recommend it. The WPB station is located in the heart of downtown, with restaurants, bars, public art, cultural activities and a variety of points of interest within walking distance.
Download the Brightline app here and get going!
Brightline
Brightline WPB | 501 Evernia St, West Palm Beach, FL 33401
Brightline FTL | 101 NW 2nd Ave, Fort Lauderdale, FL 33311
GoBrightline.com | @gobrightline
*This was a paid sponsorship with Brightline, however all opinions are my own. 
The following two tabs change content below.
Cristyle is a South Florida native, born in Miami and raised in Palm Beach. Her love of food came through her travels and seeing how cuisines differ and relate so much. She attended the University of Florida, had a short stint in Charlotte, NC and is now back home - ready to eat her way through Palm Beach County and share her findings with locals and visitors alike. From brunch to happy hour to foodie events, she's got you covered!