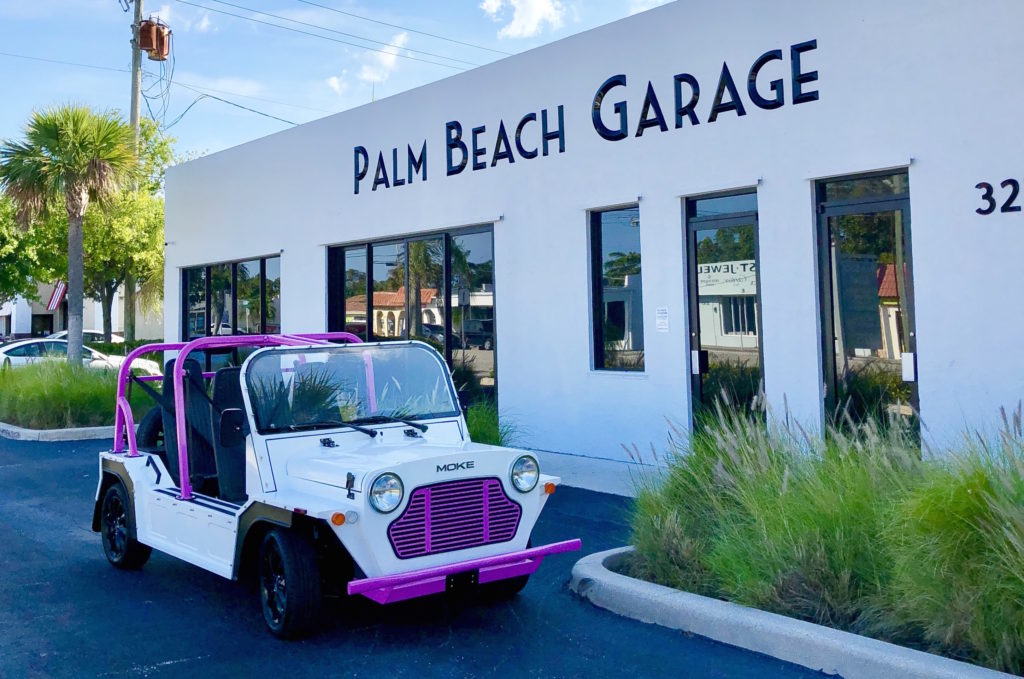 EAT PALM BEACH | MOKE
Yesterday I had a blast cruising around West Palm Beach in a MOKE from Palm Beach Garage.
If you're not familiar, a MOKE is a street-legal electric vehicle with an absolutely adorable design. They come in 8 colors: white, black, pink, blue, yellow, orange, green and red with a variety of combinations and variations. The cars run basically silent and top out around 25 MPH. They seat 4 passengers and have a pretty rocking sound system. They were popularized in England back in the day, then made their mark on the Caribbean and are now available in the States. They charge on a regular outlet and can get you about 40 miles on an 8-hour charge. We were greeted with a pink and white (to die for!) MOKE.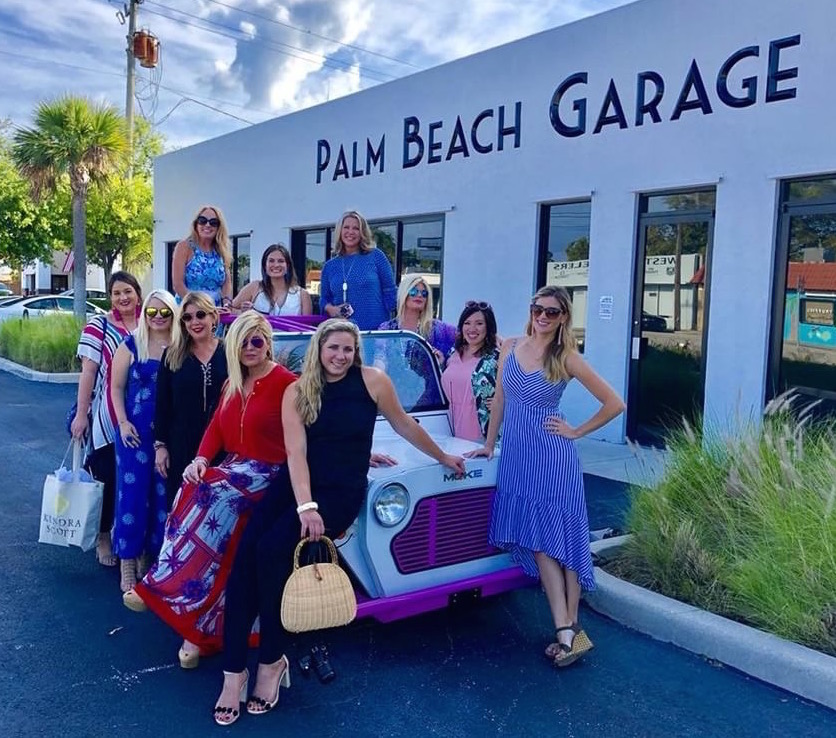 Palm Beach Garage
Our evening kicked off in the Dixie Corridor at Palm Beach Garage. Jason gave us a tour of the facility and showed us future expansion plans. Their garage is stocked with beautiful vehicles including the Lincoln Continental from The Godfather, sleek red Ferraris and an adorable canvas topped Jolly within the rows of cars.
Palm Beach Garage assist clients with interior, exterior and mechanical restorations, maintenance, luxury vehicle repair and concierge, climate-controlled vehicle storage.
After the welcoming introduction, three MOKEs pulled up out front and we began our adventure through the streets of West Palm Beach.
City Cellar
Our first stop was in CityPlace at the tried and true City Cellar. We scooched into large rounded booths set with flights of wine. Gradon, the sommelier and fromagier, introduced us to each glass: a chardonnay, pinot noir and cabernet sauvignon. Soon charcuterie platters hit the table with bread, hard cheeses, sliced meats, honey, mustard and almonds.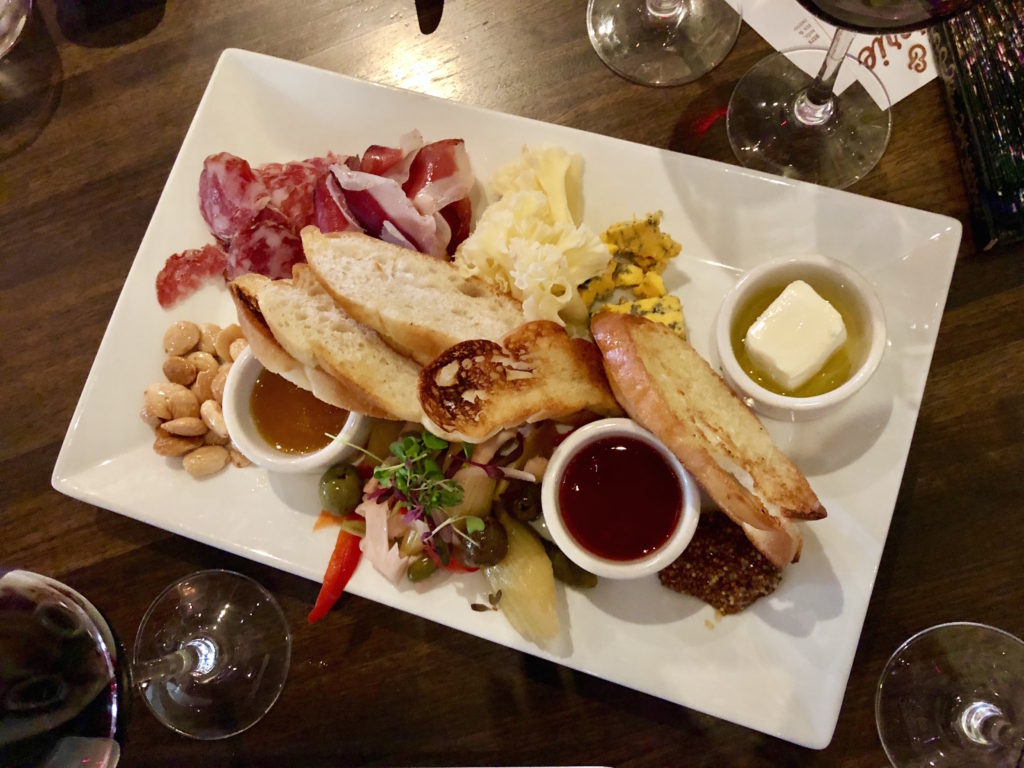 City Cellar has proven to be a stronghold downtown having opened in 1999. They have an extensive wine list and cellar which is visible through the floor to ceiling glass wall that towers behind the large dining room's bar. The menu is appealing with its varied offerings and the atmosphere is energetic and elevated. They are open for lunch and dinner and offer brunch and happy hour.
Galley
Next we pulled into the valet at Hilton West Palm Beach and made our way to Galley. We were seated at a long table which was quickly sprinkled with plates of crab cakes, pots of steamed shrimp, rows of risotto croquettes and pies from the wood fired oven. A mixologist made table-side cocktails which are offered as a deconstructed old cuban or smoked old fashioned.
Galley is the dinner and cocktails venue of Hilton WPB, with Manor serving breakfast and lunch. They are also known for their #ItsOnlySaturday poolside brunch parties on the Palm Deck.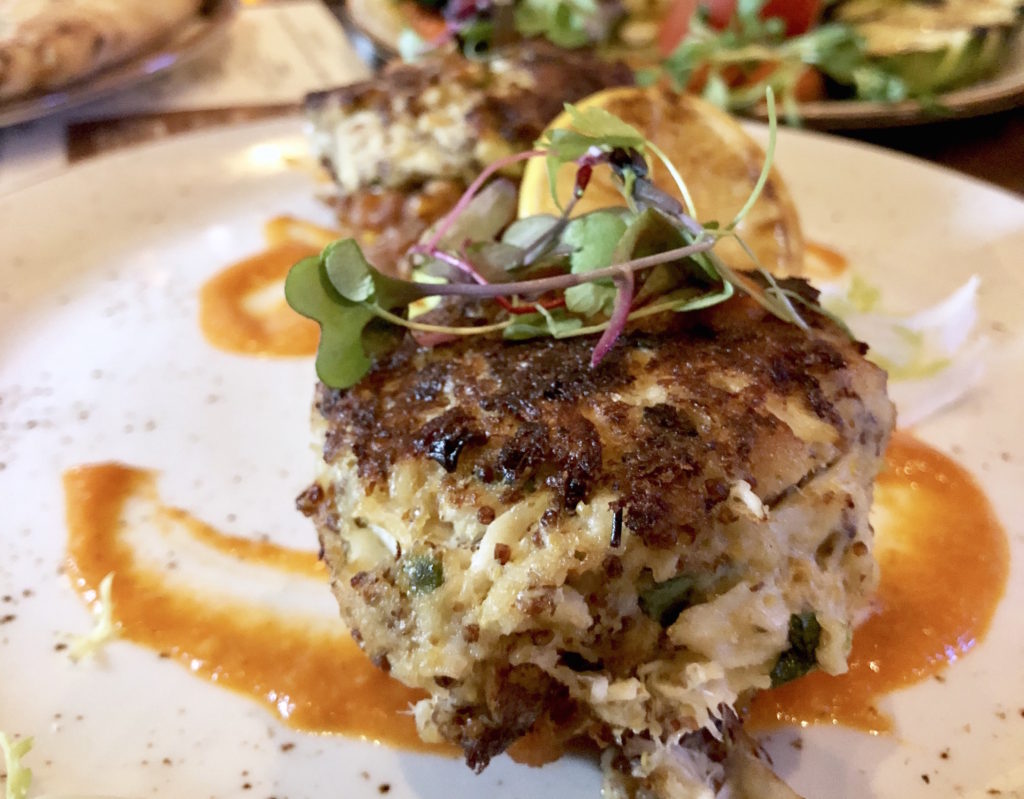 While at Galley, the lovely ladies of Kendra Scott surprised us with goodie bags featuring pieces from their new Summer line and gem-inspired nail lacquer. May I just say that I am in love with my aqua raffia tassel statement earrings and Pink Agate polish.
Basque
The last stop of the evening was at Hotel Biba and the new Basque. A live Spanish guitarist set the tone on the front patio with string lighting and botanicals framing the umbrella-ed space. We made our way to the back patio and dove into "Oops, I dropped it" desserts featuring Proper Ice Cream, flan and glasses of Sangria. It was a sweet ending to a wonderful night.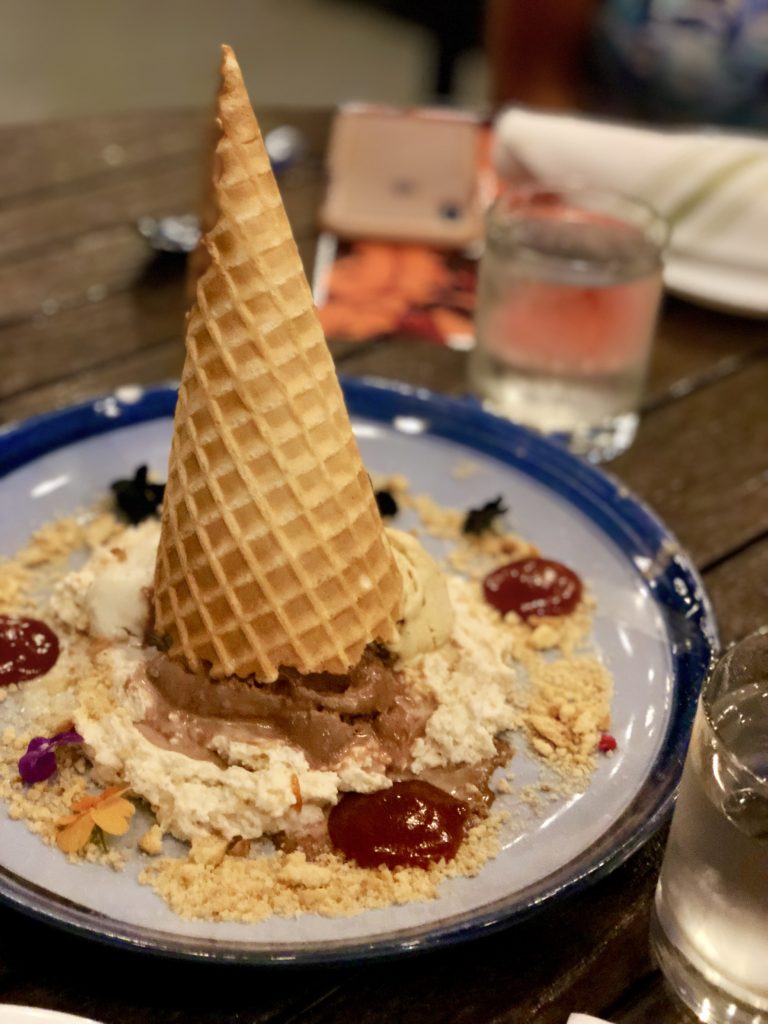 Thankfully MOKE features headlights and we cruised back to Palm Beach Garage to say our goodbyes. I was so sad to see my little Barbie dream car make its way back into the shop and feel like I'll have to visit her soon!
A big thank you to everyone who helped put together the evening. It was a great group of people, good food and a lot of laughs. Until next time, beep beep!

Palm Beach Garage
3215 S Dixie Hwy, West Palm Beach, FL 33405
561.833.6622
palmbeachgarage.com
City Cellar | City Place | 700 S Rosemary Ave, West Palm Beach, FL 33401 | citycellarwpb.com
Galley | Hilton WPB | 600 Okeechobee Blvd, West Palm Beach, FL 33401 |
Basque | Hotel Biba | 320 Belvedere Rd, West Palm Beach, FL 33405 | eatdrinkbasque.com
Kendra Scott | Gardens Mall | 3101 PGA Blvd, Palm Beach Gardens, FL 33410 | kendrascott.com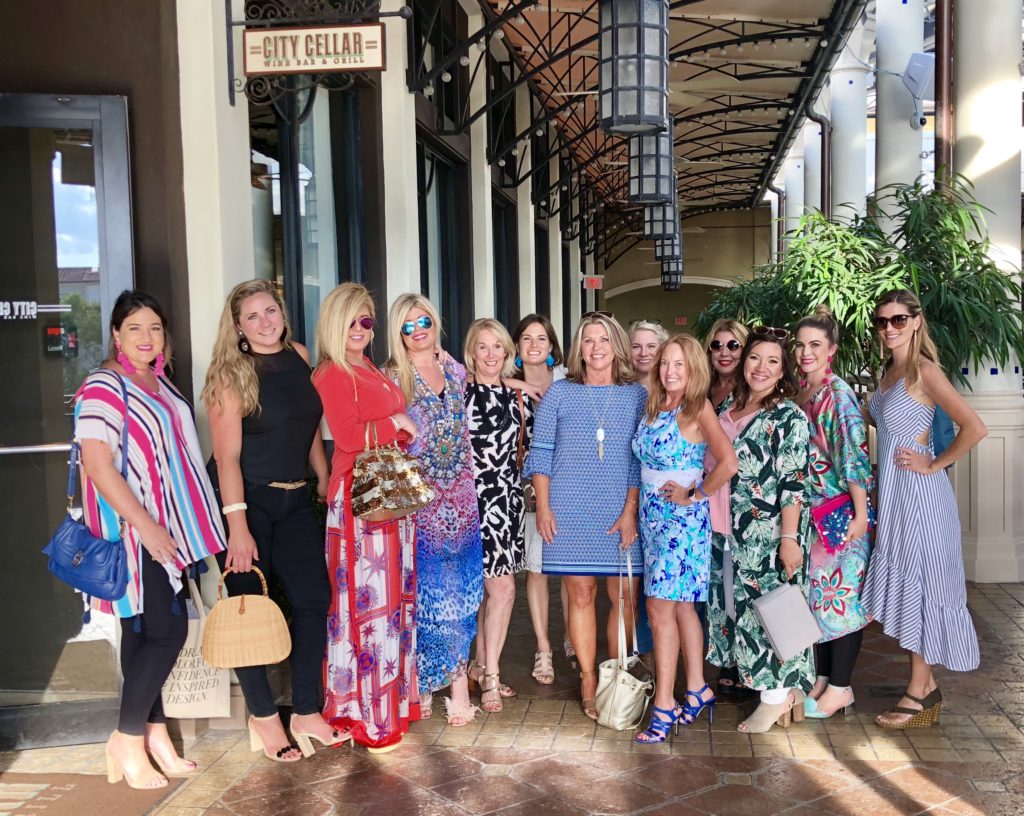 The following two tabs change content below.
Cristyle is a South Florida native, born in Miami and raised in Palm Beach. Her love of food came through her travels and seeing how cuisines differ and relate so much. She attended the University of Florida, had a short stint in Charlotte, NC and is now back home - ready to eat her way through Palm Beach County and share her findings with locals and visitors alike. From brunch to happy hour to foodie events, she's got you covered!