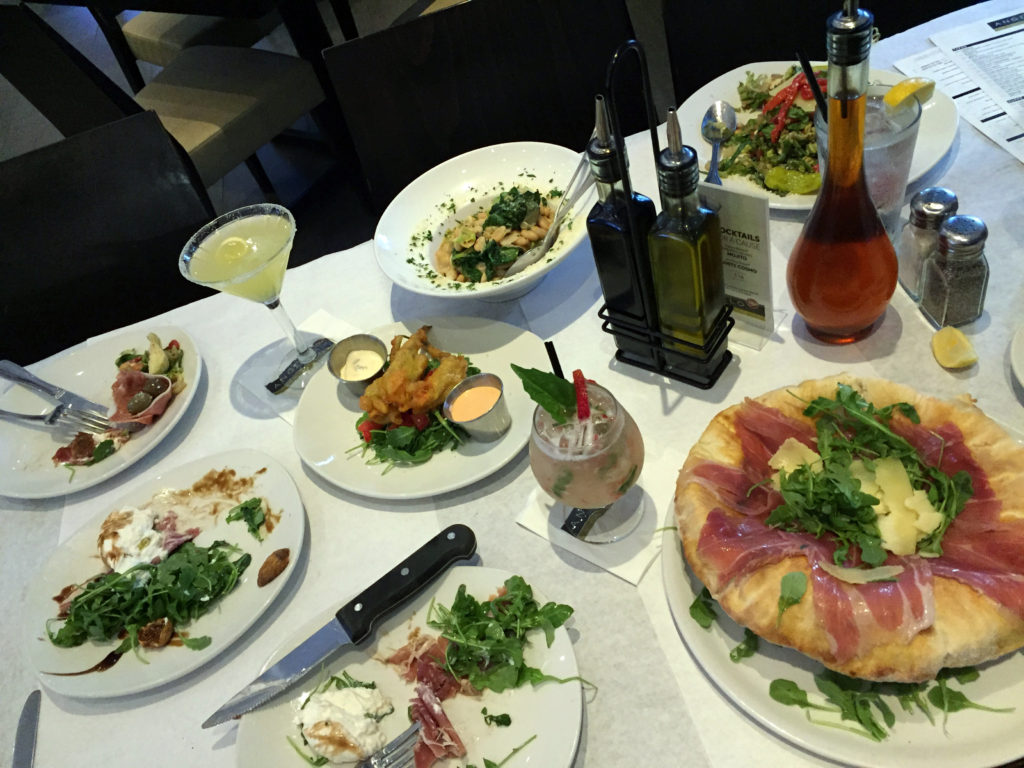 EAT PALM BEACH | ANGELO ELIA
We visited Angelo Elia for a media dinner last week and I have to say – it was outstanding. The décor was clean, sleek and sophisticated with a large bar, white quartz countertops, neutral furnishings and white papered tables. The two of us were seated at a table for six, which may seem silly, but made perfect sense once the food began to arrive.
We were greeted by Executive Chef Rickie, who asked if we had any dietary restrictions or preferences. We asked him to run with the evening and I'm so glad we did. I started off with a Strawberry Basil Smash with Grey Goose Vodka which was light and refreshing. They also brought out a tasting of the Pineapple Mojito which is currently benefitting Puerto Rico following Hurricane Maria. Then the plates started hitting the table. One after the other.
Our first round was a sampling of the tapas menu: Burrata, Manzo, Zucchini Flowers, Turkey and Chicken Meatballs, and Antipasto Salad. The looks from surrounding diners started as the table flooded with plates and my eyes lit up. The first order of business was the Manzo. A huge "puff" of bread, it stood a half foot high draped in Beef Carpaccio. Once cut open, the bread let out a burst of steam and deflated into a lovely flatbread. It was a pretty cool presentation that I've never seen before and had a delicious result. After that, I went straight for the Burrata. A beautiful bubble of Italian cheese sat on a bed of arugula and shaved prosciutto drizzled with fig balsamic and surrounded by fig. This was one of my favorite dishes of the night. The texture and flavor was perfection. Eventhough the table landscape was daunting, I didn't let a single bite of that plate go back to the kitchen, including mopping up my plate with the manzo. Next I went for the Chicken and Turkey Meatballs. I'm not a huge red meat eater, so I'm always looking for a poultry alternative to classics and this one was particularly interesting. The meatballs were half submerged in a bowl of warm cannellini beans and escarole. The moisture and texture were phenomenal and I loved the subtle but comforting flavors. The Zucchini Flowers sat in a small stack on a bed of greens and tomato with a lemon garlic aioli and pepper dipping sauce. They were fried golden and stuffed with mozzarella cheese. Chef sat down the Antipasto Salad then scanned the table and said "maybe just take a picture of the salad?" realizing there were too many amazing choices for us to jump on a salad. However, the salad was still somehow a show-stopper to the point of the table next to us asking what is was and ordering it for themselves. Chopped romaine was piled high with roasted red peppers, pepperocini, rolled prosciutto, olive, chopped veggies and vinaigrette. It was crisp, fresh and vibrant.
On to Round 2 (if you can believe it). The table again disappeared under the sampling of entrees: Porcina Pizze, Calzoni Calabrese, Spaghetti Frutti Di Mare and Trout, a special of the evening. The Spaghetti Frutte di Mare had pasta piled high with shrimp, calamari, clams and mussels tossed in a light tomato sauce. This was my favorite entrée of the night and the leftovers were equally enjoyed the next day for lunch. The Trout is not on the regular menu but a popular special. The filet was perfectly cooked and seasoned with broccoli and a light lemon sauce. The Calzoni Calabrese was stuffed fulled of spicy salami, smoked mozzerella and tomato sauce that oozed from each slice. The Porcina Pizze was a traditional red sauce and mozzerella pizza topped with porcini mushrooms and truffle oil. Angelo, the General Manager, recommended drizzling their house pepper sauce for a kick.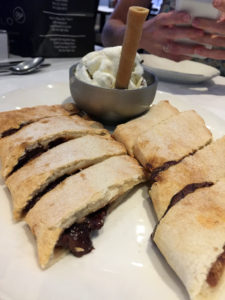 When Julio, our server who was so sweet, attentive and accommodating, brought dessert plates I had a moment of panic trying to figure out if my body could technically accept more food. Then he returned with a Nutella Stromboli served with housemade gelato. After one bite I knew it was one of my favorite desserts I've ever had. My only regret was not taking him up on his offer for a coffee or cappuccino, though it probably bought me another slice of the Stromboli which makes it a fair trade. I have raved about this dessert basically nonstop since we left. The housemade vanilla gelato was heavenly and when scooped into the Stromboli was almost more happiness than I could handle.
Our experience at Angelo Elia was borderline flawless – from the atmosphere to the service to the food. Neighboring tables were friendly, the staff was welcoming, the tapas and entrees were all delicious and the dessert was life-changing. I would gladly return and plan to.
If you haven't been, I recommend a visit. And while we visited the Delray location on Jog Road, they have a few locations throughout the area. This location also had an outdoor patio for dining al fresco.
Angelo Elia Pizza Bar Tapas
16950 Jog Road Delray Beach, FL 33446
561.381.0037
angeloeliapizza.com
The following two tabs change content below.
Cristyle is a South Florida native, born in Miami and raised in Palm Beach. Her love of food came through her travels and seeing how cuisines differ and relate so much. She attended the University of Florida, had a short stint in Charlotte, NC and is now back home - ready to eat her way through Palm Beach County and share her findings with locals and visitors alike. From brunch to happy hour to foodie events, she's got you covered!