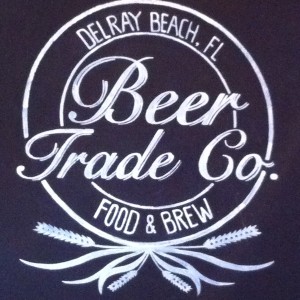 EAT PALM BEACH | BEER TRADE CO.
I've been wanting to try out Beer Trade Co for a while and finally made it happen! Honestly, considering how excited I was to check this place out, I had no clue how it worked – and was pleasantly surprised when I saw the setup.
First off, they have a great loungey patio area out front with tables and sectionals creating different seating areas. The interior has a few high tops, TVs and a wall of beer coolers. It's basically as if you walked into a market or convenience store, but instead of having to take your beverages elsewhere to enjoy, you just plop down and relax. As if this doesn't make me happy enough, they also have a couple racks of board games and cards to borrow. If you're hungry, they have a menu featuring appetizers, sandwiches and whatnot. And don't let the name fool you, they do offer wine.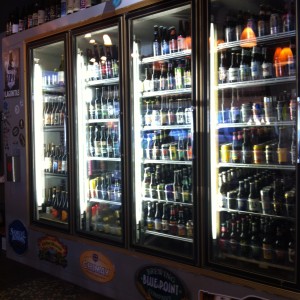 I started off with the Dog Days and grabbed a chilled glass from the glass cooler.. another touch that I liked about this place. It's seriously like going to a friend's place, only they have chilled glasses, a hefty drink selection, a better board game collection than most, and will make food if you ask them to. You hang out until you're ready to go and then just bring your empties to the front to ring up. Perfect.
We ordered a plate of the Hummus with garlic and kalamata olives. It was fresh and creamy and served with these warm pita wedges. You can customize it to your taste with roasted peppers or jalapeños too. We also tried the Risotto Balls which had a little pocket of melted mozzarella cheese inside and came with a yummy dipping sauce. Had we not been headed to a seafood dinner, I definitely would have given the Crabcakes with a side of Old Bay Fries special a try. They also serve a burger, tacos, spicy chicken wrap, caprese "Tom and Mozz" salad, etc. and a Market Price Grilled Cheese which I will be looking into at a future date.
Gene, one of the co-owners, was working and was super nice and helpful. If you want to try something new, he's great at giving suggestions based off of other beers you like. He was also nice to just hang around with and talk to. He was working on a beer cap mural during our visit. It was pretty impressive.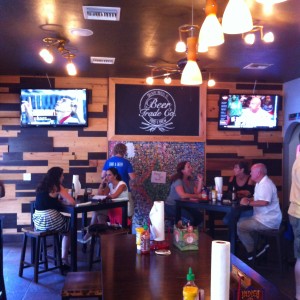 While we were there we learned that Beer Trade Co. hosts a Happy Hour with $2 off beers and a Sunday "Anti-Brunch" Brunch which features bottomless mimosas and a mimosa bar… yes please!
We actually ended up coming back after dinner, so clearly we were immediate fans. If you haven't been, definitely check them out. Oh and you can build 6-packs to go if you want some variety at home.
Meals at the Table
Risotto Balls | Hummus | Palma Louca | The Crisp | Whale's Tale | Omission | Banana Bread Beer | Dog Days
Beer Trade Co.
145 NE 4th Ave, Delray Beach, FL 33483
561.808.7304
facebook.com/beertradeco
The following two tabs change content below.
Cristyle is a South Florida native, born in Miami and raised in Palm Beach. Her love of food came through her travels and seeing how cuisines differ and relate so much. She attended the University of Florida, had a short stint in Charlotte, NC and is now back home - ready to eat her way through Palm Beach County and share her findings with locals and visitors alike. From brunch to happy hour to foodie events, she's got you covered!