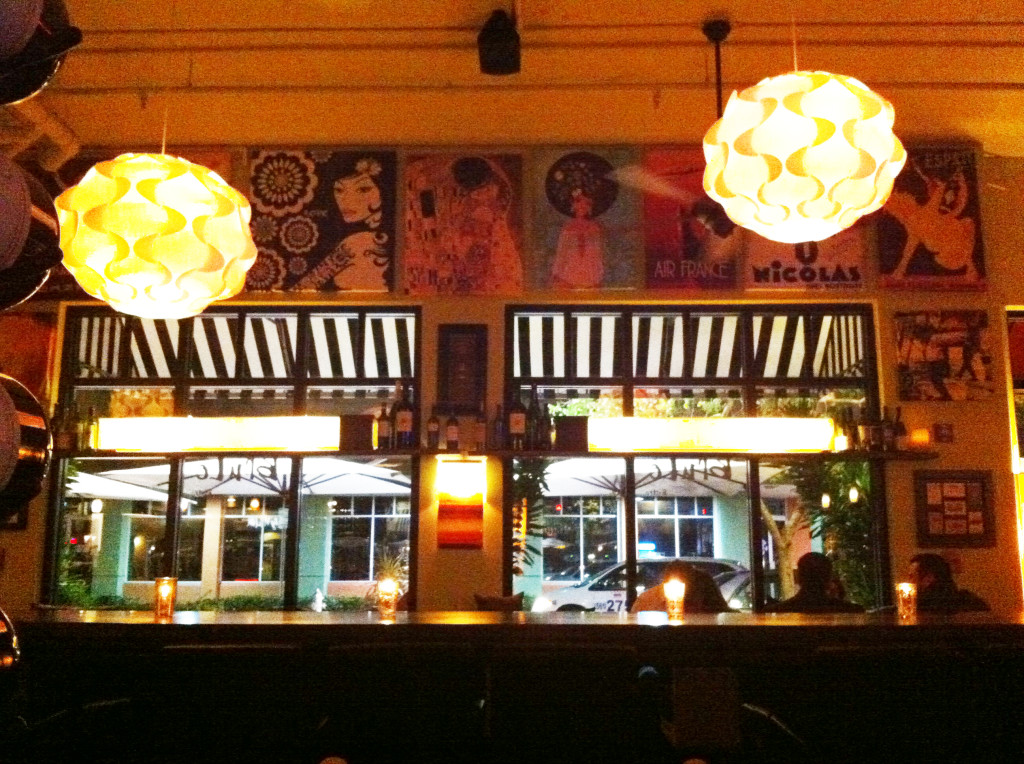 EAT PALM BEACH | BRULE BISTRO & WINE HO– USE
Brule Bistro is located just off Atlantic Ave in downtown Delray. It is fairly unassuming as you walk in, but the menu shows the creativity and passion behind their Modern French and American Fusion. The atmosphere is sexy with rows of wine up the walls and dim lighting. Definitely a great spot for a date, but also nice with a group of friends. Plus, there's the bar, communal table or outdoor seating if you're looking to keep it a little more casual.
The meal starts off with their Homemade Focaccia, which engulfs you in its garlic aroma. The bread probably shouldn't be as exciting or yummy as it was. Our table decided to start with the Duck Sausage and Ricotta Gnudi in a sherry and vermouth cream sauce. It was absolutely delicious. The gnudi was soft and airy with the duck sausage bringing a rich flavor to the dish.
The main courses were across the board. I went with the Diver Scallops. I'm a total scallop snob and these were probably the best I've ever had. They were perfectly seared over a bead of linguine, topped with a fried quail egg and settled in a port reduction – heavenly. The hubs had the Rosemary Grilled Chicken Chop which was served with a butternut squash ratatouille, sage and a spicy house-made mole. Other dishes at our table included the Sauteed Chicken Picatta which was topped with fresh linguini and capers and the Lamb Tasting which was a fairly small portion but packed with flavor. The lamb was pistachio encrusted and served with root vegetable lamb belly risotto, topped with a rosemary demi. We wrapped up the meal with the Home-Made Salted Caramel Brownie a la mode which was the perfect blend of salty and sweet.
The service was fantastic. Our server was super nice and showed a little trivia prowess when asked who drops a bottle of Caymus in a movie (Angeline Jolie in Mr. and Mrs. Smith). They also host a Happy Hour with "little bites." Definitely a spot to check out in Delray Beach.
Meals at the Table
Seared Diver Scallops | Sautéed Chicken Picatta | Rosemary Grilled Chicken Chop | Lamb Tasting | Salted Caramel Brownie with Vanilla Ice Cream
gnudi (n): a type of gnocchi prepared with ricotta cheese and flour
Menu (Credit: Brule Website):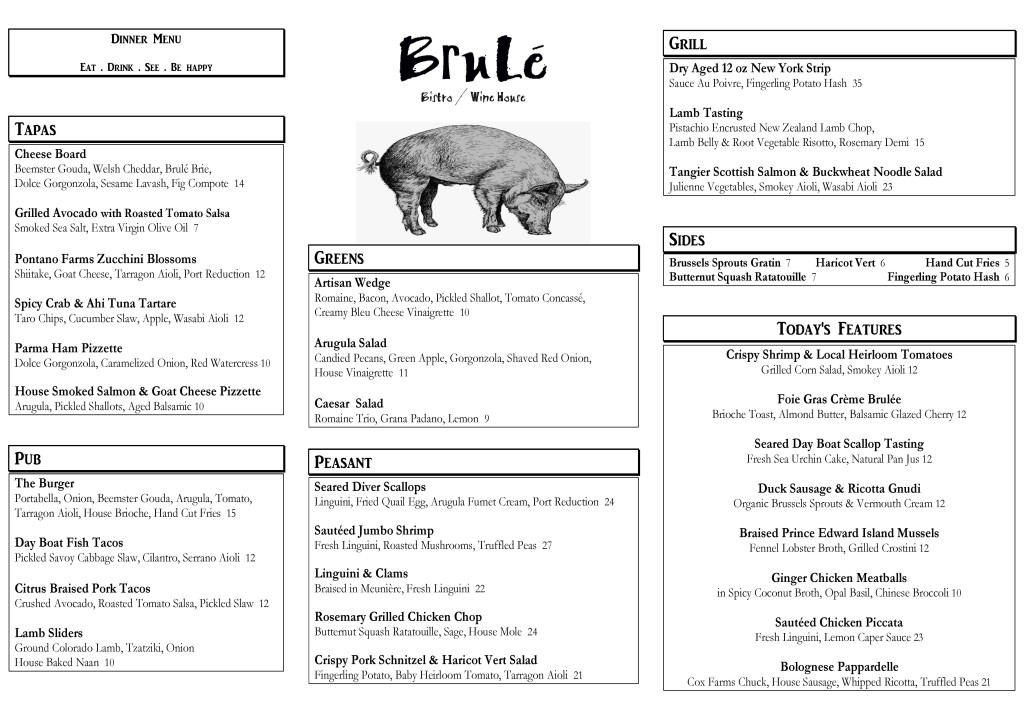 Brule Bistro & Wine House
200 NE 2nd Ave Delray Beach, FL 33444
561.274.2046
brulebistro.com
The following two tabs change content below.
Cristyle is a South Florida native, born in Miami and raised in Palm Beach. Her love of food came through her travels and seeing how cuisines differ and relate so much. She attended the University of Florida, had a short stint in Charlotte, NC and is now back home - ready to eat her way through Palm Beach County and share her findings with locals and visitors alike. From brunch to happy hour to foodie events, she's got you covered!