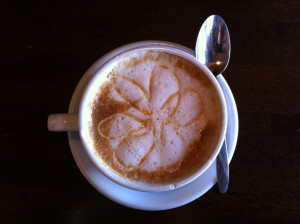 EAT PALM BEACH | PARIS IN TOWN
Paris in Town is just as the name would suggest. Hidden in an unassuming strip on US1, Paris in Town is the perfect escape into a French cafe (and I always choose the US1 original over the newer Downtown at the Gardens location.) This is my favorite go-to for Sunday breakfast, or Petit Dejeuner, with my mom. At least once a month I find myself calling her and 15 minutes later sitting down at one of their small table and perusing the menu like I've never seen it before.
On this particular Sunday I decide to go with a new choice – a Croissant with Eggs, Provolone and Pork Sausage with my splurge Caramel Latte. Any coffee that comes in an oversized mug with decorative foam wins me over, so Paris in Town has me there every time. The croissant was perfectly toasted, the sausage had the right amount of spice to it and the eggs were a texture I can't quite explain with a creamy fluffiness that I found equally mysterious and delicious. My mom being in a diet mode went with the Fruit Bowl, which I was oddly jealous of (she did finish off the eggs once I offered her a bite though).
One thing I love about breakfast here is that it's not somewhere I order "the usual." I feel like I mix it up every time with the Strawberry Cheese Croissant, La Passy Crepe with Fresh Berries or whatever else jumps out at me that day. I also love their baked goodies. Large bakery cases line the entry of the cafe filled with quiches, breads and pastries.
The atmosphere is quaint and relaxed. Often there will be someone sitting solo skimming the newspaper in one corner, a handful of family members congregating at a high top and a couple sipping coffees at a two-top while the ladies behind the bakery counter buzz about.
I tried Paris in Town for lunch with my husband one day at the Downtown Gardens location and was thoroughly disappointed. First and last time there. I suppose to should give them another try sometime.
The US1 location provided the catering for my bridal shower a few years ago and I loved it. Mini Croissant Sandwiches of Chicken Salad with Walnuts, Mozzarella & Tomato Skewers, Strawberry Brie and Honey Rondelles – yum yum yum.
Paris in Town is a staple in North Palm Beach and with the line out the door when we left looks to be doing just fine.
Meals at the Table
crêpe (n): a type of very thin pancake that originated in France
Breakfast Menu (Credit: paris in Town Website):
Paris in Town French Cafe
11460 U.S Hwy One at PGA Blvd
561.626.6017
parisintowncafe.com
The following two tabs change content below.
Cristyle is a South Florida native, born in Miami and raised in Palm Beach. Her love of food came through her travels and seeing how cuisines differ and relate so much. She attended the University of Florida, had a short stint in Charlotte, NC and is now back home - ready to eat her way through Palm Beach County and share her findings with locals and visitors alike. From brunch to happy hour to foodie events, she's got you covered!