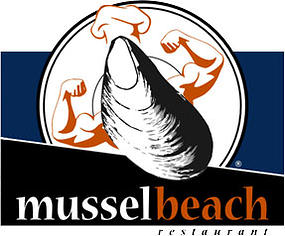 EAT PALM BEACH | MUSSEL BEACH
I was lucky enough to be invited to a media dinner at Atlantic Ave's Mussel Beach this week. Entering the restaurant, I was greeted by the owner, Mark Mezzancello, who is super nice, warm and inviting. I immediately loved the look and feel of Mussel Beach. It has a clean, but rustic, nautical vibe and a lively bar area off the main dining room.
We were seated at a large square table that was half chairs and half mini sofas which I liked as people always seem to go for a booth and it gave the same cozy feel. An interesting touch is that instead of serving bread, they serve a basket of Truffle Fries to start. I love truffle fries and enjoyed bread with my mussels so I felt like I got the best of both worlds.
The menu has great variety with a nice choice of salads, sandwiches, entrees and non-seafood items. One thing I really like about the menu is the selection of appetizers and the numerous mussel offerings. I think this lends itself to a table of small plates and mussels to share. Which is exactly what we ended up doing.
We started off with the Crab Cake which had jumbo lump crab, a horseradish mustard and a ginger soy slaw. I liked the meatiness and that is wasn't all filler like some crab cakes. It was soft and yummy. We also had an order of the Tuna Tacos which featured ahi tuna, cabbage, jalapeño and chipotle aioli with an avocado tempura on the side. My personal favorite were the Pork Belly Lettuce Wraps which were filled with crisp veggies, pickled cucumber, scallions and a ponzu sauce. I loved the crunch and that they didn't fall apart with every bite. We also tried out the Peel & Eat Shrimp which were simmered in a lemon butter sauce with Old Bay seasoning (and not too much work!). A last minute addition was the Roasted Beet salad which had beautiful red and golden beets laid out like a caprese and topped with sprinkle of pistachios and a balsamic reduction. It was delightful.
When it came time for entrees, I seriously considered the Lobster BLT Sandwich, Sea Scallops with Artichoke Risotto, or one of the "Fresh Fish Frenzy" catches of the day (Pretzel Swordfish or Sweet BBQ Rubbed Mahi?!). But the name on the door is Mussel Beach, so I had to see what they had cooking back there.
We ordered the Florentine Mussels with spinach, shallots, fennel, garlic and cream which weren't too heavy and had good flavor, the Fra Diavolo Mussels with tomato, basil, garlic, olive oil and crushed red pepper for a kick and the Italian Mussels with squid, fresh fish, garlic, basil and a red wine tomato sauce which was absolutely delicious. The mussels are brought in from Prince Edward Island and are served in colorful pots with nice chunk of toast. I really enjoyed the presentation as it made for a vibrant table.
I was too stuffed to consider dessert, but will absolutely be back to try all of them. The options are Crack Pie with an oatmeal crust, Samoa Cheesecake with salted caramel, an Ice Cream Sandwich with peanut butter and tempura bananas, and Doughnuts. I repeat, I'll be back to try all of them.
If you haven't had a chance to check out Mussel Beach, I definitely recommend doing so. They have a fun bar lounge area, offer happy hour, serve up some delicious food and are a great spot for any seafood or mussel lover. And if you're a Moscow Mule fan, they'll serve your drink up in an adorable copper mug!
Meals at the Table
Truffle Fries | Crabcakes | Ahi Tacos | Pork Belly Lettuce Wraps | Peel & Eat Shrimp | Florentine Mussels | Fra Diavolo Mussels | Italian Mussels
Mussel Beach
501 E Atlantic Ave, Delray Beach, FL 33483
561.921.6464
musselbeachrestaurant.com
The following two tabs change content below.
Cristyle is a South Florida native, born in Miami and raised in Palm Beach. Her love of food came through her travels and seeing how cuisines differ and relate so much. She attended the University of Florida, had a short stint in Charlotte, NC and is now back home - ready to eat her way through Palm Beach County and share her findings with locals and visitors alike. From brunch to happy hour to foodie events, she's got you covered!