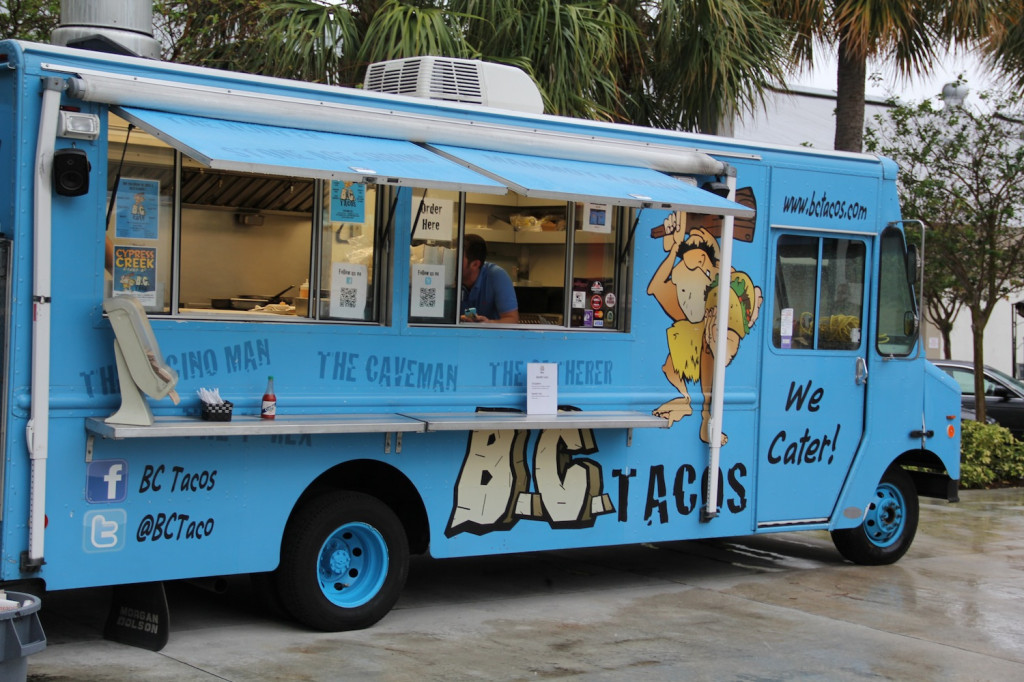 EAT PALM BEACH | BC TACOS
BC Tacos is a South Florida based food truck offering a variety of classic and inventive gourmet tacos.
Their Mission: To change people's views of tacos by offering a unique and modernized product, exceptional service standards and measuring our success by our followers.
Their menu includes The Hunter (steak), The T-Rex (chicken), The Barbarian Bacon Cheeseburger, Cave Dweller (chicken caesar), and Mommoth Mahi, among others. They are available in a hard corn tortilla, soft flour tortilla or you can also make your taco into a Brontosaurus Bowl, which is served in a lettuce cup. The even offer a dessert – Dino Delight (smore).
We caught up with BC Tacos at a #TEAMAIME event in downtown West Palm Beach. For the event there was a fixed menu for each truck, so we tried both tacos offered for the evening. 
The Gatherer featured fried avocado, lettuce, shredded mozzarella and ws drizzled with a chipotle mayo. A great vegetarian option, the avocado was crisp and delicious.
The Passover Taco was amaaazing with braised brisket, potato latkes and a carrot slaw. The brisket was like butter and the flavor was perfection. It was a fan favorite of the night.
The guys who run the truck are  super nice and I love their theme. I'm going to have to track them down again sooner than later to try out The Caveman, which is a 1/4 lb.  burger, steak and braised beef short ribs sandwiched in a hard taco shell and then wrapped in a soft tortilla – yes please!
Meals at the Truck
The Gatherer Taco | Passover Taco
BC Tacos
Find them at:
bctacos.com
facebook.com/BCtacos
twitter.com/BCtaco
They also have a brick and mortar location: 
BC Cafe at 4801 S University Drive, Suite 123, Davie, FL 33328
The following two tabs change content below.
Cristyle is a South Florida native, born in Miami and raised in Palm Beach. Her love of food came through her travels and seeing how cuisines differ and relate so much. She attended the University of Florida, had a short stint in Charlotte, NC and is now back home - ready to eat her way through Palm Beach County and share her findings with locals and visitors alike. From brunch to happy hour to foodie events, she's got you covered!