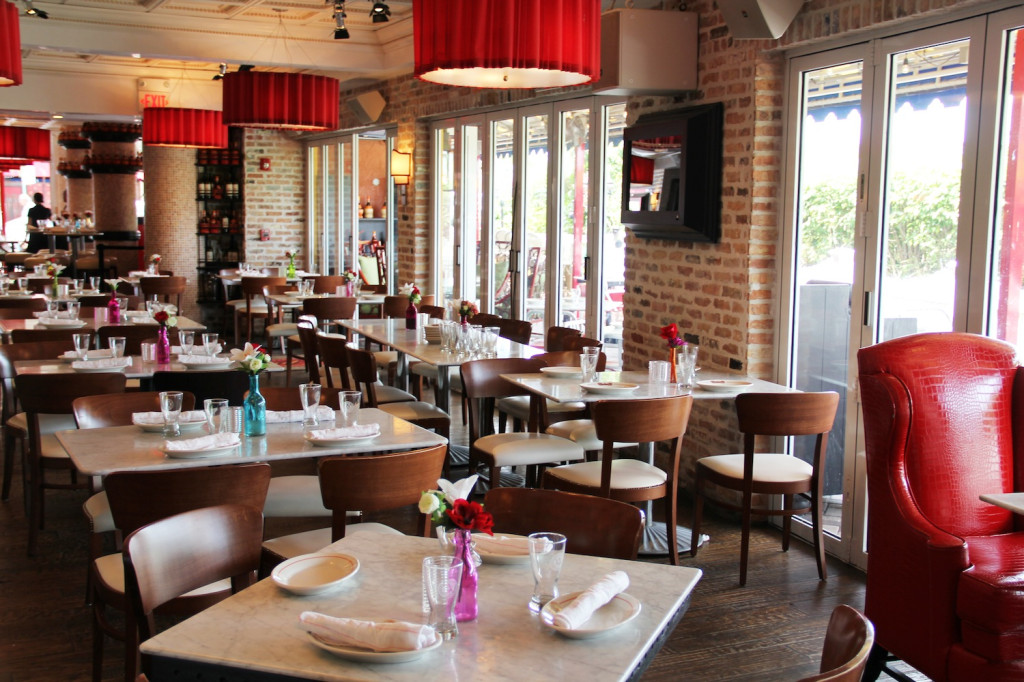 EAT PALM BEACH | VIC AND ANGELO'S
I visited Vic and Angelo's in Delray Beach for a media lunch this week. I have to say this location feels totally different than their PBG sister restaurant.
The outdoor seating allows for some serious people watching along Atlantic Ave and the bar area takes the front stage of the restaurant with open windows and doors giving you an indoor/outdoor experience. The back dining area allows diners to enjoy the ambience and watch the bustle of the kitchen. As where the PBG location has Sinatra and friends crooning throughout the meal, our lunch playlist felt a little more disco and lively (the BeeGees definitely played at one point).  
We were started off with the Garlic Bread which they do so well. We also had an Antipasto to start with sharp and soft cheeses, pepperoni and peppers. The presentation was enticing and rustic with chunks of cheese and their bright red accompaniments piled into lettuce leaves.
I asked what cocktail our server suggested and she mentioned that the Strawberry Mojito was made with fresh muddled strawberries and mint – sold! It was delicious and the perfect light and crisp beverage for a sunny day.
They have a nice selection of salads (which is saying something as salads rarely get me overly excited). We chose the Misticanza Salad which was a bed of arugula surrounded by candied walnuts, gorgonzola, navel orange wedges, shallots, flowered cherry tomatoes and the perfect amount of mustard vinaigrette. The flavors went together wonderfully and the colors of the ingredients really popped. 
We split the Sausage and Peppers Panini, which was more of a toasted sandwich than a pressed sandwich. The sausage was delicious and I loved the way the sliced the pepper wide to give you almost a sheet of pepper on the bread. 
We also split the Chicken Telefono, which is essentially Parmesan style. The portion was huge and covered with fresh mozzarella. The San Marzano red sauce was amazing. It wasn't too heavy, was very flavorful and went well with the chicken and side of rigatoni. The breading on the chicken was perfection – crisp and light and not greasy whatsoever. Chicken Parm is one of my favorite dishes on earth and I loved it.
Chef Erick insisted that we not leave without dessert, so he brought over these gorgeous sorbets. Both decorated with a "blooming" strawberry rose, each sorbet was nestled in the fruit of its flavor. Mine was the Lemon Sorbet and it was to die for. It was light and creamy with the perfect tartness and topped with a whipped cream. We also had the Orange Sorbet which had a milder citrus flavor and a lovely aroma. Both gained the attention of all surrounding diners as they were so pretty and we were clearly enjoying them immensely (especially for 2 girls who insisted on not having dessert).
The service was flawless start to finish. Our server was friendly and accommodating, our water glasses were never empty, and everyone was warm and smiling. It was really a lovely atmosphere.
Vic and Angelo's serves lunch and dinner, breakfast/brunch on Saturdays and Sundays and hosts a happy hour from 3-7pm. They also offer to-go dining and have drink specials like 50% off wine bottles on Mondays. 
The food is delicious, the service is impeccable and the atmosphere is inviting. I definitely recommend checking out V+A's if you haven't yet!
Meals at the Table
Garlic Bread | Antipasto | Misticanza Salad | Sausage and Peppers Panini | Chicken Telefono | Lemon Sorbet | Orange Sorbet
Vic and Angelo's | Delray Beach
290 E Atlantic Ave, Delray Beach, FL 33444
561.278.9570
PGA Commons | 4520 PGA Blvd #100, Palm Beach Gardens, FL 33418 | 561.630.9899
PBG / Brunch Review HERE
vicandangelos.com
The following two tabs change content below.
Cristyle is a South Florida native, born in Miami and raised in Palm Beach. Her love of food came through her travels and seeing how cuisines differ and relate so much. She attended the University of Florida, had a short stint in Charlotte, NC and is now back home - ready to eat her way through Palm Beach County and share her findings with locals and visitors alike. From brunch to happy hour to foodie events, she's got you covered!