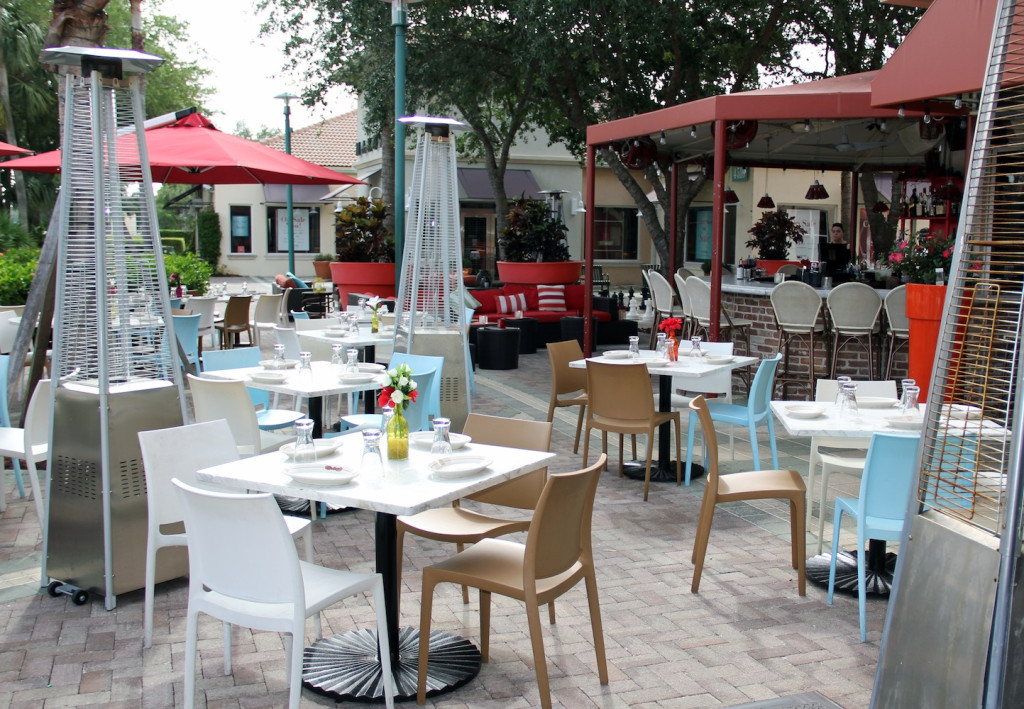 EAT PALM BEACH | VIC AND ANGELO'S
I visited Vic and Angelo's in PGA Commons for Brunch on Sunday. I have been before for lunch and dinner but didn't even realize they served Breakfast / Brunch on the weekend. Not to mention, they offer $14 bottomless Mimosas or Bloody Marys – yes please!
I love this location because it has great outdoor seating and the interior of the restaurant is bright and inviting with all of the windows. There are also large outdoor and indoor bar areas.
We were started off with the Garlic Bread which was delicious on its own and even better with the fresh roasted garlic accompaniment. I got the large French Press Coffee which was a beautiful presentation and the perfect pick me up for the morning.
We began with the Benedict Oscar – a twist on the staple Eggs Benedict with crabmeat and asparagus in lieu of Canadian bacon. It was light and yummy and a nice seafood swap for the original. I'm a total Anything Benedict lover, so this was right up my alley. It was also served with a side of potatoes and onions in red sauce and arugula salad which I thought rounded it out nicely.
Then we moved on to the Morning Flatbread. I have to be honest, this item didn't pop out at me on the menu. But I was more than pleasantly surprised! It was stacked with veggies including asparagus, peppers, and mushrooms and topped with baked eggs. It was hearty and flavorful. (I can see this being a vegetarian must-have.) It was also filling but light which is always a nice combination.
I decided to go French Toast last. Because french toast is my all-time love and it's sweet so I figured it would count as my breakfast dessert. Oh. My. Goodness. This dish was cooked to perfection and topped with the most amazing caramelized bananas and walnuts (I don't even like walnuts). We sat debating what type of bread it was and decided challah… the chef informed us a few minutes later it was in fact sourdough… superb. If you are a french toast lover, order this!
Beyond the food, the service was impeccable. Never an empty water glass, coffee refills from our beautiful presses, you name it. Shannon, the Manager, was charming and accommodating. The whole staff was just top notch.
I know this post is all about brunch – as that is why I made my visit – but I have been to V&A's before and can say that I love their sauce and, in turn, the majority of their offerings. Even their Spaghetti and Meatballs are notable, which I think says a lot. They also have a sister restaurant on Atlantic Ave in Delray Beach if PBG is not your territory.
They serve lunch and dinner, breakfast/brunch on Saturdays and Sundays and host a happy hour from 3-7pm. So whatever day or time, you have something to look forward to – they even have to-go. And for the winos, Monday is 50% off bottles.
On a totally random note, they always have Sinatra and company playing which is an additional "thumbs up" item on my end as it creates a really nice mood and atmosphere.
Meals at the Table
Garlic Bread | French Toast | Benedict Oscar | Morning Flatbread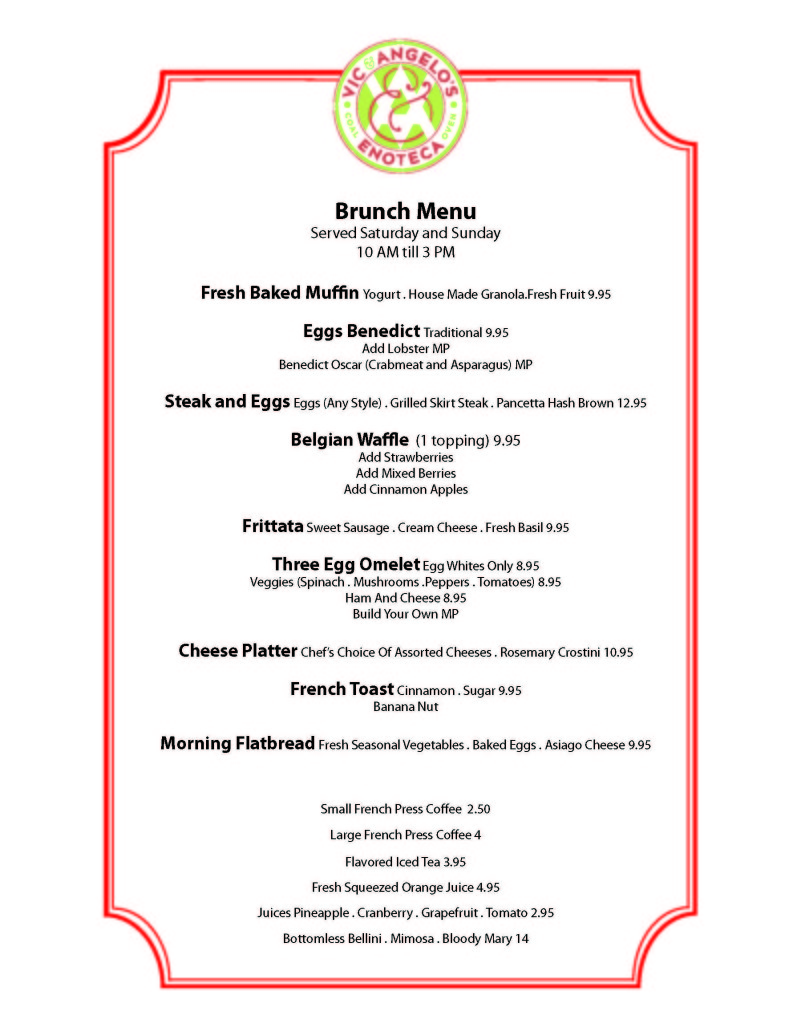 Vic and Angelo's | PGA Commons
4520 PGA Blvd #100, Palm Beach Gardens, FL 33418
561.630.9899
Delray Beach | 290 E Atlantic Ave, Delray Beach, FL 33444 | 561.278.9570
Delray / Lunch Review HERE
vicandangelos.com
The following two tabs change content below.
Cristyle is a South Florida native, born in Miami and raised in Palm Beach. Her love of food came through her travels and seeing how cuisines differ and relate so much. She attended the University of Florida, had a short stint in Charlotte, NC and is now back home - ready to eat her way through Palm Beach County and share her findings with locals and visitors alike. From brunch to happy hour to foodie events, she's got you covered!