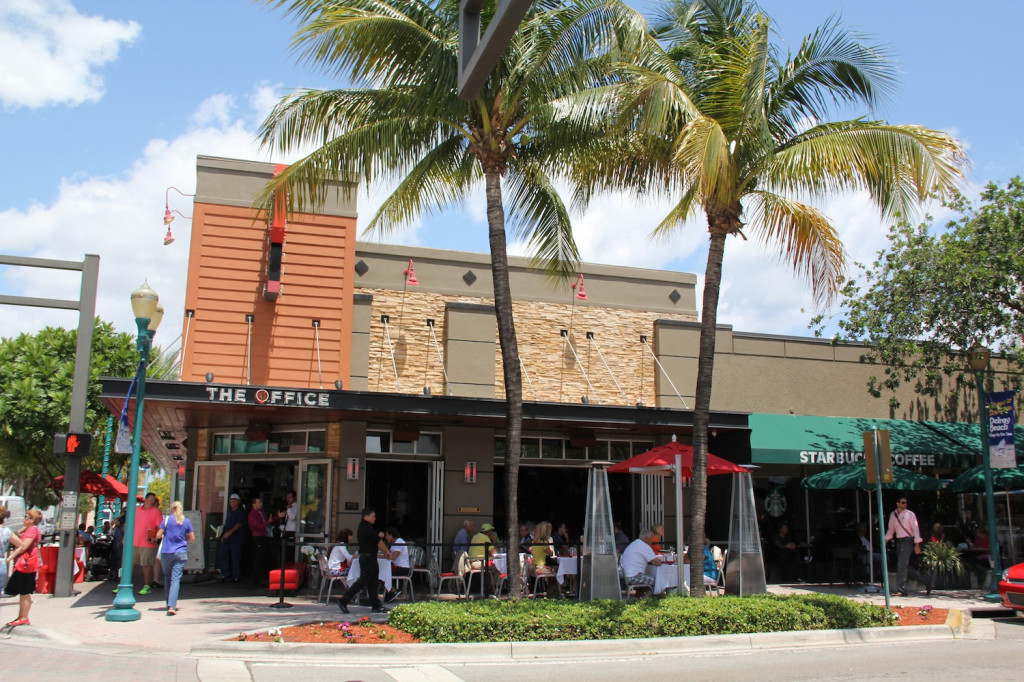 EAT PALM BEACH | THE OFFICE
I visited The Office in Delray Beach for a media lunch this week and was reminded why I always say "I love that place" whenever I'm in the area.
A modern American gastropub, the decor has an upscale retro feel with old school media and books on the walls, cowhide-backed chairs, PO box wall inserts.. Think: Eating lunch on the Mad Men set. The theme is spot on – even down to the specials menu being printed on an oversized index card. The menu keeps it rolling with Office Supplies (appetizers), Cubicles (sandwiches), Assistants (side dishes), and so on.
On this particular visit I went full-out "what do you recommend?" I was informed that they are known for their burgers and the Prime CEO Burger was a fan favorite. Although I was eyeing the Sunshine Burger special pretty hard – with egg, avocado, bacon, gruyere and arugula.
We started off with the Fancy Fried Green Tomatoes. They were as pretty as they were delicious. Not your average fried green tomato, they were topped with a spiced shrimp, cheddar cheese, pancetta bits and a green onion aioli. So good!
We also split the Chicken Shu Mai Dumplings. The presentation on these was also perfection. They were drizzled with a lemongrass glaze, topped with a micro cilantro and came with a ponzu dipping sauce – yes please! The texture was perfect with a crispness to the bottom and a meaty but soft interior.
The CEO Burger was stacked with sweet onion and tomato confit, gruyere with blue cheese crumbles, bacon and arugula. If you're looking for a burger with a lot of flavor, this is the one for you! And I love how they brand their burger buns. The Fries are awesome (and I'm not a big fry eater) but you can also swap out for Mac and Cheese, Grown Up Tater Tots, Truffle Fries, or even The Best Crisp Brussels Sprouts Ever.
I had heard The Office knew how to make a mean cocktail so it was time for me to get handed a Pink Slip. I've decided this is how people should be fired in real life. Ciroc vodka, fresh squeezed pink grapefruit juice, pomegranate and agave nectar.. and don't come in on Monday. Served in a martini glass with a lemon curl, it was pretty and my kind of drink – not too tart or sweet.
Service was wonderful. Our server was knowledgeable and super sweet. I felt like we were taken care of but not being hovered over. We sat inside to watch the buzz of the restaurant, but they also have great outdoor seating along Atlantic Ave if you want to people watch or take in a beautiful day.
On a totally random note, I love how they've lined the interior wall with tilted mirrors. A lot of restaurants throw mirrors up on the back wall to make the place seem bigger or whatever they're going for, but with that slight tilt it gives the diner facing the wall the perfect angle to check out the restaurant and outside passer-byers. It's the little details like this that I think they have completely nailed.
If you haven't been to The Office yet, make a trip and bring your appetite.
A big thank you to Chef Bryan Ramos for a delicious meal!
Meals at the Table
Fried Green Tomatoes | Chicken Shu Mai Dumplings | CEO Burger | Pink Slip
The Office
201 E Atlantic Ave, Delray Beach, FL 33444
888.507.7463
theofficedelray.com
The following two tabs change content below.
Cristyle is a South Florida native, born in Miami and raised in Palm Beach. Her love of food came through her travels and seeing how cuisines differ and relate so much. She attended the University of Florida, had a short stint in Charlotte, NC and is now back home - ready to eat her way through Palm Beach County and share her findings with locals and visitors alike. From brunch to happy hour to foodie events, she's got you covered!