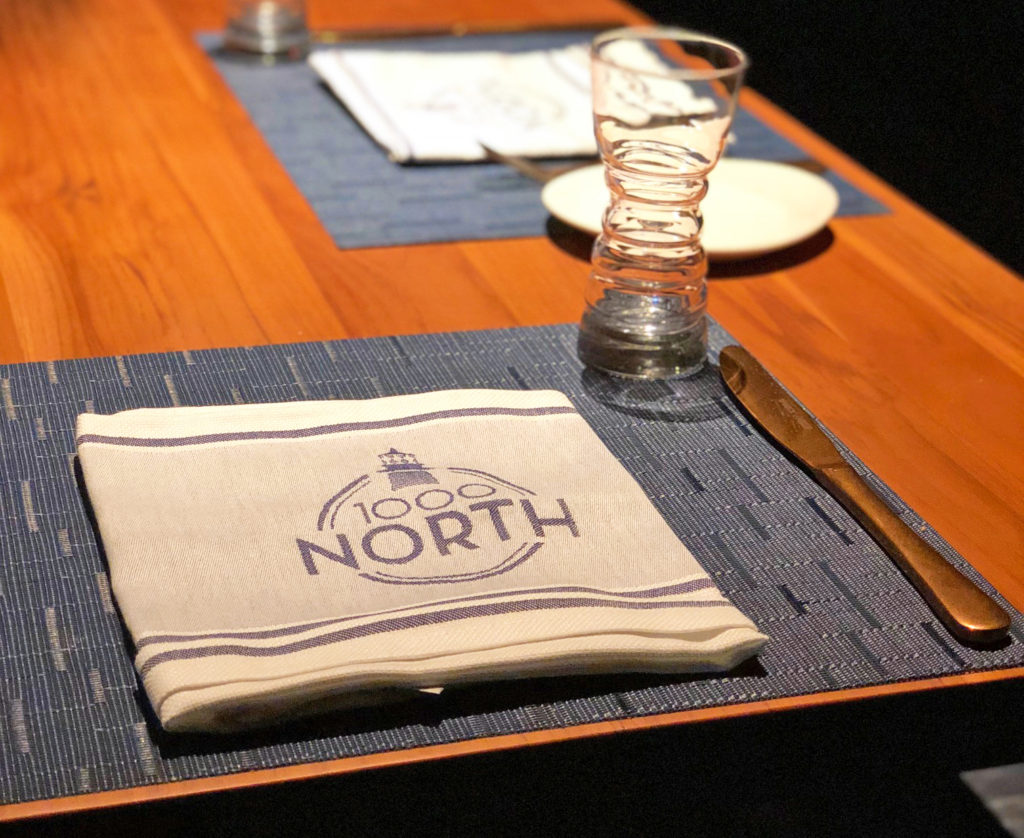 EAT PALM BEACH | 1000 NORTH
The much anticipated 1000 NORTH is set to open later this month in Jupiter (Feb 12). A brand new waterfront development featuring a private member-only lounge and heavy hitter investor team, the restaurant is sure to shake up the North County dining scene.
We began our tour in the Members Only lounge, located on the second floor and overlooking the water. The space is intimate with rich woods, camel and navy leather furnishings and a small terrace with views of the lighthouse. The lounge features a kitchenette that services the Members menu prepared by Chef Troy Sheller with canapés like Caviar Cones, Foie Gras Lollipops and Iberico Ham. A long bar serves "Pre-Prohibition" style cocktails like the Beez Kneez, Hemingway Daiquiri and Old Fashioned. The upstairs is well-appointed, sophisticated and cozy with copies of Wine Spectator and Cigar Aficionado, magazines by part-investor Marvin Shanken, placed throughout.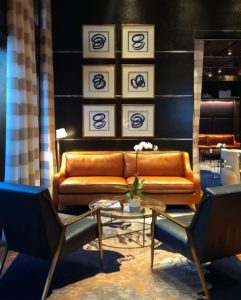 Upstairs we ran into partners, ex-NFL player Tucker Frederickson and developer Ira Fenton. They both seemed proud to show off their newest venture and pleased with its adherence to the original vision. They were warm, inviting and engaging. After a glass of sparkling rose and sunset, we made our way downstairs.
Just inside the front doors of 1000 North, guests are greeted by the Tavern, a large wood-paneled room with a U-shaped bar and perimeter booths. "Top shelf" bottles hover above the bar on plank shelves as this space serves as the restaurant's craft cocktail bar.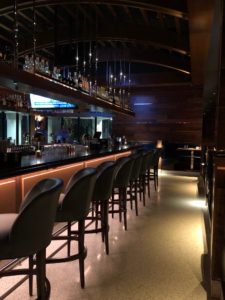 On the outdoor waterfront patio, a large covered bar area sits at the point with umbrellaed tables making their way to the dining room entrance. The palm trees are wrapped with lights and there are fire pits for unseasonably cool evenings. The outdoor bar is meant to be more tropical in drink offerings and the bartenders gave us a sampling of cocktails including the San Fransisco and Shoemaker.
We were seated at a large outdoor table and served, from the Crudo menu, the Bigeye Tuna Poke and Gulf Shrimp "Escabeche." I really enjoyed the tuna, stacked with avocado and macadamia nuts and paired with thin plantain crisps.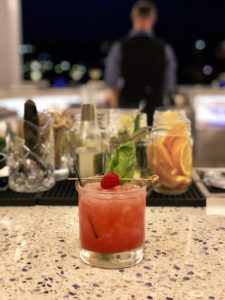 Once inside we were seated at the Chef Table, just off the kitchen and main dining room. The dining room leans nautical with curved wood ceilings and a mix of tables and booths. A large wall wine separates the area from the entryway with an open kitchen.
We were given the option to select a dish from the Crudo and Small Plates portions of the menu.  Dishes range from $14-$25 and include a Little Gem Salad and Bourbon & Hay-Roasted Oysters. At the recommendation of one of our servers.. whom I adored and am so mad at myself for forgetting his name.. I went with the Portuguese Mussels. I would absolutely order them again with the vinho verde, chorizo and andouille butter on grilled sourdough for broth dipping – delicious.
From the Pasta & Grains we decided to split the Blue Crab Spaghetti alla Chitarra which was flavorful and perfectly cooked and I ordered the Filet Mignon from the Prime Steaks menu as my entree. While I know this is not a MJ Steakhouse, I figured the steaks would be a must-try. It was prepared beautifully at medium temperature and served with a large dollop of Maitre d'hotel housemade butter (though I did debate the blue cheese and fig butter, I think I made the right choice). The prime steaks will run you $51-$68 with a petite at $38. For my Market Side I selected the Brussels Sprouts Lyonnaise with bacon and a sweet onion apple confit – heavenly. Sides range from $10-$14 and I feel like I'll have to try the Mac & Cheese "a la Carbonara" sooner rather than later.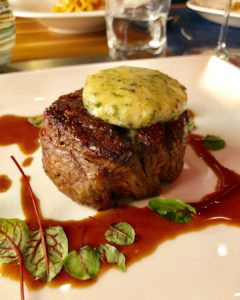 Executive Chef Lee Morris, previously of Hillstone and Bricktops, greeted our table and was lovely to chat with. He already appears to have the kitchen running quite smoothly and I was happy to hear he approved of my dinner selections. Stephen Asprinio, Sommelier and consultant of "Top Chef" fame, also visited the table and gave us a bit of background on his part in helping develop the menu and cocktails options. I hadn't realized he was from South Florida and loved seeing local culinary talent at work.
1000 North is slated to be the hottest ticket in town for quite a bit. The area has been awaiting its arrival and with the ambiance, decor, food and service on par (no Ernie Els pun-intended) it is sure to impress and keep a heavy waiting list. And while the star-studded names attached to this establishment have garnered much of the attention, I think the restaurant will prove quite capable of making its own mark.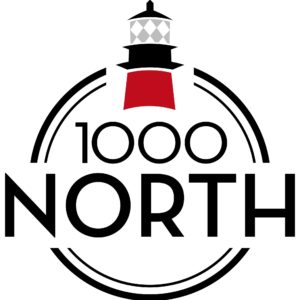 1000 NORTH Restaurant and Club
1000 N US Hwy 1, Jupiter, FL 33477
561.570.1000
1000north.com
The following two tabs change content below.
Cristyle is a South Florida native, born in Miami and raised in Palm Beach. Her love of food came through her travels and seeing how cuisines differ and relate so much. She attended the University of Florida, had a short stint in Charlotte, NC and is now back home - ready to eat her way through Palm Beach County and share her findings with locals and visitors alike. From brunch to happy hour to foodie events, she's got you covered!