EAT PALM BEACH | AARON'S TABLE
As featured in InJupiter Magazine.
A Seat at the Table
Downtown Abacoa Welcomes Aaron's Table & Wine Bar
Around the Table
Aaron's Table opened this November in downtown Abacoa filling the void previously occupied by Rooney's. Spearheaded by Aaron Fuller, Abacoa resident and former Executive Chef at Mar-a-Lago Club in Palm Beach, the space has been transformed farmhouse chic style with tufted leather banquets, wood walls featuring vegetation boxes and a sprawling pewter bar. The décor is upscale but comfortable as is the menu, making Aaron's Table an approachable farm to table dining option for local patrons and a welcomed addition to the neighborhood.
The restaurant features a wraparound outdoor patio space, bar area and dining room seating 110 total. The atmosphere is warm, inviting and comfortable with service to match. Even the Chef's Table, "Aaron's Table," is located in the front of the restaurant as opposed to a hidden corner off the kitchen, adding to the relaxed environment. Behind the bar is a trio of nitrogen-contained wine dispensers with refrigerated space storing reds, whites and sparklings at their optimal temperatures. The bottle and by-the-glass selections are vast and appealing to both oenophiles and novice wine drinkers.
Common Sense Food
The bottom of the menu features the words "Common Sense Food" while one of the barside chalkboard highlights various vendors based on the protein or produce they provide. The focus on quality ingredients and using them in an unpretentious way shows throughout their farm-to-table offerings.
The menu is seasonal and features bar bites, jars and starters, entrees, dessert and daily specials as prepared by Chef de Cuisine, Marc Cela. Several dishes, like the Watermelon Mint Salad, are presented in jars as a homage to Fuller's mother who jarred jams and jellies in his childhood home. Presentation is considered throughout the menu with visuals like their bacon on a string appetizer, full sautéed langoustines entrée and Baked Alaskan dessert which is flambéed tableside. Their "For the Love of Braising" dishes include collaborations with locals like Civil Society Brewery with their IPA braised lamb shank served with truffle whipped potatoes, caramelized fennel, confit tomato and a jus.
A Personal Touch
Fuller began his career at the French Culinary Institute. After working for over 20 years at 5-star establishments like The Breakers he transitioned to private clubs with roles like his most recent as Executive Chef at Mar-A-Lago Club in Palm Beach, where he also met Chef de Cuisine Marc Cela.
An Abacoa resident, Fuller saw a need for a restaurant that could accommodate girls' night out, date night or an outdoor family dining experience. A father of two, Fuller loved the idea of somewhere his family could bike and enjoy a meal with options like braised proteins and branzino within the Abacoa community. The menu is a compilation of Fuller and his wife's life and travels. The Ahi Poke is a throwback to his time in Maui when he worked under Peter Merriman at one of the first Hawaiian farm-to-table concepts and carved tuna straight off the fishing boats. His wife's Philippine heritage is seen in the Chicken Lumpia appetizer and mom's Apple Butter recipe can be found on the Brunch menu.
Main Street
Downtown Abacoa's Main Street has seen a revitalization with the opening of various new businesses and updating of local favorites and Aaron's Table blends in perfectly with the refreshed scene. The cardinal mural on the side of the building was a sign to the Fullers that this was the right location for their new restaurant endeavor. Growing up in Columbia, Illinois just outside of Missouri, they are Cardinal baseball fans and loved the artwork along with the Abacoa connection to the team with their Spring Training being hosted at Roger Dean Stadium. They even carry Red Bird Wine. Fuller hopes to create a special during Spring Training with a nod to his hometown so keep an eye out for St. Louis Baby Back Ribs.
They have started Sunday Brunch service, complete with a "Bubbly Bar," and offer Happy Hour specials Tuesday through Friday with Wine Tastings Thursdays from 6-7pm. They offer live music Wednesday and Fridays and are closed on Mondays. Beginning in January they will open for lunch. The restaurant is located at 1153 Town Center Drive, Jupiter, FL 33458. Patrons can make reservations for dinner or for Aaron's Table by calling (561) 855-2628 or visiting aaronstable.com.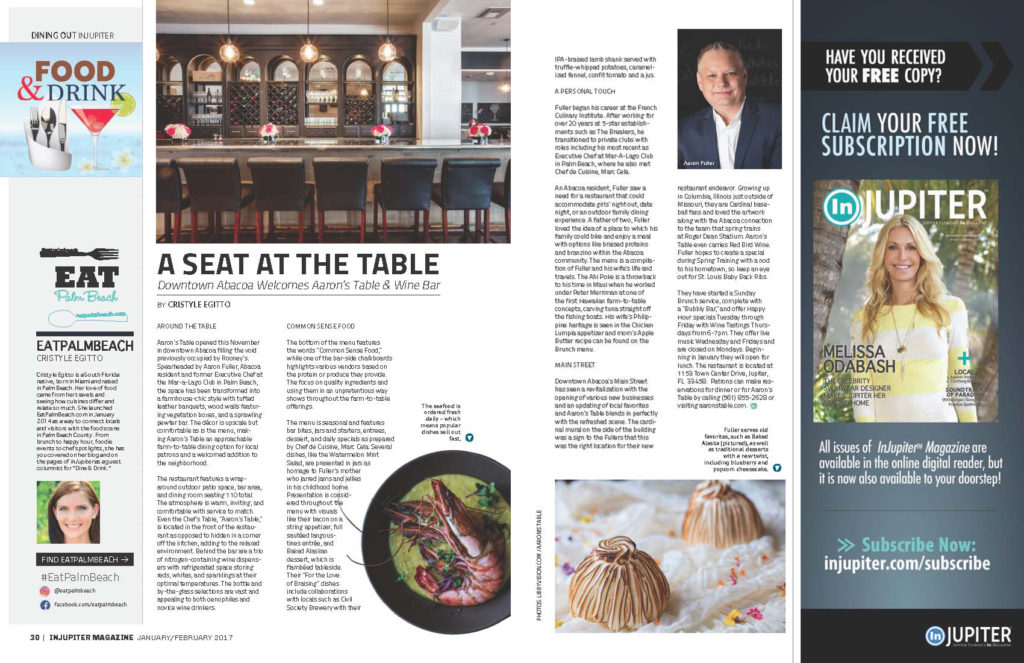 Aaron's Table
1153 Town Center Dr, Jupiter, FL 33458
aaronstable.com
The following two tabs change content below.
Cristyle is a South Florida native, born in Miami and raised in Palm Beach. Her love of food came through her travels and seeing how cuisines differ and relate so much. She attended the University of Florida, had a short stint in Charlotte, NC and is now back home - ready to eat her way through Palm Beach County and share her findings with locals and visitors alike. From brunch to happy hour to foodie events, she's got you covered!