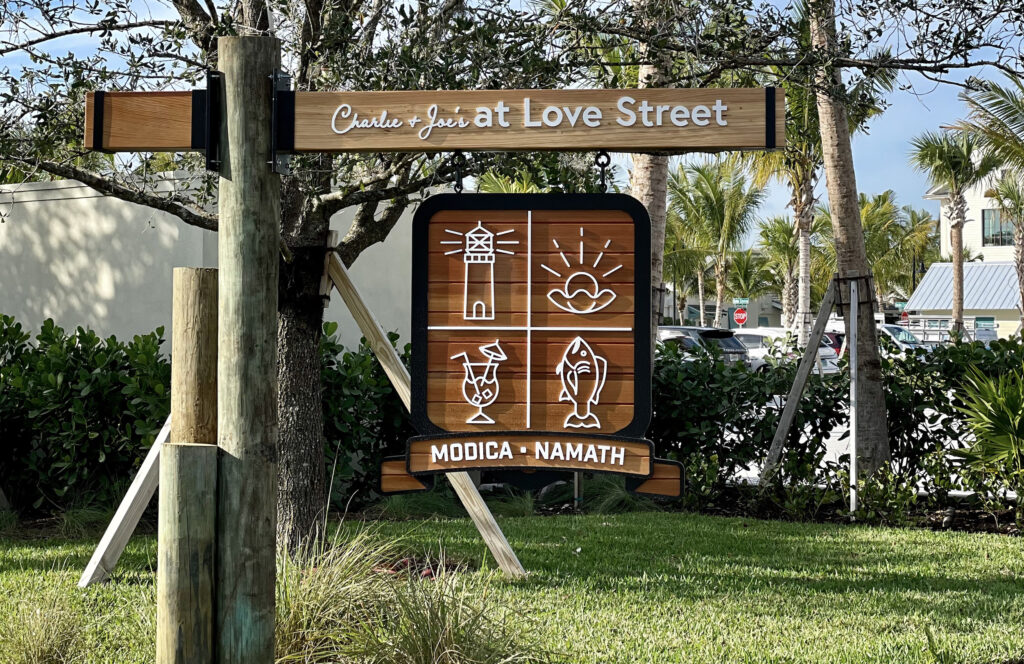 JUPITER | CHARLIE & JOE AT LOVE STREET
The town is abuzz with the opening of Charlie & Joe's at Love Street. But many are trying to wrap their head around this property and what it entails. Last week we were treated – and I do mean treated – to an evening at Charlie & Joe's. We joined team member Stephen Asprinio for an in-depth tour of the property and I am thrilled to share some of the details of this project with you.
First things first, "Charlie & Joe's" is a compound featuring 4 new venues offering incomparable waterfront views of the Jupiter Lighthouse across an array of dining options. Named after partners developer Charles Modica and NFL legend Joe Namath, the two buildings stand along a boardwalk overlooking the Loxahatchee River. One is home to Tacklebox and Lucky Shuck while the other hosts Beacon downstairs and Topside above on the second floor. The boardwalk winds along the waterline leading to dock space with slips for those wanting to dine by boat.
Tacklebox
We'll begin at Tacklebox. A casual market located on the front of the Lucky Shuck (east) side, Tacklebox offers boaters a market for ice, beverages, and grab and go meals. Choose from a selection of sandwiches like the Spicy Lobster & Shrimp Roll, salads, poke bowls, seafood, sides and desserts.
The seafood is fresh from the water with a wall depicting silhouettes of the catches of the day with prices if they have made their way to the market. This concept is a great option for those looking to grab lunch on their way to beach, out for a day on the boat, on the run, or for those wanting fresh seafood to prepare at home. Diners can choose to walk-up by car or boat or receive curbside / dockside service, and there is a small retail area for necessities like sunscreen, hats and sunglasses.
The C&J team has created relationships with local commercial fishermen to procure fresh seafood for the market and for use in all of the restaurants. Local coffee lovers will also be happy to see their custom Pumphouse Coffee Roasters "Love Street" blend available for purchase and featured throughout the venues.
Lucky Shuck
Moving north towards the water, guests are greeted by Lucky Shuck Oyster Bar and Tap House. The soaring ceiling makes room for a craft beer loft, complete with an elevator that lowers kegs to the center bar below. The raw bar features bar seating while the dining room gives the option of a table, booth, or center bar seating. Sliding doors open to reveal an outdoor patio with hightops and lounge seating for an up close and personal view of the waterway.
The menu is seafood-forward highlighting local fish brought in each morning with various preparations available from Jerk Spiced to Creole Pecan-Macadamia Nut Crusted. Land lovers need not worry with mouth-watering turf options available as well like the Crispy Cauliflower and Grits and Sticky Fingaz Fried Chicken. The décor is bright and airy with a casual feel that lends itself to the Jupiter crowd.
Patrons may recognize Executive Chef Tim Nickey leading on this side of the property. The bar team assembled, including local favorites like Nick Lanier, is well versed in craft cocktails to imbibe while taking in the outdoor breeze.
Topside
For those wanting a birds eye view, enter Topside. A tapas and tiki concept, this rooftop lounge provides a stunning view of the lighthouse, waterway and boat traffic making its way through the inlet. The menu features a selection of small plates prepared in the joint kitchen below while the cocktail list is beautifully curated with interesting concoctions featuring playful vessels.
Sip on a Vicious Virgin #2 made with tequila, white rum, mago, orgeat, lime, spice #2, cuacoa, guava and mezcal or enjoy a shareable Snow Bird served in a large (and heavy) rose gold flamingo delivered with a ladle for serving. Nosh on fresh ceviche with coconut popcorn to sprinkle on top or miso glazed salmon skewers cooked over a robata grill. Topside's vibe is relaxed with lounge vignettes, swinging chairs and balcony bar seating allowing visitors fresh from the beach or looking for a place to unwind after work or dinner.
Local craft beer drinkers will be pleasantly surprised to see their Love + Passion Blonde Ale, brewed by Boca Raton-based Barrel of Monks, with a hint of passionfruit.
Beacon
Last, but not in the slightest least, is Beacon. The dining room is the perfect balance of chic and upscale without being stuffy. The décor is modern, elemental and inviting, with lush greens, rounded chair backs, and natural woods. The open kitchen and wraparound chef counter is a show stopper and in my opinion the best seat in the house.
Under Executive Chef Jordan Lerman, the kitchen is already putting out next level dishes while providing an immersive dining experience. The menu is varied and alluring with small plates like the Charred Spanish Octopus and Prime Steak Carpaccio and large plates like the Seared New Bedford Sea Scallops and Roasted Jurgielewicz Farms Duck Breast. The raw menu continues from Lucky Shuck with cold-water oysters featuring a hibiscus mignonette. The plates are artistic, from the flatware to the dish composition. Not a detail was overlooked, down to the fork handles.
Dessert takes on a life of its own under Executive Pastry Chef Woo. Whimsical dishes with green apples that open to reveal cinnamon mascarpone mousse and deconstructed lemon tarts that are formed to look like a lemon resting on the plate join the lineup of experiential dishes.
Even the craft cocktails create memories with the Maximus Negronis requiring that the drinker use a slingshot to break the ice sphere holding their beverage and the small garden box containing vessels to mix that becomes the Garden of Tonic. The wine list is global and expansive offering perfect pairings for whatever combination of dishes you select.
While many may visit Charlie and Joe's at Love Street and simply comment on the view or a cocktail, I feel like there is a scale to this project that is easy to miss. For starters, launching 4 restaurants simultaneously. There is a level of detail throughout each space that is indicative of the multiple years spent refining and executing each concept. Personal touches are hidden throughout the property like the back wall of Beacon that reads like a Beautiful Mind with inspiration like "Task at Hand: Shock and Awe" and has hidden easter eggs for those in the inner circle.
The development team worked tirelessly to fold into the fabric of Jupiter instead of just plop into the center of it, from partnering with local brands to embracing the beach town aesthetic and being mindful of their price points. The themes are clean and cohesive, complimenting each other just enough to create connectivity while allowing each venue to have its own identity. The teams are top notch, which reveals itself through the service from Meghan and Ian at Topside to Ligs and Michael at Beacon.
I would say "Welcome to Jupiter!", but luckily for us this crew has been here all along and already gets us.
The following two tabs change content below.
Cristyle is a South Florida native, born in Miami and raised in Palm Beach. Her love of food came through her travels and seeing how cuisines differ and relate so much. She attended the University of Florida, had a short stint in Charlotte, NC and is now back home - ready to eat her way through Palm Beach County and share her findings with locals and visitors alike. From brunch to happy hour to foodie events, she's got you covered!