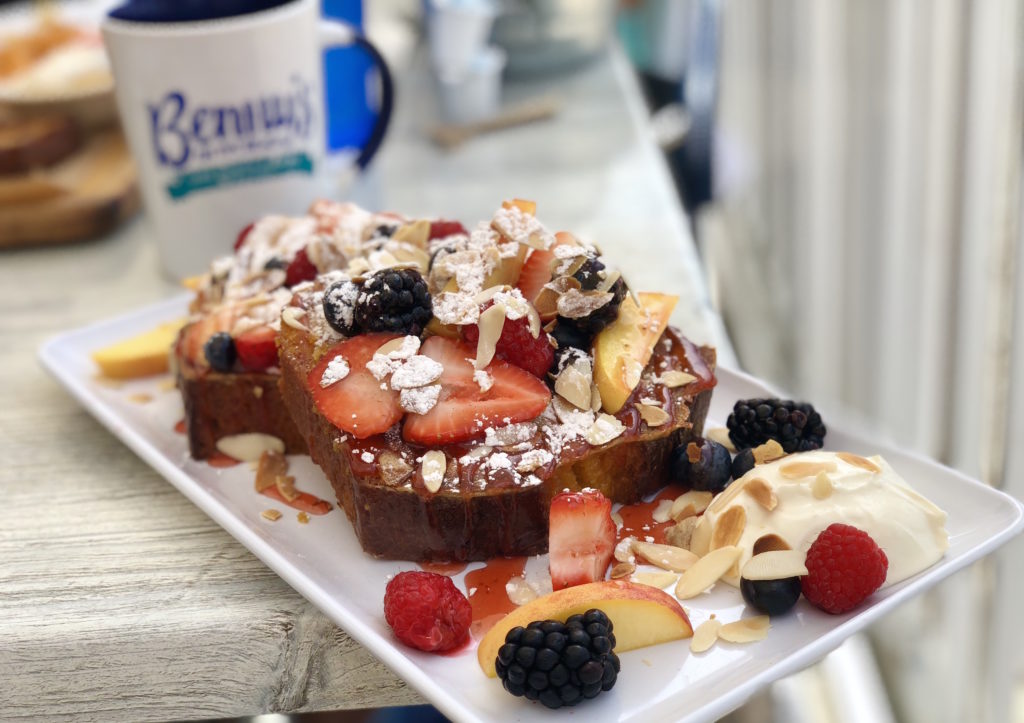 EAT PALM BEACH | BENNY'S ON THE BEACH
We visited Benny's on the Beach this weekend for breakfast/brunch – what a treat! I have been wanting to get down there forever and am so glad we finally made it happen because we will absolutely be back (for breakfast, lunch and dinner!)
First of all, you can't beat the view. You are literally sitting on the Lake Worth Pier just above the sand, essentially in the ocean. It is fantastic. And perfectly covered with umbrellas to stay cool even in the summer afternoon sun. The atmosphere is casual with people coming in off the beach. There is a covered bar in the front with TVs and even if there's a wait, you're at the beach so it's no sweat.
OK, let's get to the food. Because it is noteworthy which sometimes feels like a rarity with waterfront dining in our area. Max, one of the owners, surprised us with a Bakery Board – a charcuterie-style platter of Blueberry Lemon Crumble mini muffins, Sweet Roasted Corn Bread loaf, Carrot Cake scones, Breakfast Butter Cookies, Cheese Danish and a Glazed Cinnamon Round. The presentation was awesome and their pastry chef must have been having a good day, because they were all delicious. I feel like I needed a dozen of Cinnamon Rounds to go. Next we shared The Kitchen Sink, a rotating dish which on this particular day was a gorgeous lemon pound cake covered in fresh berries and peaches. I definitely recommend sharing but make sure you get a bite!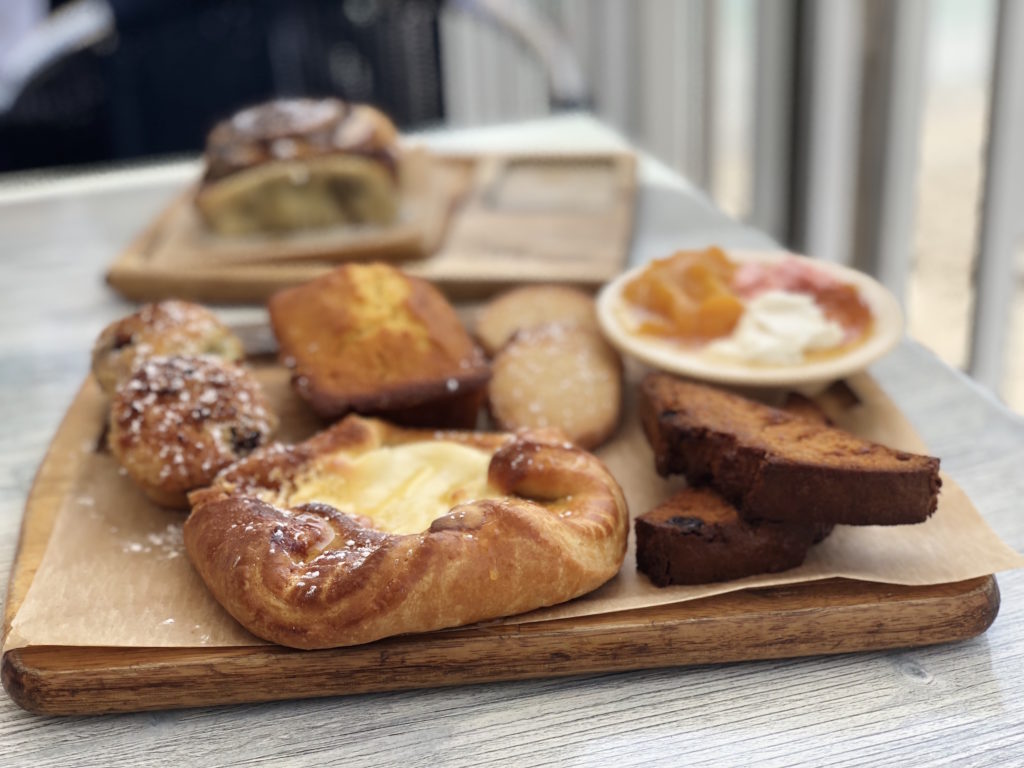 Orders around the table varied. I went with the Avocado Toast and added two over-medium eggs (good choice). It was heavenly with lightly toasted multigrain bread, smashed avocado, olive oil drizzle with sea salt, cherry tomatoes and a side kale salad. The hubs got the Chicken and Waffles which looked incredible and had these perfectly crispy seasoned home fries potatoes. I would love to comment, but he didn't share a single bite and then proceeded to tell me about the sweet but spicy honey sriracha… may he rest in peace. The Benny's Classic looked like cheesy goodness with two fried eggs, muenster and ham on an everything bagel. I'll also need to be back to try the Start with the Sunrise plate with eggs, bacon and grits.
It was a Saturday so why not a Pina Colada in a pineapple?! These are adorable, so South Florida and super refreshing. They have a menu of fun cocktails to choose from with pineapple and coconut glassware, fish bowls and Corona margaritas. And not to worry, they also offer mimosas, bloody marys and frose!
I can't wait to be back and see what Chef Jeremy Hanlon is up to at lunch and dinner. Benny's has such a great vibe and space, offers service with a smile, is kid-friendly, the view can't be beat and the food and drinks are fantastic AND reasonably priced. I seriously can't think of a single complaint.
If you haven't been, be smarter than me and go sooner than later. I've seriously been missing out!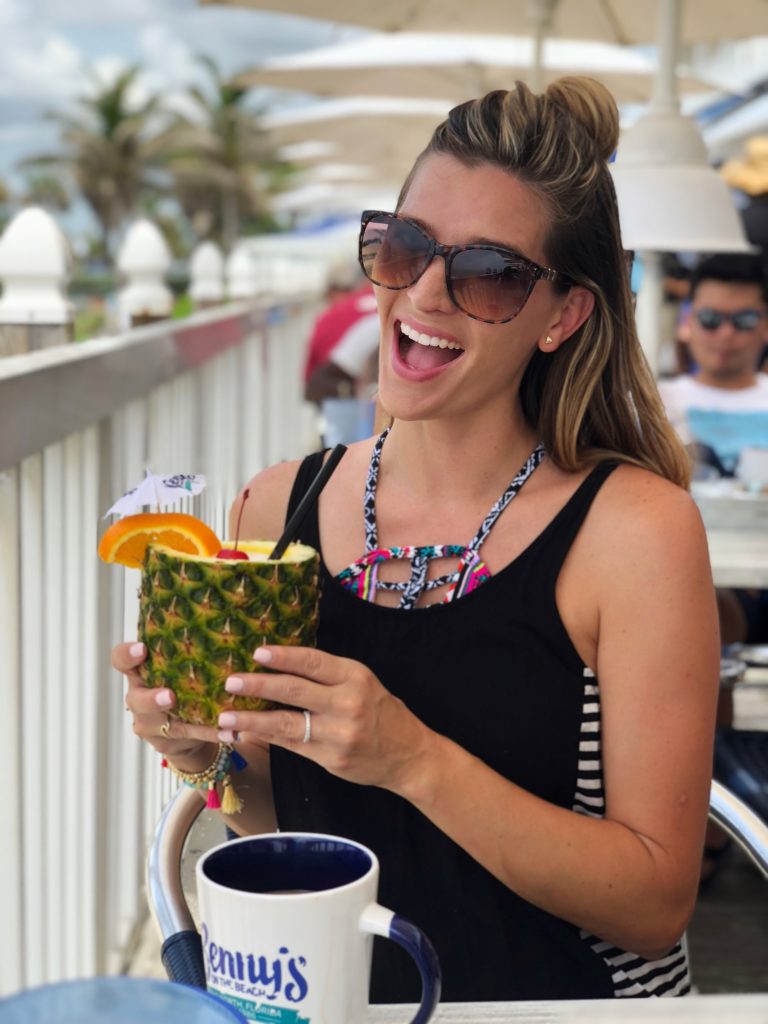 Benny's on the Beach
10 S Ocean Blvd, Lake Worth, FL 33460 (Lake Worth Pier)
561.582.9001
bennysonthebeach.com
The following two tabs change content below.
Cristyle is a South Florida native, born in Miami and raised in Palm Beach. Her love of food came through her travels and seeing how cuisines differ and relate so much. She attended the University of Florida, had a short stint in Charlotte, NC and is now back home - ready to eat her way through Palm Beach County and share her findings with locals and visitors alike. From brunch to happy hour to foodie events, she's got you covered!