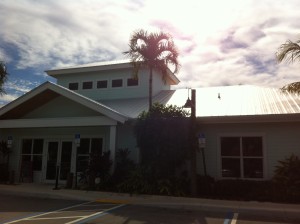 EAT PALM BEACH | FRIGATE'S
Frigate's is a norm on the lunch rotation given the location of my office. With a spot on the water and a good enough selection, it is a total winner for our crew.
Depending on the mood, we sometimes start with the Mahi Mahi Fish Dip which is a decent portion surrounded by crackers, carrots, and celery with jalepenos and lemon to get the taste just right.
9 out of 10 times I order the Fish Sandwich, which for me is a blackened mahi, no onion with tartar sauce. I typically go with the "Rice of the Day" versus fries – which I'm pretty sure is always Rice Pilaf. But it's light with a nice flavor to compliment the fish. I also really like their Fried Plantains.
My next go-to is the Fish Tacos with blackened mahi mahi, an asian slaw and a spicy remoulade sauce. It comes with salsa too, but I ask for all topping on the side so I can add and build as I go. It's light a tasty and I vary between rice and chips for my side.
I do like their Lobster Roll quite a bit, but find it pricey for lunch at $16.95. A couple members of the fam love the Cracked Conch, though it is only offered fried.
My favorite is the naming system for their salads which includes a "Nice Little House Salad" and the "Friggin Wedge Salad." I like the Classic Caesar topped with Blackened Mahi Mahi.
The Key Lime Pie is a bit of a downer and has a raspberry sauce which I'm convinced is to confuse you into not noticing the flavor of the key lime. But I'm normally too full to order dessert, so this has yet to influence my dining decision.
They have a pretty steady flow of Happy Hour specials and drink specials for game days and whatnot. There is a large tiki bar area down by the water with TVs and high tops on a nice day. I use the term "water" kinda loosely on this one as you are on a canal across from IHOP, but hey – there are docks if you want to tie up and you can watch boats go by while you eat, so it qualifies.
The atmosphere inside is pretty cool. It's designed to make you feel like you are outside in Key West, with building exteriors along the walls and wooden booths and tables. It has a nice, fresh feel to it which I like.
They also do a Sunday Brunch which I have yet to experience but have heard is good. FYI.
Meals at the Table
[WE ALL ORDERED THE FISH SANDWICH WITH RICE]
Fish Sandwich Grilled | Fish Sandwich Blackened | Fish Sandwich Blackened, No Bun | Key Lime Pie
frigate (n): a warship of varying size and shape, typically built for speed and agility
Frigate's Waterfont Bar & Grill
400 US Hwy 1, North Palm Beach, FL 33408
561.855.7497
frigatesnpb.com
The following two tabs change content below.
Cristyle is a South Florida native, born in Miami and raised in Palm Beach. Her love of food came through her travels and seeing how cuisines differ and relate so much. She attended the University of Florida, had a short stint in Charlotte, NC and is now back home - ready to eat her way through Palm Beach County and share her findings with locals and visitors alike. From brunch to happy hour to foodie events, she's got you covered!