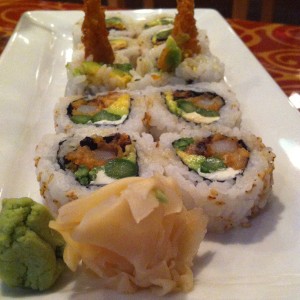 EAT PALM BEACH | YU-MI SUSHI
Yu-Mi has been my go-to for quick, easy and yummy sushi for years. This week for lunch was no different. Located in Promenade Plaza, the restaurant isn't huge so you're best going a little off the lunch or dinner rushes. Luckily, we walked in and grabbed a table right away. There is also a sushi bar if you're dining alone or don't care to wait.
I have ordered the same meal every time I've been to Yu-Mi except once when I grabbed the Lunch Special which was simple but a great deal. On this occasion I went to my favorite and dependable Birthday Roll with shrimp tempura, eel, asparagus, avocado and cream cheese with eel sauce drizzle (hold the masago). I started it off with a House Salad featuring their Ginger Dressing. The salad is about as simple as you can get but a nice fresh way to start a meal. Lindsay went with the 207 Roll and the Spicy Tuna Roll with tuna and apparently too much spicy sauce.
My mom's favorite and an offering I've seen at very few other places is their Dynamite Roll which is a California Roll topped with baked conch with spicy mayo and scallion. They also serve a mean Tempura Ice Cream (fried ice cream) and I love their steamed Edamame starter of warm soybean pods sprinkled with salt.
The decor and atmosphere isn't anything special, but the food is always good and the fact that they are packed lunch and dinner and their diners swear by them says a lot.
Meals at the Table
Birthday Roll | 207 Roll | Spicy Tuna Roll | House Salad with Ginger Dressing
tempura (n): a Japanese dish prepared by battering and deep frying
Yu-Mi Sushi
9820 Old Dixie Hwy A1, Palm Beach Gdns, FL 33410 (Promenade Plaza)
561.776-9209
The following two tabs change content below.
Cristyle is a South Florida native, born in Miami and raised in Palm Beach. Her love of food came through her travels and seeing how cuisines differ and relate so much. She attended the University of Florida, had a short stint in Charlotte, NC and is now back home - ready to eat her way through Palm Beach County and share her findings with locals and visitors alike. From brunch to happy hour to foodie events, she's got you covered!