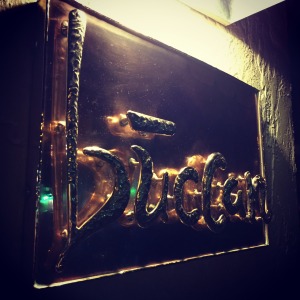 EAT PALM BEACH | BŪCCAN
It's a little shocking to me that I'm just now writing about būccan. I love Chef Clay Conley and everything about būccan. The atmosphere is perfect with a relaxing lounge area in the front, bustling bar and minimalistic but elegant dining room. The feel is casual but upscale and creates a very warm and inviting space.
We visited last week for dinner and sat in the bar area at a high top. I ordered a special cocktail, the Pink Ribbons, of which a portion of the proceeds were donated to The Susan G. Komen Foundation. It was a flute of black pepper vodka, strawberry liquor, lemongrass syrup, lemon and prosecco. It was so aromatic, had a little spice from the black pepper and just the right amount of sweetness. My husband ordered from the lengthy Bourbon/Whiskey menu.
I started with the Warm Brussels Sprouts "Caesar" Salad which I feel like I crave at least once a month. It has shredded brussels sprouts in lieu of romaine lettuce, a creamy caesar and is topped with shaved parmesan and croutons.For my meal I tried the Ricotta Gnocchi from the "Flour and Water" portion of the menu. It was light and fluffy and served with a tomato braised veal breast and herbed ricotta that was comforting but with a little spicy kick. I ordered the smaller portion which was a filling size.
The hubs went with a large plate, the Wood-Grilled Prime Beef Burger. It came on a delicious brioche bun, was topped with an aged cheddar and served on a wood board with a pot of Parmesan Fries. It was quite the presentation.
The service was wonderful. Our server, Fransisco, was friendly and attentive (without being overbearing) and we felt well-attended to throughout the evening. I also appreciated his recommendation of the Elderberry Swizzle with vodka, elderflower liqueur, lime and mint.
I don't think I've ever not enjoyed a meal at būccan. They have a great Happy Hour with drink specials and also offer the menu to-go. Their drink list is inventive and refreshing, the wine list is varied and extensive and the food is consistently delicious. You can choose a handful of small plates or select a large plate and can customize your dining experience by sitting in the lounge, bar or dining room. If you haven't been, I absolutely recommend a visit.
Meals at the Table
Warm Brussels Sprouts Caesar | Ricotta Gnocchi | Prime Beef Burger
Menu (October 2014)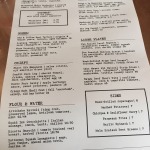 būccan
350 S County Rd, Palm Beach, FL 33480
561.833.3450
buccanpalmbeach.com
The following two tabs change content below.
Cristyle is a South Florida native, born in Miami and raised in Palm Beach. Her love of food came through her travels and seeing how cuisines differ and relate so much. She attended the University of Florida, had a short stint in Charlotte, NC and is now back home - ready to eat her way through Palm Beach County and share her findings with locals and visitors alike. From brunch to happy hour to foodie events, she's got you covered!