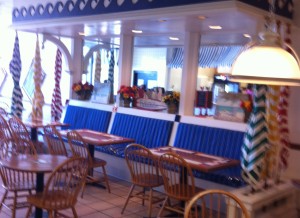 EAT PALM BEACH | CR CHICKS
C.R. Chicks is a local favorite. Opened about two decades ago in PBG, they now have several locations throughout Palm Beach County. The restaurant runs around their rotisserie chicken which you can watch cook over Brazilian Oak logs in the front window.
The offerings are simple, but quick, yummy and affordable. The "Smokey" is one of my favs and is a Penne Pasta with Smoked Chicken and a Tomato Basil Cream Sauce. It's a huge portion that I can only finish if I order it "No C" (no chicken). The "CnA" is their Chicken and Artichoke Linguine which is topped with tasso, garlic, tomato and herbs. I also love the Chicken Breast Sandwich, which features their boneless breast with mayo, lettuce and tomato. Sandwiches are served on their delicious fresh baked loaves and come with a side.
I love the Pasta Primavera Salad which is a light, cold pasta salad with veggies, their Horseradish Smashed Potatoes (aka "Smashers") or the Parsley Carrots which are sliced thin and served warm. They also have a handful of other side selections which are a nice departure from the typical french fries.
The menu has a bunch of combos including their Rotisserie Chicken and family meals for an easy pick up. Their Chicken Noodle Soup is my absolute go-to anytime I'm sick  with big noodles and lots of chicken and veggies. They also serve a mean cookie and Chocolate Banana Cream Pie.
You can dine-in or they offer to-go and catering. And they have packages for the holidays complete with Thanksgiving and Christmas turkeys. They also have Kids and Gluten-Free menus!
This is a family and friend favorite with a constant line out the door at Noon, so call ahead if you're picking up!
Meals at the Table
rotisserie (n): of style of roasting meat over a wood fire or in an oven using a skewer or "spit" to secure and rotate the meat
C.R. Chicks
2582 PGA Boulevard, Palm Beach Gardens, FL 33410 | 561.626.9868
4234 North Lake Boulevard, Palm Beach Gardens, FL 33410 | 561.775.9495
731 Village Boulevard, Suite 108, West Palm Beach, FL 33409 | 561.616.8819
crchickswpb.com
The following two tabs change content below.
Cristyle is a South Florida native, born in Miami and raised in Palm Beach. Her love of food came through her travels and seeing how cuisines differ and relate so much. She attended the University of Florida, had a short stint in Charlotte, NC and is now back home - ready to eat her way through Palm Beach County and share her findings with locals and visitors alike. From brunch to happy hour to foodie events, she's got you covered!