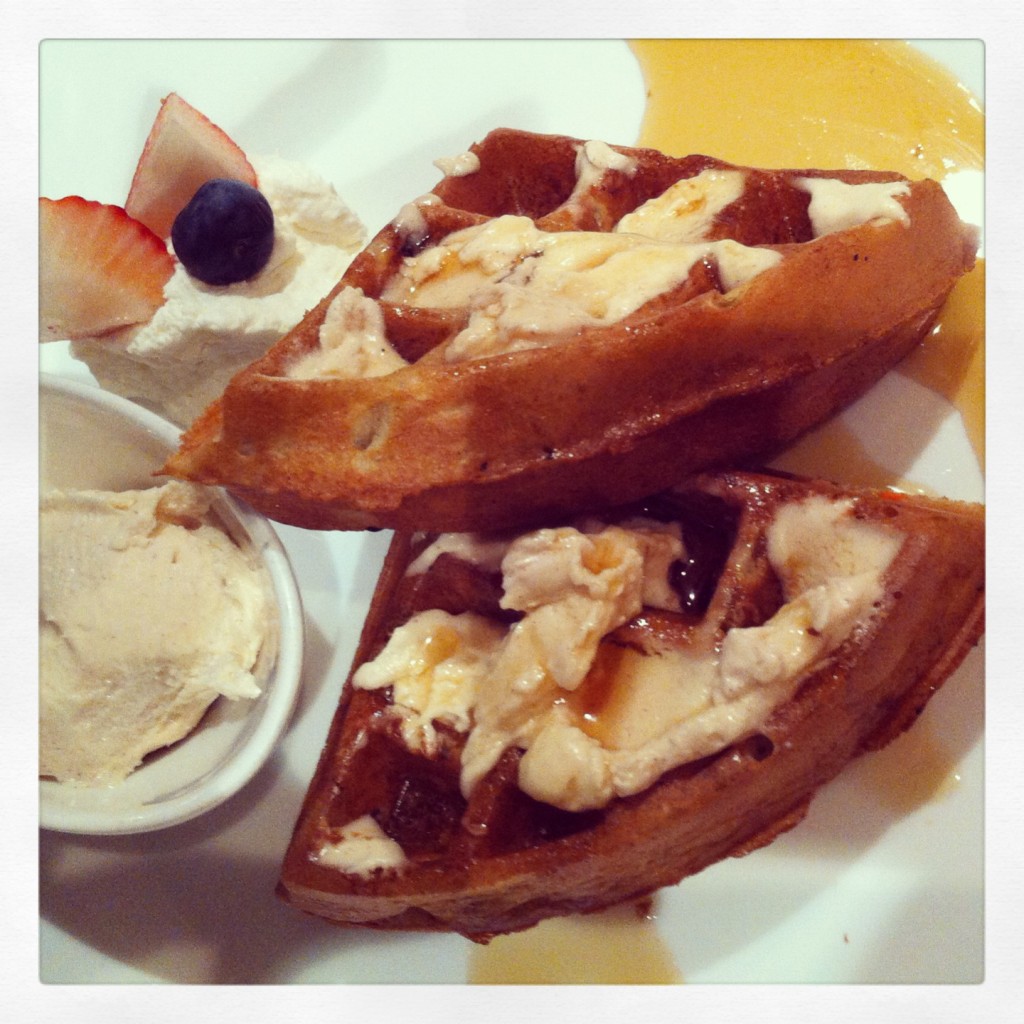 EAT PALM BEACH | COOLINARY CAFE
Coolinary Cafe is that restaurant heard 'round the county. Bringing a refined edge to American comfort food, Coolinary is a small restaurant serving up big flavor. With classics like Chicken and Waffles and Deviled Eggs it is also a Southerner's dream.
We popped into Coolinary the other night for dinner and took a seat at the bar. There is a daily specials menu, so make sure to check it out. It was fairly early, so we decided to go with a few smaller plates. We started out with the Deviled Eggs, which are almost too pretty to share their name with what you typically find at a barbecue or Super Bowl party. They were perched in a perfect line down the plate with whipped filling both anchoring them and creating a peak in each egg white shell – so yummy. Next, we tried the Crab and Corn Beignets which were perfectly fried and served with a horseradish aioli and a grilled lemon to squeeze. The texture was great as was the flavor. And who doesn't love a fritter? Then we took on the Chicken and Gravy Biscuits which were delightful. The biscuits were fluffy, the chicken was crisp and the gravy had a creamy consistency without being too heavy. I  loved their use of micro greens to bring a pop of color to any dish. There is definitely a flair for presentation.
For dessert we may have gone a little overboard. We ordered the Strawberry Macaroons from the Special Menu. I love food that tastes good just looking at it. The macaroons were crisp with a chewy inside and filled with fresh whipped cream and strawberries. This is totally my type of dessert – sweet and light. On the other end of the spectrum, we ordered the Carrot Cake Inspired Waffles. These things are no joke. Basically a Belgian Waffle that tastes just like Carrot Cake, covered with a cream cheese spread and syrup served with vanilla ice cream. It was warm, rich, decadent and felt like epitome of comfort food.
Overall, the food is delicious and the atmosphere is energetic. I'd consider it upscale Southern cuisine with a modern edge. Definitely worth a try for lunch or dinner, but they have a limited number of seats, so I recommend making a reservation in the evening. Tim Lipman has a total winner on his hands.
Meals at the Table
Deviled Eggs | Corn and Crab Beignets | Chicken and Gravy Biscuits | Strawberry Macaroons | Carrot Cake Waffles
macaroon (n): a meringue-like confection that is light and airy made with egg whites, sugar and almond or coconut
Menu (Credit: Coolinary Cafe Website):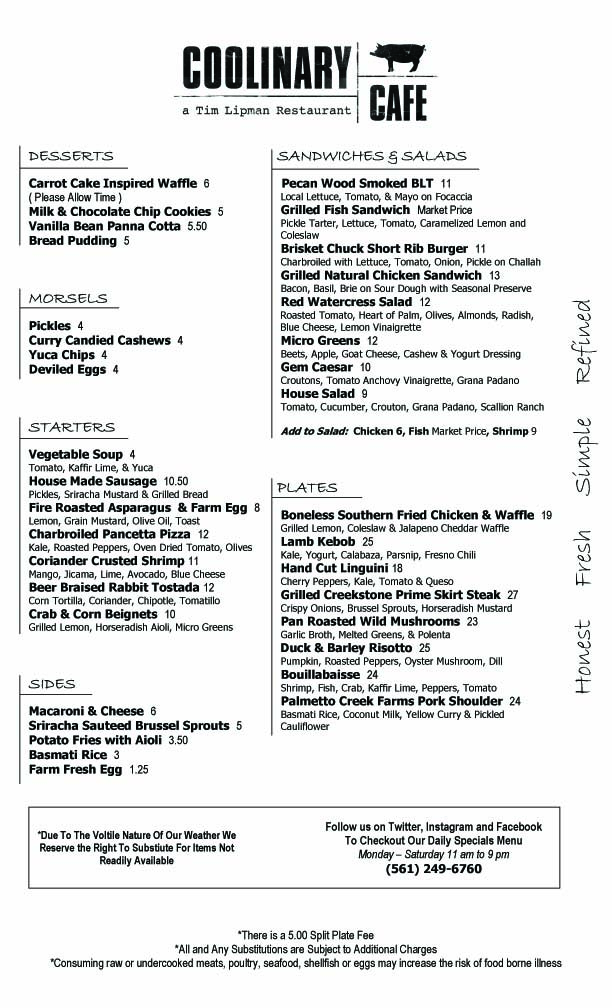 Coolinary Cafe
4650 Donald Ross Road, Suite 110, Palm Beach Gardens, FL 33418
561.249.6760
coolinarycafe.com
The following two tabs change content below.
Cristyle is a South Florida native, born in Miami and raised in Palm Beach. Her love of food came through her travels and seeing how cuisines differ and relate so much. She attended the University of Florida, had a short stint in Charlotte, NC and is now back home - ready to eat her way through Palm Beach County and share her findings with locals and visitors alike. From brunch to happy hour to foodie events, she's got you covered!