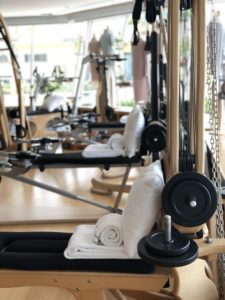 EAT PALM BEACH | GYROTONIC SATNAM
We visited Gyrotonic SatNam for a semi-private session last week and what an amazing workout!
First off, the studio is light, bright and relaxing. It has different areas including the gyrotonic gym, a yoga studio, tea bar and boutique.
Entering the studio, we each selected a locker to keep our belongings and take off our shoes. The machines were a little intimidating at first glance, but once you understood each movement it was less daunting as they utilize different parts of the contraption for different exercises.
The workout had a wonderful blend of stretching and strengthening. Our instructor, Christian, showed us each movement before having us run through a circuit of arm, leg and core workouts. I will say my abs definitely felt the effects for a few days after our class.
This is a workout that can be easily modified to suit your goals, abilities or fitness level. Christian was fantastic helping me modify my workout for a hurt shoulder. I also enjoyed doing the workout with a friend as it helped us push eachother, test out the different equipment and keep it fun.
After our class Oblio, the owner, escorted us around the studio. We enjoyed Kangen water which is filtered water that through electrolysis is ionized alkaline and acidic. She showed us an array of unique products they provide including VitaJewel gem water, Mukha cosmetics, Melt method, and women's and men's apparel.
If you are looking for a new workout, a new studio, a place for unique gifts or teas, this is the place for you. It is tranquil, inviting and energizing. And you'll be feeling it the next day!
Gyrotonic SatNam
2916 S Dixie Hwy, West Palm Beach, FL 33405
561.650.0304
gyrotonicsatnam.com
The following two tabs change content below.
Cristyle is a South Florida native, born in Miami and raised in Palm Beach. Her love of food came through her travels and seeing how cuisines differ and relate so much. She attended the University of Florida, had a short stint in Charlotte, NC and is now back home - ready to eat her way through Palm Beach County and share her findings with locals and visitors alike. From brunch to happy hour to foodie events, she's got you covered!