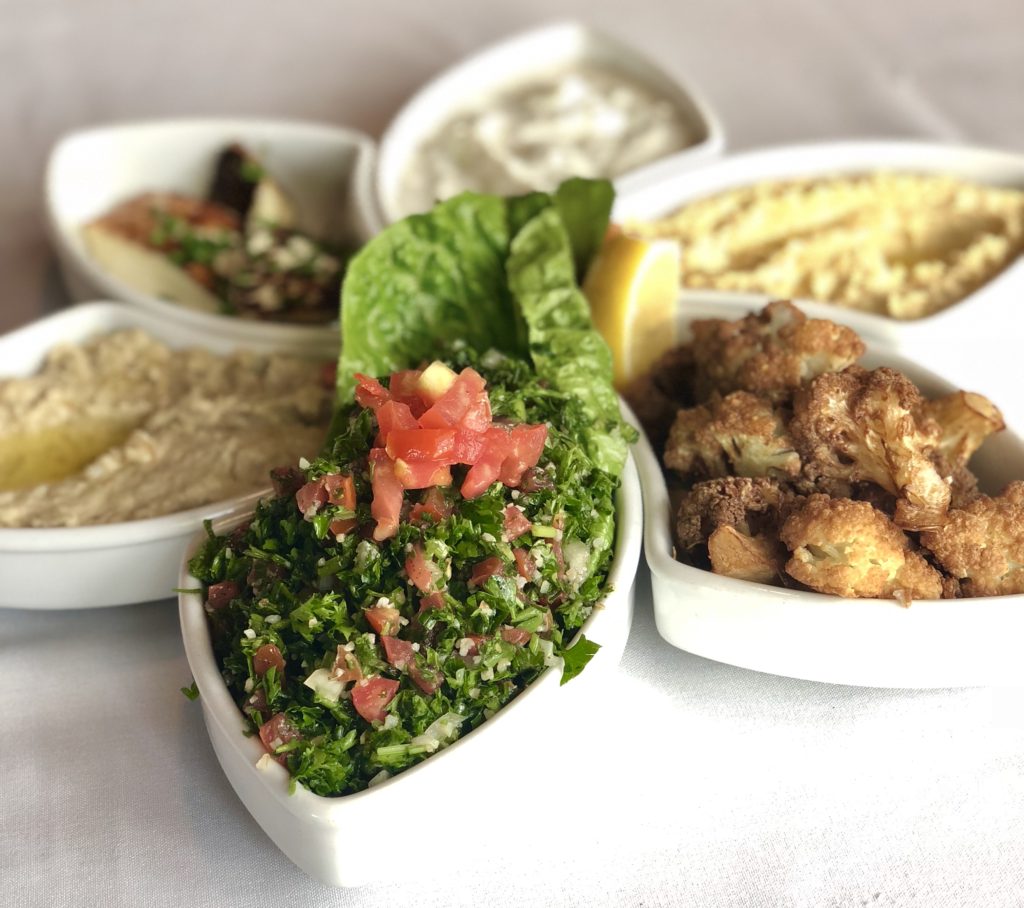 EAT PALM BEACH | LEILA
I joined a group of amazing ladies for lunch the other day at Leila in downtown West Palm Beach.
An authentic Middle Eastern restaurant popular of lunch and dinner, they are known for their Mediterranean cuisine, outdoor patio, and belly dancing on the weekends. The dining room is dimly lit with vibrantly painted blue and orange walls and white linen tables.
We started off with a Mezza Tour which is the perfect beginning to a meal and great for a group. You select 6 options from the Mezza menu and they arrive in a beautiful flower-like formation dish with pita.
We decided to go with the hummus (chickpea), tabouleh (herb salad), baba ghanouj (eggplant), khi bi leban (similar to tzatziki), jibnee mishwieh (warm grilled cheese) and zahra (a golden cauliflower). They were all delicious and complimentary.

For lunch the table was primarily divided between two plates – the grilled shrimp and traditional gyro.
I went with the Gyro Platter which had a soft pita containing lamb and beef with lettuce, tomato, onion, cheese and a drizzle of tzatziki. Considering we had just had the Mezza Tour I opted for the side of fries though the rice and couscous also tempted me.
A handful of ladies went with the Grilled Shrimp with grilled vegetables which looked delightful.
Leila is also known for the teas and Turkish coffee. I was told the owner is able to do coffee grounds readings which I will definitely be back for! They also offer arguileh (hookah).
Leila also hosts a variety events like the upcoming falafel challenge for "International Falafel" Day on June 12. You can also go in for a hummus-making demonstration on May 13 for "National Hummus Day."
If you haven't been, I recommend giving Leila a try!
Leila
120 S Dixie Hwy, West Palm Beach, FL 33401
561.659.7373
leilawpb.com
The following two tabs change content below.
Cristyle is a South Florida native, born in Miami and raised in Palm Beach. Her love of food came through her travels and seeing how cuisines differ and relate so much. She attended the University of Florida, had a short stint in Charlotte, NC and is now back home - ready to eat her way through Palm Beach County and share her findings with locals and visitors alike. From brunch to happy hour to foodie events, she's got you covered!